Donor stewardship is the relationship-building process that starts after a donor makes a gift to your nonprofit. As with any relationship, those between you and your organization's donors need attention and care in order to thrive.

With so many potential touchpoints you can create to engage your donors and keep your mission on their minds, it helps to have a plan. This is especially true as organizations grow beyond the ability to personally reach out to every new donor who gives a gift. Being able to engage your donors and build relationships in an efficient, effective, and prioritized way will pay dividends over time.

If your organization already understands the basics of donor stewardship and is ready to create a concrete stewardship plan, this guide has you covered.
Donor stewardship plans: FAQs
What is a donor stewardship plan?
A donor stewardship plan is a structured roadmap or playbook implemented by organizations to simplify the process of engaging donors over time through various outreach methods and channels. It should break the donor journey down into easy-to-follow steps and cadences that your team can follow to stay in touch with donors.

Stewardship plans are often broken out into different journeys based on the segment that a donor fits into, for instance, recurring monthly donors or major donors.
Why create a stewardship plan?
Stewardship plans take the guesswork out of keeping donors connected to your mission.

By following a clear plan, you can engage and retain more of your donors. Increased engagement and retention lead to stronger fundraising revenue over time as donors stick around to be a part of your community and grow their impact on your mission.

Importantly, a well-defined plan allows you to communicate more efficiently. Outreach takes a lot of time and energy, so understanding exactly when and where to focus your efforts allows you to maximize the benefits of donor stewardship.
What should a nonprofit donor stewardship plan accomplish?
An effective nonprofit donor stewardship plan should help accomplish these objectives:
Improve your donor retention rate. The cost of acquiring new donors is usually much higher than retaining them. If you want to save money on acquisition (while still fundraising), then focus on donor retention.
Encourage donors to give more. On average, recurring donors give 42% more than one-time donors. Donors that feel appreciated and connected will keep supporting your mission.
Build a meaningful community. By donating, a supporter has shown that they're invested in the success of your mission. With stewardship, you can get them even more involved. Create an engaging community that inspires them to share your work with others.
With a robust plan in place and a strong culture of long-term engagement, you can even see added benefits to your donor acquisition efforts—when people see their friends and family excited to engage with a meaningful cause, they won't want to feel left out!
What will I need to manage my stewardship efforts effectively?
To prioritize donor stewardship, you'll first need a concrete donor stewardship plan. Follow the steps and best practices described below to create yours.

You'll also need the right tools for the job. These include data management tools to keep track of individual donor engagement and donation metrics over time, which allows you to identify trends and pinpoint the right times for outreach. Intuitive donor-facing tools are also a must for creating a positive donor experience anytime they engage with you, whether that's by visiting your website, making a donation, setting up a bequest gift, or registering for an event.
Step 1: Form a donor stewardship planning team.
If your organization hasn't done much stewardship work beyond thanking donors, then you may need help building a donor stewardship plan.

It's helpful to get input from multiple perspectives within your organization anyway—from your communications team to your director to your planned gift officers, stewardship will touch anyone involved in fundraising. Form a team or committee of key individuals whose roles directly touch the donor journey.

Try to get others involved as well, such as board members, volunteers, and past donors. Survey your donors to find out what communications and activities they'd like to see. Let their feedback inform your plans as you get started working as a team to lay out a comprehensive stewardship plan.
Step 2: Segment your donors into categories or giving levels.
Once you have a stewardship planning team, work together to decide how to split your donors into groups or levels for stewardship. In a perfect world, your organization could reach out to every single donor, engaging them with personal conversations. But most nonprofits simply don't have the time or resources to do this.

Instead, you'll need to steward your donors efficiently by prioritizing them in segments. Segmentation allows you to tailor your communications to groups of donors differentiated by their gift frequency, size, type, or any other characteristic you find useful.

For example, let's say you have a list of 100 donors. Try to determine their capacity, ability, and motivation to give again by examining their giving tendencies, amounts, and involvement. Did they give a $10,000 gift from their IRA? Did they sign up to give a recurring gift of $20 each month? Have they volunteered at your annual 5K and successfully fundraised with their team?

Once you've identified some of their defining traits, sort your donors into discrete groups. For your highest-impact donors, more thorough prospect research will be helpful at this stage, while broader groups can be sorted based on assumptions drawn from your own records. Either way, you'll have what you need to begin creating stewardship segments.

Here is one way that you could categorize your donors: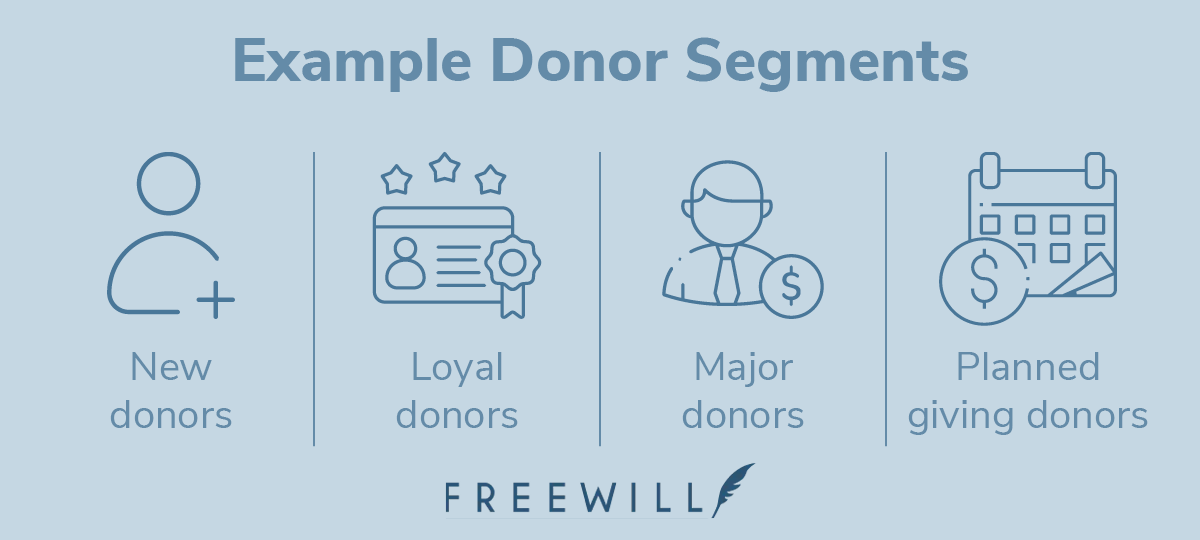 New donors: Small, one-time gifts from first-time givers
Loyal donors: Frequent givers as well as monthly or annual donors
Major donors: Large gifts from both repeat or first-time givers
Planned giving donors: Donors you want to invite to your legacy society (these donors could also fit into other categories)
You could also segment your donors by communication and engagement preferences. Some donors will want to hear from you regularly. Others may prefer infrequent communications with only the most important news or invitations.

Or you could segment by demographics. Specific ages and genders may respond better to different types of communication. For example, if you segment by age, you can send older donors more information about giving from their IRA.
Why segmentation matters for donor stewardship
Segmenting your donors will help your organization decide who to focus on and how to recognize and steward donors at each level. It allows you to communicate efficiently, focusing special effort on the segments whose involvement will drive the greatest impact based on your current priorities.

A well-segmented stewardship plan will also help you better target your communication to maximize engagement. You can easily tailor your messages to segments based on their giving habits, length of relationship with your nonprofit, communication preferences, and more to ensure that your outreach will catch their attention and have the desired impact.
Step 3: Develop donor stewardship and recognition opportunities.
The outreach steps of your donor stewardship plan should go far beyond just thank-you letters (although those are important). You need to really engage your donors and deepen your organization's connection with them. To do this, develop ways to both recognize them for their impact and get them even more involved.

For stewardship opportunities, you can create new activities designed specifically for engaging donors. Or you can incorporate your donors into general activities that acknowledge their contributions. Some of those activities could include:
Sending handwritten cards on important dates like birthdays, anniversaries, and holidays
Inviting your donors to participate in volunteering opportunities
Inviting your donors to major events, such as lunches, galas, town halls, or other experiences
Sending surveys that ask for feedback and explore your donors' interests
Creating and sending reports on both the impact of donors' gifts and the work your organization is doing
Your stewardship efforts should work hand-in-hand with your donor recognition strategy, expressing your gratitude while also taking the opportunity to drive further engagement. Many nonprofits develop tiered recognition strategies that lay out specific tactics for donors at different giving levels, like special thank-you messages and free merchandise up to exclusive thank-you events, annual report shout-outs, and plaques in your facilities.

How you recognize your donors will depend on your organization and resources. But your donor stewardship plan should strive to make every donor feel valued by, involved in, and inspired by your organization's efforts.
Step 4: Outline a communication strategy and donor stewardship matrix.
Using the opportunities you've developed, the next step for your donor stewardship plan is to create a stewardship matrix.

A stewardship matrix outlines how and when your organization will communicate with donors. It usually crosses your donor segments (or gift amounts) with communication types and timelines. Each touchpoint or outreach opportunity you identify should have a designated timeframe, like 24 hours after donating, quarterly, or annually.

Here is an example donor stewardship matrix that uses the example segments discussed above: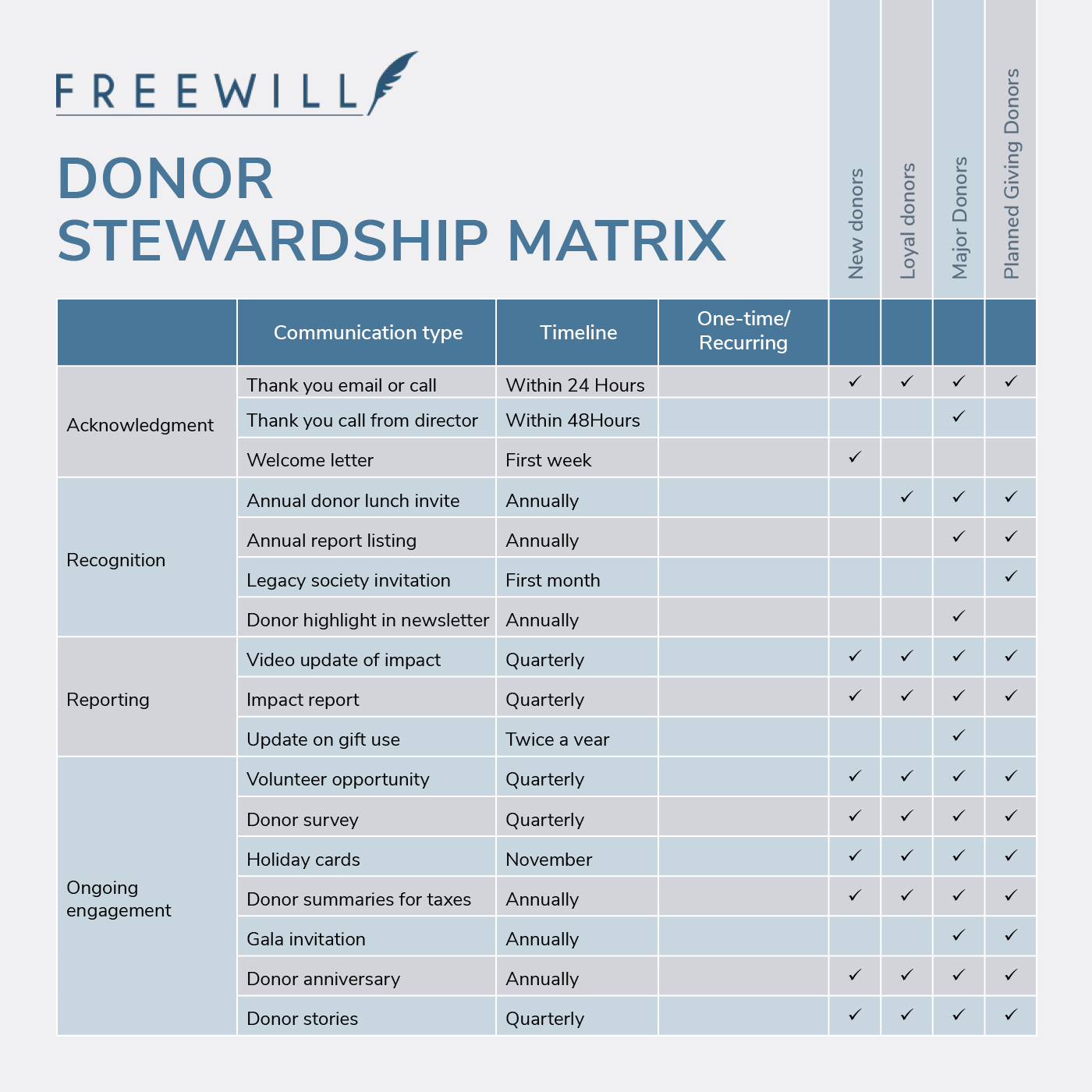 To create your matrix, group your stewardship opportunities into four categories: acknowledgment, recognition, reporting, and ongoing engagement. Then, decide which donors should receive those communications and when.

Be aware that stewardship should work alongside your organization's overall communication strategy. If you've just sent a thank-you to a donor, you may not want to overlap that with an ask for a fundraising campaign, but an event invite may be appropriate. Reference your organization's communications plans to keep your stewardship personal and well-timed. This is another reason why using the right tools to track outreach and engagement is crucial—tidy records make it easy to know when you last reached out and why.

Also, when you communicate with donors, focus on what they achieved by making a gift rather than how your organization benefited from it. Using donor-centric language will help them understand their impact—and make them feel like the driving force behind your work.

For high-impact donors, your donor stewardship plan should include regular one-on-one conversations with donors. Make the most of these opportunities! Remember personal details, such as mentions of birthdays or anniversaries. Referencing these details in follow-up conversations will show that you care, allowing you to connect on a deeper level.
Step 5: Implement your donor stewardship plan.
With your donor stewardship framework in place, it's time to hit the ground running!

Going forward, funnel all newly-acquired donors into your plan, beginning with an initial thank-you email and welcome letter or email stream. Segment your existing donors into the appropriate categories and initiate their stewardship journeys, as well.

Now is also the time to ensure that your data practices will actively support your stewardship efforts. You should have an organized process for recording new touchpoints and adding notes over time. This will allow you to quickly see who was last contacted, how, and when. This is especially important for your major donors, as continuity and a personal touch will go a long way to help them feel like active and valued partners in your mission.
Step 6: Evaluate your donor stewardship plan and make changes.
Your stewardship techniques should evolve as you learn more about your donors. If your donor stewardship plan isn't improving retention rates or inspiring larger gifts, try to figure out where you can improve and strengthen relationships.

On a regular basis, send surveys to your donors that ask them what they want to receive from your organization and how they want to get involved. Use this information to develop new stewardship activities and refine your matrix. Your goal should be to engage every donor in a meaningful way.

It's also important to field feedback from your nonprofit's frontline team. Many roles in your organization contribute to the donor journey, so regularly ask about how they're interacting with your donor stewardship plan. Seek to answer questions like:
Do they have the information they need to communicate with donors effectively?
Are they recording new information and touchpoints correctly?
Do they see areas for improvement?
These insights can help you work out any issues in your plan and communication chain, improving the experience for both donors and staff.
Step 7: Regularly qualify your donors to keep your stewardship plan accurate.
This ongoing step will apply primarily to your major donors and prospects who have the potential to give major gifts in one form or another, whether with cash, planned gifts, or non-cash assets like stock or DAF grants.

Donor qualification is the process of regularly rescreening and analyzing your segmented lists of top donors and prospects.
By double-checking your records and looking at any notes that your development team has produced during recent conversations, you can determine whether or not it still makes sense to include individuals in particular segments.

For example, a major donor may let you know that they've lost their job and will want to pause their philanthropic activity for the time being. Knowing this and making the appropriate changes to your segmentation strategy will allow your stewardship plan to adapt and keep everyone on the same page about what kind of outreach to send this donor—personal check-in messages and program updates rather than hard solicitations.

Qualifying other segments like your mid-level donors and planned donors also gives you the opportunity to uncover giving opportunities you may have missed. If a mid-level donor actually has the capacity to give larger gifts but hasn't been regularly contacted or engaged with your stewardship plan, you can add them to a different segment to begin receiving more personalized attention.

Donor stewardship resources and next steps
With a donor stewardship plan in place, you'll be in a great position to begin deepening your nonprofit's relationships with donors, improve your retention rates, and ultimately raise more support year after year.

Remember that donor stewardship is a dynamic process—it not only needs to be adapted to your donors as individuals, but it should also grow and evolve over time as you learn more about what works for your unique community and mission. Using the right tools to inform and manage your stewardship efforts is invaluable in this regard. By using intuitive platforms that both improve the donor experience and ensure full data transparency for your team, you'll be able to continually learn and adapt your approach to maximize impact.

This is particularly important if your nonprofit expands into new types of giving programs. For instance, software that specifically supports the planned giving process or DAF grant submission process will help you close the loop and prevent any valuable engagement data from falling through the cracks.
Once your first comprehensive donor stewardship plan is up and running, take the opportunity to audit your technology. Is it actively supporting your improved stewardship process, workflow, and data collection needs? Is it slowing your team down or creating unnecessary pain points at any point in the donor journey? Note these opportunities and explore your options for addressing them over time—even small, iterative improvements can make a big difference for your mission in the long run.

And don't stop there! Keep learning about donor stewardship best practices with these additional resources and expert insights: