Donor stewardship is the relationship-building process that starts after a donor makes a gift to your nonprofit. To retain donors and make long-lasting connections, many organizations create a donor stewardship plan. These plans often outline communication opportunities and strategies for keeping donors engaged.

An effective donor stewardship plan will:
Improve your donor retention rate. The cost of acquiring new donors is usually much higher than retaining them. If you want to save money on acquisition (while still fundraising), then focus on donor retention.
Encourage donors to give more. On average, recurring donors give 42% more than one-time donors. Donors that feel appreciated and connected will keep supporting your mission.
Build a meaningful community. By donating, a supporter has shown that they're invested in the success of your mission. With stewardship, you can get them even more involved. Create a community for them to engage in, and that inspires them to share your work with others. This can help you bring in new donors as well.
With this in mind, it's critical to put a donor stewardship plan in place that keeps your donors involved in supporting your organization's important work. Here are the steps your organization can take to get started.
Step 1: Form a donor stewardship planning team.
If your organization hasn't done any stewardship work beyond thanking donors, then you may need help building a donor stewardship plan. From your communications team to your director to your planned gift officers, stewardship will touch anyone involved in fundraising. Forming a team or committee will help you gather a broad range of ideas and put a plan into motion.

Try to get others involved as well, such as board members, volunteers, and past donors. Survey your donors to find out what communications and activities they'd like to see. Let their feedback inform your plans.
Step 2: Segment your donors into categories or levels.
Once you have a team, work together to decide how to split your donors into groups or levels for stewardship. In a perfect world, your organization could reach out to every single donor, engaging them with personal conversations. But most nonprofits won't have the resources to do this. So the best way to approach your donor stewardship plan is to tailor your communications by a gift frequency, size, or type.

For example, let's say you have a list of 100 donors. Try to determine their capacity, ability, and motivation to give again by examining their giving tendencies, amounts, and involvement. Did they give a $10,000 gift from their IRA? Did they sign up to give a recurring gift of $20 each month? Have they volunteered at your annual 5K and successfully fundraised with their team? Once you've identified some of their defining traits, sort your donors into groups.

Here is one way that you could categorize your donors:
New donors: Small, one-time gifts from first-time givers
Loyal donors: Frequent givers as well as monthly or annual donors
Major donors: Large gifts from both repeat or first-time givers
Planned giving donors: Donors you want to invite to your legacy society (these donors could also fit into other categories)
You could also segment your donors by communication and engagement preferences. Some donors will want to hear from you regularly. Others may prefer infrequent communications with only the most important news or invitations. Or you could segment by demographics. Specific ages and genders may respond better to different types of communications. For example, if you segment by age, you can send older donors more information about giving from their IRA.

Segmenting your donors will help your organization decide who to focus on, and how to recognize and steward donors at each level.
Step 3: Develop stewardship & recognition opportunities.
Your donor stewardship plan should go far beyond thank-you letters. You need to really engage your donors and deepen your organization's connection with them. To do this, develop ways to both recognize them for their impact and get them even more involved.

For stewardship opportunities, you can create new activities designed specifically for engaging donors. Or you can incorporate your donors into general activities that acknowledge their contributions.

Some of those activities could include:
Sending handwritten cards on important dates like birthdays, anniversaries, and holidays
Inviting your donors to participate in volunteering opportunities
Inviting your donors to major events, such as lunches, galas, town halls, or other experiences
Sending surveys that ask for feedback and explore your donors' interests
Creating and sending reports on both the impact of donors' gifts and the work your organization is doing
When developing stewardship activities, think about how you can use them to recognize donors for their contributions. At this point, you may want to create a system for donor recognition. This system should determine what your organization will provide based on the donation level.

For example, you could include an honor roll that lists your high-level donors in reports or event programs. Or a major donor might receive their names on a plaque or a building. You could also include your donors in newsletters, mentioning their support and telling their stories.

How you recognize your donors will depend on your organization and resources. But your donor stewardship plan should strive to make every donor feel valued by, involved in, and inspired by your organization's efforts.
Step 4: Outline your communication strategy & stewardship matrix.
Using the opportunities you've developed, the next step for your donor stewardship plan is to create a stewardship matrix.

A stewardship matrix outlines how and when your organization will communicate with donors. It usually crosses your donor segments (or gift amounts) with communication types and timelines.

Here is a donor stewardship matrix that uses the example segments from step two (new, loyal, major, and planned giving donors):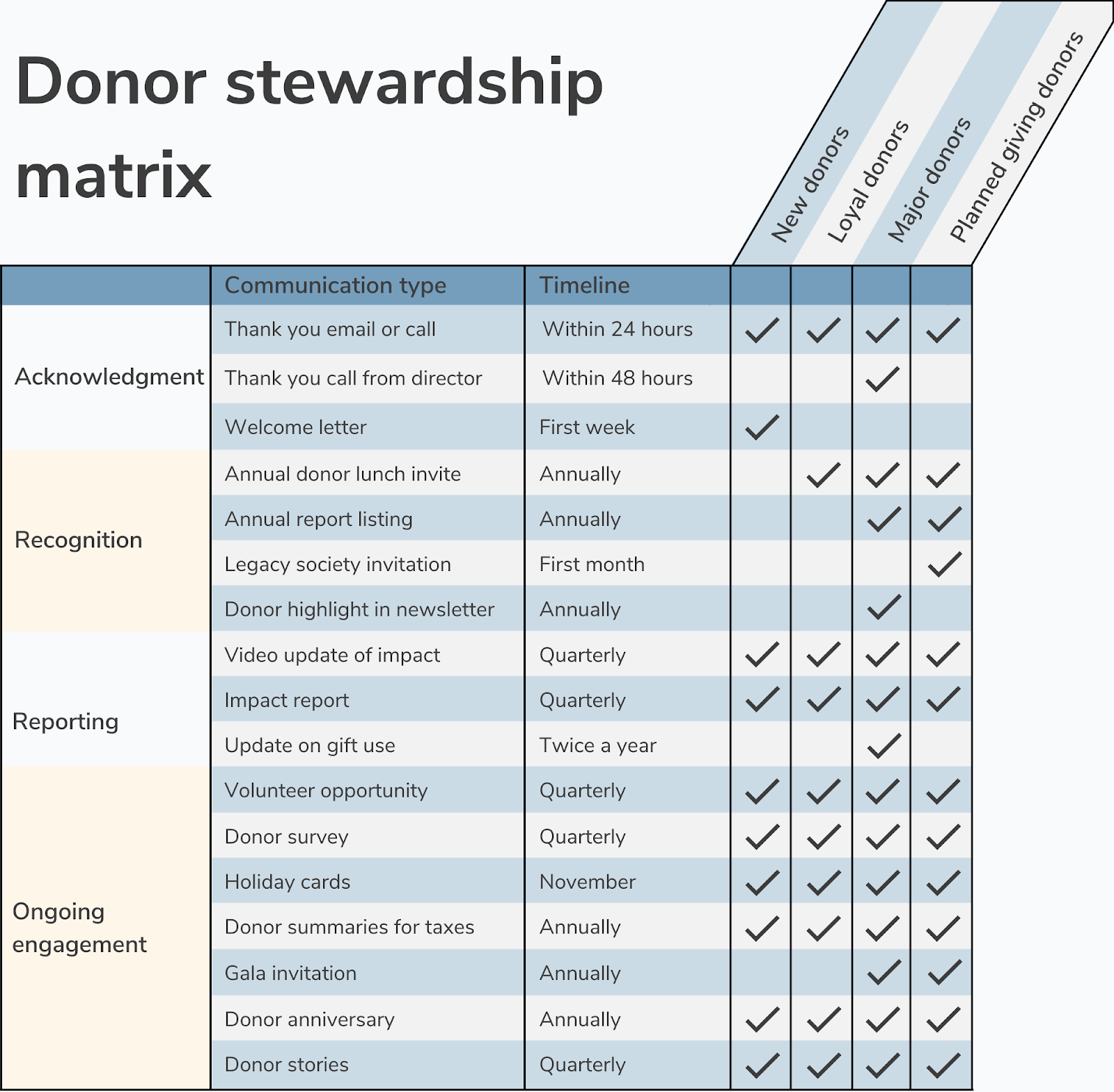 To create your matrix, group your stewardship opportunities into four categories: acknowledgment, recognition, reporting, and ongoing engagement. Then, decide which donors should receive those communications and when.

Be aware that stewardship should work alongside your organization's overall communication strategy. If you've just sent a thank-you to a donor, you may not want to overlap that with an ask for a fundraising campaign. But you may want to send them a personal invite to a major event that your organization is promoting. Working with your organization's communications plans will help you keep stewardship personal.

Also, when you communicate with donors, focus on what they achieved by making a gift rather than your organization. Using donor-centric language will help them understand their impact — and make them feel like the hero.

If your donor stewardship plan includes having personal conversations with donors, try to get to know them really well. Remember personal details, such as mentions of birthdays or anniversaries. Referencing these details in follow-up conversations will show that both you care, allowing you to connect on a deeper level.
Step 5: Evaluate your donor stewardship plan & implement feedback.
Your stewardship techniques should evolve as you learn more about your donors. If your donor stewardship plan isn't improving retention rates or inspiring larger gifts, try to figure out where you can improve and strengthen relationships.

On a regular basis, send surveys to your donors that ask them what they want to receive from your organization and how they want to get involved. Use this information to develop new stewardship activities and refine your matrix. Your goal should be to engage every donor in a meaningful way.