Imagine that your nonprofit recently acquired a new donor. They were so inspired by your mission that they left a sizable donation. And then? Radio silence.
Your organization never sent them a thank you letter, or even a simple email acknowledging their gift. The donor never gave again because they felt unappreciated and unimportant to your cause.
While this might seem like a dramatic example, it happens all the time — especially with planned gifts or major gifts, such as shares of stock or gifts from an IRA.
In fact, "the charity did not acknowledge my support" is one of the top five reasons why donors choose not to give again. In order to maintain donor loyalty and attract new donors, you need to align your team on proper donor recognition practices. Donor recognition is a vital part of effective donor stewardship, and can turn one-time donors into recurring givers.
What is donor recognition?
Donor recognition is a fancy way to define the practice of thanking supporters for their donations to your nonprofit.
Many nonprofits separate donor recognition into tiers based on the type of gift and the amount given. Each tier provides donors with varying levels of public or personal recognition.
A successful donor recognition policy will accomplish two main goals:
It will cultivate relationships with existing donors and encourage them to reach higher levels of giving; and
It will attract new donors.
We'll go over how donor recognition accomplishes these goals below.
A wide variety of activities and items can serve the purpose of donor recognition, and range from listing your donor on your website, to sending them a handwritten thank-you note. As the size of a donation increases, a donor should receive increasing levels of public or personal recognition.
3 ways donor recognition benefits nonprofits
Donor recognition isn't to be taken lightly — it's what helps you acquire and retain donors.
It increases your donor retention. When you recognize donors who have contributed to your cause (no matter the amount), it makes donors feel like they're an important part of your story. It also shows that your organization values everyone who gives.



It motivates existing donors to

give again, or give more

.

One of the

main reasons donors continue to support their favorite nonprofits is because they believe their gift can make a difference. When you recognize a donor's gift, you make them feel valuable to your mission, inspiring them to continue supporting your cause.



It can help you acquire new donors.

In the process of thanking those who have given to your organization, you can gain support from other donors like them. This is called social proof. When people see that their friends, family members, or coworkers are giving to a cause, they're more likely to believe it's important enough to get involved themselves
Who should be recognized?
Your donor recognition plan should strive to make every donor feel valued by, involved in, and inspired by your organization's efforts — no matter the size of their gift.
However, it's also important to make sure your recognition is in proportion to their gift. This respects the level of loyalty that donors have extended towards your organization. Responding with too much or too little recognition can lead to discontent, or discomfort, which is why you should separate donors by the size of their gift, and type of donation they make.
There are two types of donors you'll want to pay special attention to in terms of recognition:
Major donors: Put simply, your major donors are those who give a significant amount and make the largest impact at your organization. How your nonprofit defines major donors will look different depending on your organization's size and scope. These donors should receive public recognition or name bestowments, as they have the highest potential to make large, recurring donations.


Legacy donors: These are donors who leave a gift to your organization in their will, otherwise known as a planned gift. Recognition typically involves membership in a legacy or giving society.


How to define donor recognition tiers
To get started, your nonprofit should separate recognition levels into tiers based on donation amount, or type of donation. The amounts you set or gift types you include in each tier will depend on your organization. However, each tier should provide levels of acknowledgement or rewards that increase in value, in the hopes that your donors will be motivated to give more and enter a higher tier.
First, let's define the three main types of recognition your nonprofit should consider when creating each tier:
Personal recognition: This includes small personalized gifts or tokens of appreciation, one-on-one meetings, or personal letters, phone calls, or emails.


Public recognition: This can include honor rolls, donor recognition walls, legacy societies, major donor clubs, press releases, mentions on your website or in your annual report, testimonials, plaques, or certificates. Remember to always ask donors for permission before acknowledging them publicly.


Naming opportunities: Typically reserved for company or major donors, naming opportunities include naming a building, rooms, endowments, funds, or campaigns after a specific donor.
Each tier should include a mix of personal and public recognition. Naming opportunities should only be for your largest donors.
A great example of donor recognition levels comes from the Stars for Life Autism Foundation. They separate each tier based on donation amount, and reward their donors with increasing amounts of public and personal recognition. Like Stars for Life, many organizations also give each tier a unique name. This can make donors feel more included in your organization with their gift.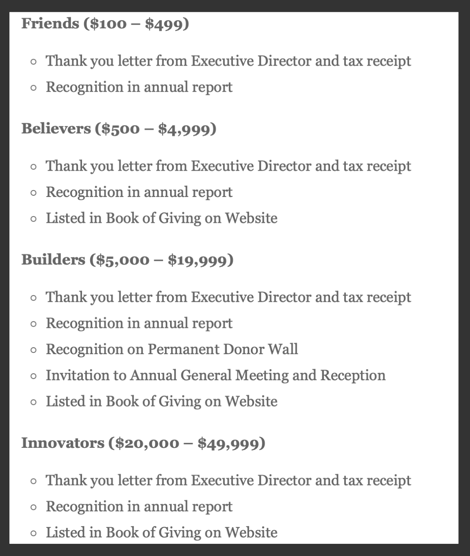 Another way to drive donors to enter a higher tier is by specifying how each donation amount will impact your organization.
For example, Beyond Borders, an organization working to end child slavery and prevent violence against women, lists specific ways each donation will help their cause. If a donor sees that $100 covers twelve months of training for a child rights activist, and $200 provides a year of schooling for a child returned from slavery, they may be motivated to increase the size of their donation significantly.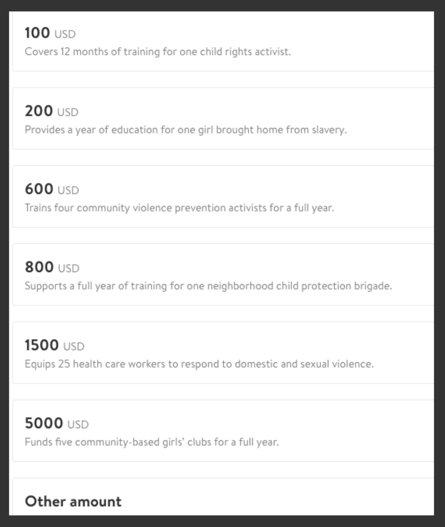 When should you recognize your donors?
The short answer is as soon as the gift is received. Regardless of the size of the donation, acknowledgment and gratitude for any gift should be prompt and personal. In fact, research shows that new donors who receive a personal thank-you within 48 hours are four times more likely to give again.
Your bigger recognition projects, such as naming bestowments, will take longer, of course. However, those donors should still receive a prompt thank-you.
Want more tips and resources?
Donor recognition is an important part of maintaining support for your organization and bringing in new donors.
The only mistake your nonprofit can make is not recognizing or thanking donors at all. By acknowledging those who support your mission, you can inspire donors to give again, make them more committed to your cause, and acquire new donors in the process. And, with a clearly defined donor recognition plan, you're well on your way to creating a successful donor stewardship program.

Learn more about donor stewardship and how it is key to donor retention with our comprehensive guide.