Most nonprofit professionals understand that donor stewardship is an essential part of fundraising. You have to thank your donors and build relationships with them to inspire them to give again. However, if your nonprofit is trying to increase donor retention rates or is just getting started on stewardship, there are many ways you can be more effective. Follow these ten donor stewardship best practices to start engaging your donors today.
1. Always thank your donors — and do it quickly.
When your supporters make a gift, it's important for your nonprofit to thank them quickly and effectively. A thank-you letter shouldn't come six weeks after a donor makes a gift. And it probably shouldn't include another ask.
Send your thank-yous immediately. Alongside this, another donor stewardship best practice is to send your thank-yous through the same channel that your donor gave through. This provides a more cohesive experience. If they gave online, send them an email. If they wrote a check, send them a letter via direct mail or give them a phone call. You could even take a multi-channel approach and thank them in several ways.
When it comes to the content of your thank-yous, express sincere gratitude for the donor's support of your organization's important work. Use your donor's name and mention the purpose or cause that they donated to. You can also speak to what the gift will accomplish in simple, tangible terms. For example, if your organization is a food bank, it could be the number of meals provided.
If you do choose to ask for additional support in your thank-you, make it a soft or indirect ask. Your donors should feel appreciated and recognized for their generosity before you ask for more.
2. Use donor-centric language.
Donor-centric language is language that focuses on the donor and their impact, and not on your organization. Often, it's as simple as swapping 'we' for 'you' in communications.
This is a donor stewardship best practice because donor-centric language will make your supporters feel like the hero. It will help them understand what they've accomplished by making a gift.
However, don't feel like you have to remove all language that comes from your personal voice in a thank-you letter or other piece of communication. You can still tell a story that's personal to you while highlighting the impact your donor has had.
Here are a few examples to get you started:


| | |
| --- | --- |
| Organization-centric | Donor-centric |
| Thank you so much for your support. We provide 20 meals to people in our community for every $50 donated. | Thank you so much for your support. Your $50 gift will provide 20 meals for people in need in your community. |
| Our work is supporting vital healthcare workers and saving lives. | Your gift will support vital healthcare workers and save lives. |
| Every time I hike the beautiful trails in our state park, I'm reminded of the importance of protecting the land we love. And we've already achieved so much together. | Every time I hike the beautiful trails in our state park, I'm reminded of the importance of protecting the land we love. And because of your generous support, this land will bring joy for generations to come. |
3. Get as personal as possible.
One of the best ways to engage your donors is to create communications that are personal and relevant to them. You can do this by segmenting your donors into categories or levels based on their gifts, demographics, or even communication preferences. For example, one group may want to learn about how they can help in a way that won't impact them financially. You can email this group more ideas and opportunities to get involved, such as volunteering or participating in a peer fundraising event. Other donors may require one-on-one personal outreach, such as phone calls. When you speak to this group, you can engage them in conversation and offer unique opportunities based on their interests.
The more you tailor your communications to the donor, the more they will feel appreciated and connected to your organization.
4. Offer opportunities for your donors to get more involved.
An important donor stewardship best practice is to go far beyond thanking your donors. Your nonprofit should try to get donors emotionally invested in your mission. To do this, you will have to create a positive experience that will make them feel inspired (and encourage them to donate) for years to come.
This can be especially important for younger donors, who may not be able to donate much at the moment but want to offer support. If you give them opportunities now that keep them engaged, they may continue to donate in the future when they have more disposable income.
Engagement activities can include events, volunteering opportunities, invitations to join a giving or legacy society, and more. And if you're looking for cost-effective ways to engage a variety of donors, you could start with virtual events like a trivia night. You can invite more donors (and a wider range of donor levels) to virtual stewardship events because you won't have an in-person cost.
5. Don't forget to recognize your donors.
Recognizing your donors for their generosity is an important donor stewardship best practice. Decide how you will recognize donors at each of your organizations' giving levels or gift types. For example, how will you recognize donors who inform you that they're making a planned gift as a bequest in their will? Will you highlight the stories of your small-dollar monthly donors? Will your major donors have naming rights or be included in an honor roll at a stewardship event?
However you decide to recognize your donors, try to make them feel valued and inspired by your organization. And if they want to be anonymous, make sure you honor that, too.
6. Report the impact of your donors' gifts.
A crucial best practice for donor stewardship is to inform your donors about the impact their gifts have made on your organization. Send annual reports, regular newsletters, or even video updates on how donations are furthering your mission.
A great stewardship or impact report will detail how your organization is using donations to make a positive impact. It can also express appreciation and show that gifts have been used as intended.
7. Tell donor stories.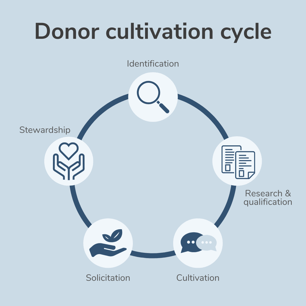 Stewardship is one step in a donor cultivation cycle that leads back to solicitation. And telling your donors' stories are a powerful way to inspire previous donors to give again — or to give another kind of gift.
For example, you could send your small-dollar monthly donors a story about one of your bequest donors. Highlight the impact of their planned gift on the future of your organization, what inspired them to give, and how it won't impact them financially during their lifetime.
Stories like this are social proof for why a donor should give again. People are more likely to give when they know that others like them are giving as well. Stories also engage the emotional side of your supporters' brains, making them feel more connected to your cause.
8. Ask your donors for feedback.
Collecting and implementing donor feedback will help you improve donor retention rates. And surveys are a great way to get feedback from your donors. While you should always be listening to what they're saying via email, phone, social, etc, surveys make it easy to collect and quantify the data. When you ask for feedback, try to identify your donors' wants, interests, and needs. This will help you create new programming and improve your current stewardship plans.
9. Solicit only after the relationship is secure.
Before asking your donors to make another gift, build a strong relationship between them and your organization. Avoid soliciting a second gift without even sending a thank-you for the first one. But this donor stewardship best practice can go beyond that as well. Depending on the gift and amount you're asking for, you may need to really work on the relationship to secure it and engage a donor in your organization's work.
That being said, don't forget to solicit your previous donors entirely. As a fundraiser, you need donors to give again. So put in the stewardship work and engage them until it feels right to make another ask.
10. Make a stewardship plan.
Before you jump into trying out a bunch of different stewardship ideas, you might want to make a donor stewardship plan. With a stewardship plan, you can outline your communication policies, recognition systems, and engagement processes. It can also help you decide which of your team members are responsible for leading certain donor stewardship activities. For example, your communications team might be in charge of stewardship emails for your small-dollar or monthly donors. When you create a stewardship plan, your goal should be to engage donors at every level of giving, as much as possible given the resources available to you.