Donor Advised Funds, or DAFs, are quickly becoming the most active charitable giving vehicle in philanthropy. The value of DAF accounts has quadrupled over the past decade, and the average account size in 2019 was more than $160,000. If you can get smart on DAFs now, you'll secure the future of your organization for years to come.
What is a Donor Advised Fund and how does it work?
Donor Advised Funds (DAFs) are investment accounts that donors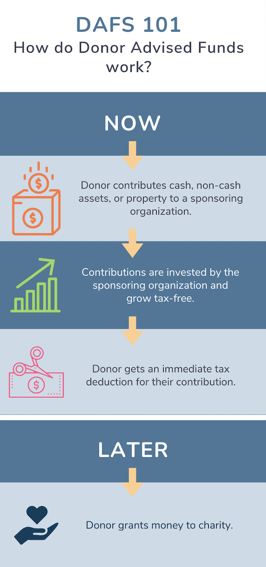 open with a sponsoring organization. They can contribute cash, publicly traded securities, stocks, cryptocurrencies, mutual funds, or non-publicly traded assets.
To open a fund, a donor typically has to contribute between $5,000 and $25,000, making them a popular option for wealthy donors, and a great opportunity for major gift fundraisers. The sponsoring organization actively manages the account and invests it on behalf of the donor, and their contributions grow tax-free.
When donors open a DAF, they receive an immediate tax deduction for their entire contribution. They recommend grants from the fund over time to qualifying 501(c)(3) nonprofits. They also decide when and how they'd like grants to be made.
One of the main reasons Donor Advised Funds are growing quickly in popularity is due to recent tax changes that nearly doubled the previous standard deduction for 2018 through 2025. Now, most donors see a bigger tax break from their standard deduction. DAFs are the most tax beneficial option for those who choose to give a large lump sum in one year and then spread out their charitable giving via DAF grants over the following years.
Additionally, non-cash giving is on the rise, and accepting these gifts can be difficult for smaller nonprofits without a large fundraising team, or those who don't have their own brokerage account. DAFs solve this by making it really easy for your donors to give non-cash gifts to your organization — in fact, 60% of contributions into Fidelity DAF accounts in 2019 were non-cash assets.
There is no limit to the amount of contributions or grants donors can make, and they can even set up recurring grants to your nonprofit. Even though the sponsoring organization has legal control over the funds, they typically follow the donor's charitable wishes.
There are three types of sponsoring organizations where donors can open up a DAF account:
Community Foundations: Independent, non-commercial organizations created by and for the people in a local area (e.g., Brooklyn Community Foundation).
National DAFs: Charitable arms of financial custodians like Fidelity and Schwab.
Single issue organizations: Institutions that create DAF programs to mobilize their members around a certain identity, faith, or cause. The most common include universities and hospitals.


Though some nonprofits worry that DAF account holders won't make grants for a long time, DAF dollars get to nonprofits reasonably quickly. Fidelity Charitable reports that 76% of donations to DAFs get disbursed to nonprofits within five years and almost 90% within ten years.
Why do DAFs matter for nonprofits?
DAFs hold a lot of wealth.

Contributions to DAFs in 2019 totaled a record $38.81 billion, a 7.5% increase from the year before. The amount of assets in DAFs also rose 16% to a record $141.95 billion. This means the dollar opportunity for nonprofits with DAFs is continuing to grow year after year.



Donors are making more grants from Donor Advised Funds than ever before.

Of the total assets in all DAF accounts, more than 20% of funds are going to nonprofits each year. This means your DAF donors give generously and consistently — across economic cycles, elections, and in the face of great challenges. In 2020, the number of grants made from DAFs to qualifying nonprofits rose to a record $27 billion.
3. DAF donors are loyal to the organizations they support. Fidelity Charitable found that 74% of grants went to a nonprofit that the donor had already supported in the past. And these donors are loyal — 25% of grants were pre-scheduled or recurring donations to the charities important to them.


4. They don't require as much maintenance or administrative work as other forms of non-cash assets. When a donor contributes a non-cash asset, like stock or cryptocurrencies into their DAF account, the asset is immediately liquidated and turned into cash. Your nonprofit receives the gift without having to sell the shares and work through a donor's brokerage, making it much easier for your team to accept these gifts.


5. Your donors are turning to DAFs more than ever before. The number of individual DAF accounts rose by nearly 20% in 2019, and that number is projected to continue increasing in 2021. Plus, your younger donors are catching on to this trend as they grow in giving capacity — Millennials opened 13% of new DAF accounts in 2019 compared to only 6% in 2014.

How to receive & acknowledge Donor Advised Fund gifts at your nonprofit
When a donor makes a grant to your nonprofit, the sponsoring organization sends the donation by check or electronically.
When your organization receives the grant, you'll want to thank and acknowledge the donor's contribution the same way you would with any other type of donation. Since donors are only eligible to claim a tax deduction when they make a contribution to their DAF account (not when they grant money to a nonprofit), you may consider restating that the donation is not tax-deductible in your acknowledgment letter. This can help avoid confusion, and clarify that your letter is not a tax receipt, only a confirmation of their gift.
4 strategies for finding DAF donors & securing these gifts
By getting up to speed on how DAFs work, you can tap into a huge pool of funds, and encourage donors to make a large impact at your organization sooner rather than later. Here are four strategies that will help you secure more of these gifts:
1. Include a link that says "Give from my Donor Advised Fund" on your primary donation page.
By putting this link on a page where donors are already preparing to give, you can get even larger gifts from those already looking to make a donation. This link should then take them to a separate page with information on how to make a DAF grant to your organization. You can also include your contact information for donors who would like to learn more about giving this way.
The American Red Cross has a great example of a helpful DAF giving page. It includes more information about what Donor Advised Funds are, and how to give them by mail or online.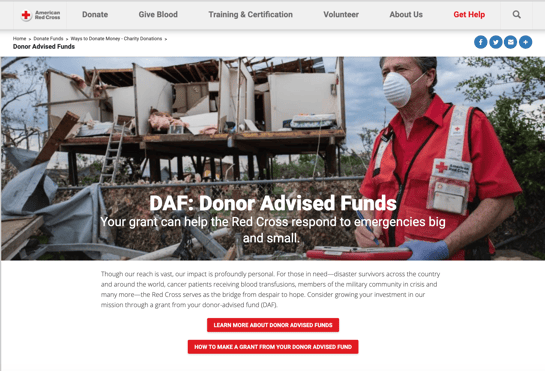 2. Ask every major gift prospect if they have a DAF in 1-1 conversations.
Many of your major giving prospects likely have Donor Advised Funds already, so you'll want to bring up these gifts in any one-on-one conversation you have with them about giving.
To be effective, use social proof, which is the idea that people want to act in ways similar to their peers. For example, you can say: "Many of our supporters give out of a Donor Advised Fund. Would you like information on how other donors are using their DAFs to make a big impact?"
3. Make sure your Guidestar profile is up-to-date.
National DAF sponsoring organizations (like Fidelity and Schwab) have a much less active role in recommending charities for donors to make grants to. Trying to build relationships with these foundations will likely be a waste of you or your team's time.
Instead, make sure your Guidestar profile is up-to-date. Most national DAFs use this as a resource to make sure money is being routed correctly, and to double check that nonprofits are in good standing.
4. Get to know the leaders of your local community foundations.
Community foundations will be much more active in recommending nonprofits to DAF account holders.
Set up meetings with their giving teams to learn what community foundations are looking to fund or their key areas of focus. You can approach them when you have a program or initiative that seems to be a good match for their donors.

As DAFs continue to grow in popularity, they'll be a key driver of fundraising growth for your organization now and in the future. For more insights and strategies on DAFs download our past webinars.
And if you want to secure more non-cash gifts, FreeWill can help.