With more than 1.5 million nonprofits registered in the United States, there is stiff competition for every donor dollar. To ensure you get the funds you need for your cause, your organization needs a robust fundraising strategy.
The six stages of the fundraising cycle can show you the way to nonprofit fundraising success with planned and major giving.
What is the fundraising cycle?
The fundraising cycle outlines six stages to identify, engage, evaluate, solicit, recognize, and steward your donors and donor prospects. This goes hand-in-hand with the donor cultivation cycle, which focuses on building relationships with your donors.
The fundraising cycle can apply to entire donor segments, but it's especially important in planned and major giving programs where it's focused on individual donors. Keeping donors engaged will ensure an organization stays in their estate plans for legacy giving and opens opportunities for other types of non-cash gifts. In fact, an analysis of charitable giving in 2014 found that donors increase their average giving by more than $3,000 after making a bequest commitment.
Following the fundraising cycle means that you're continually engaging with donors and prospects. After all, much of fundraising is centered on building relationships, and all relationships take work to last. Your job doesn't end when the donor makes that first donation — the cycle helps you continue to engage the donor and strengthen their connection to your cause.
Here is each stage of the cycle and how to make the most of them to fundraise successfully: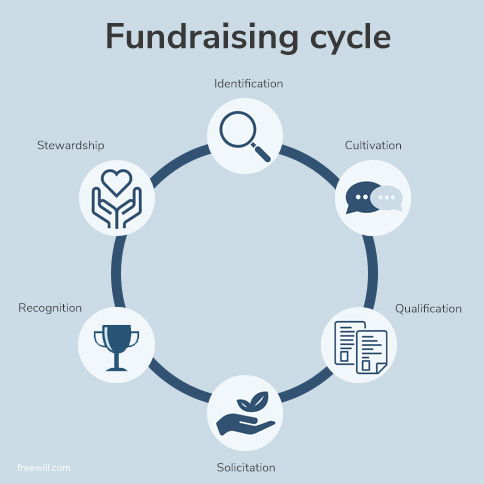 1. Identification: Finding out who your donors and prospects are
To build a solid relationship, you first need to get to know your donor or prospective donor. At the most basic level, this includes demographic data like age, gender identity, socioeconomic status, and location.
However, for planned and major gift donors, you should also dig deeper to identify their interests and values. Your supporters believe in your mission which is a great place to start. Learning more about what resonates with them, including the hows and whys of their passion for your work, will make all the difference. To do this, you can send surveys, collect notes from one-on-one meetings and calls, and start up conversations via text.
Remember that this is a cycle, which means this is a stage you'll want to come back to periodically. Priorities and values can change over time, and you want to be sure you're still connecting on the topics that matter most to your donor.
2. Cultivation: Engage donors and prospects
Engagement strengthens your relationships with donors and deepens your understanding of your prospects. This is the part where you show your donor what you know. Your donors and prospects have shared their values, interests, and priorities with you and now you need to reflect that information back to them.
To cultivate your donors and prospects, share resources, articles, and stories about the topics that matter most to them, invite them to activities and events, ask them to share their thoughts and opinions through a survey, involve them in your social networks, and if you haven't already, meet with them for a one-on-one conversation where you can get to know them better.
It's important to remember that this stage is not for solicitation. Don't ask for money or support. Use this opportunity to connect over your shared interests and goals, and make it clear that you are listening, and value them.
3. Qualification: Evaluate your donors and prospects
At the donor qualification stage you look at everything you know about your donor or prospect and use that information to guide your asks. Information that is particularly helpful to keep in mind includes: giving history, financial resources, areas of involvement, and interests.
This is a great time to consider which giving methods may appeal to your donor or prospective donor most. Are they tech-savvy and into cryptocurrency? Are they thinking about what legacy they might leave? This should all be taken into consideration before you solicit your donor or prospect.
4. Solicitation: Ask for donations based on what you know
You've laid the groundwork, now it's time to ask for support. Tailor your solicitation to the donor or prospect based on all the information you've gathered during the first stages of the fundraising cycle.
Keep in mind your donor or prospect's gift is a reflection of their values, interests, and goals. If you know they have a particular interest area, build your solicitation around it. Consider what channel or combination of vehicles your solicitation should take, such as email, face-to-face meetings (either in person, virtual, or via a phone call), or direct mail.
Make sure it's easy for your donor or prospect to give once you've asked them to. You can walk your donor through the process, or direct them to relevant information — like brokerage details for stock gifts, and language to use in their will — on your website.
5. Recognition: Acknowledge your donor's contributions
Never underestimate the power of a good "thank-you." This stage of the fundraising cycle is sometimes neglected, but you must show appreciation for your donor's generosity. Whether they give $1,000 or $1 million, acknowledgment is key to continuing your relationship because it lets your donor know that you value them.
Your organization's gift acceptance policy may include specific guidelines for thanking donors based on giving level and method. For example, a major gift may be acknowledged with a letter, phone call, in-person meeting, or a combination of these.
In any case, be sure to reinforce your relationship in your acknowledgment and let your donor know how their gift makes a difference and helps you reach your common goals.
6. Stewardship: Build on your relationship
By this point, your donor should feel great about your relationship. Your job now is to keep that feeling going. Create a donor stewardship plan to keep your donor engaged and connected to your organization.
As you continue to stay in touch, revisit the six stages of the fundraising cycle and keep your long-term relationship goals in mind. Your mission is to make your donors proud to be affiliated with your organization, which will translate into more support.