Charitable gifts made in a will, or planned gifts, have a powerful impact on nonprofits. Beyond securing the future of your organization, securing new planned giving donors can actually bring in larger, and more varied, gifts.

Plus, now is the time to be investing in planned giving and educating your donors about this way to give. Over the next 25 years, Baby Boomers will pass an estimated $30 to $60 trillion on to the next generation. A large portion of that money is being allocated right now as the Coronavirus pandemic has spurred a huge rise in will-making.
Here are three ways planned giving programs can propel fundraising growth across your organization.
1. Planned giving donors give larger annual gifts.
There is a myth in the nonprofit fundraising space that planned giving can cannibalize annual giving. However, multiple studies across the last decade have shown that donors who add charities to their wills actually increase their annual giving in the following years.
Planned giving expert, Dr. Russell James, conducted an in-depth analysis of charitable giving, which found that committing to a charitable gift in a will triggers a 75% increase in annual gifts from the same donors. A GivingUSA study backs James' data, showing that 45% percent of legacy donors increase their annual giving to an organization.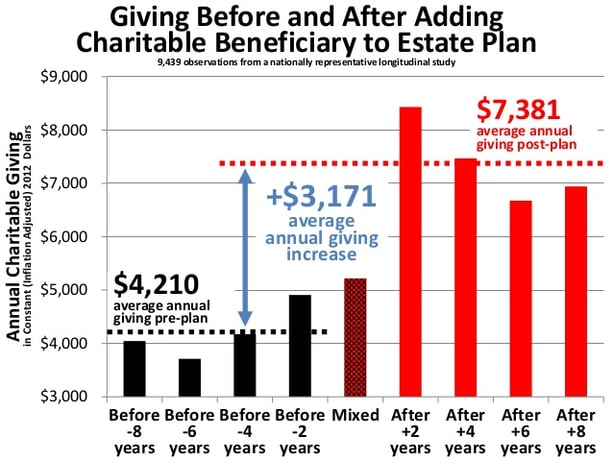 Plus, the Center on Philanthropy at Indiana University showed that legacy donors gave over twice as much money in any given year than those who did not have a charity in their will. Even for those that didn't increase their gifts, 47% of donors maintained their annual giving rates — in no way cutting into annual giving revenue.
This means that planned giving has an incredible opportunity to not only sustain the future of your organization, but to also immediately bring powerful gifts in the door. Of course, the key to this is effective donor stewardship. You have to build and maintain relationships with these donors in order to drive this big increase in annual gifts. If you do, these donors have been proven to give again and again, and in much larger amounts, spurring fundraising growth in your annual giving department.
2. Planned giving can tap into your largest pool of donors yet.
When you market planned giving to your donors, you give them a way to support your organization that doesn't involve their cash flow. This means that planned giving is accessible to anyone who makes a will, regardless of their current income. In our 2020 Planned Giving Report, we found that more than 12% of will-makers — twice the national average — will leave a gift to charity when prompted during the estate planning process. And this is true even when their estates are worth less than $200,000. When it's quick and easy to make a bequest, supporters across all income levels are eager to support the causes they care about. If you can simplify the will-making process for your supporters and prompt them to give, you'll open up your organization to more fundraising dollars and a much larger pool of donors.
Plus, planned gifts are usually the largest gifts a donor will ever make in their lifetime. The average size of charitable bequests made on FreeWill is $65,000, and across the U.S. the average ranges from $25,000-100,000. Legacy donors are major donors. This can't be emphasized enough: your organization can get bigger gifts from more donors just by opening up your pool of prospects.
3. Planned giving opens the door to larger, non-cash gifts.
When people are reminded of their wealth, they give 37% more than they would otherwise. When you ask for the same gift amount from a donor's assets (like an IRA account or their total estate) rather than income, it reduces the sense of financial loss. That same gift is only a tiny fraction of their total wealth, but probably a large portion of their income. For example, donating $10,000 from your IRA account worth $1 million feels a lot more manageable than donating $10,000 out of a checking account with $50,000 in it.
And once a donor has made a gift in their will (usually a percentage of their estate), they'll be primed to think beyond cash gifts. This can be a launching pad for conversations about other ways your supporters can get involved with your mission. For example, you could cultivate your legacy donors into giving large gifts of stock or other non-cash assets.
Again, this comes back to stewardship and emphasizing the impact your donors could make with different types of giving. If you steward your legacy donors and build meaningful relationships, you'll be able to transfer these warm prospects to your annual and major giving teams and drive fundraising growth.
Get started with planned giving
Getting started with planned giving doesn't have to be complicated — start small and grow your department over time. The most important thing is to simply have a plan in place for your organization to cultivate and steward legacy donors.