Planned gifts, or gifts that are part of financial or estate plans, are usually the largest gifts a donor will ever make. And if you market planned giving to everyone, you'll unlock transformational gifts across your supporter base.
If you want to be effective, your planned giving marketing needs to be donor-centric. Donor-centricity simply means that your organization places the donor at the very center of everything you do. You focus on their values and needs rather than the needs of your organization.
This approach will strengthen a prospect's affinity, or connection, to your cause. And those who have a high affinity to your organization are your best planned giving prospects, and will give more over time. Even if you've been marketing planned gifts for a while, simple changes can show your donors their value to your organization.
Here's a quick example: instead of saying "make a bequest gift to charity," you can say "make a gift in your will to support causes that have been important in your life." According to a study by planned giving expert, Dr. Russell James, this type of "important in your life" framing can increase donor interest in making a legacy gift by 28%.
Now that you know what donor-centricity is, let's dive into seven planned giving marketing strategies you can use to cultivate significantly more gifts:
1. If you don't have a planned giving page on your website already, create one to educate all of your supporters.
If you're focusing on donor needs, you need to make it easy and intuitive for your supporters to make a planned gift to your organization, or learn more about them.
One of the best ways to do this is by creating a landing page that defines the types of planned gifts and how to make them. Or, you can add a section to your donation page that lets supporters request more information.
Even if you already have a dedicated planned giving page, make sure it includes:
Planned giving options. Clearly define each giving option by explaining what the gift means for the donor. If your donor is leaving a bequest, it can be fairly straightforward. To make a bequest, a donor simply allocates a portion of their estate to a nonprofit in their legal will. However, other types of planned gifts, such as charitable gift annuities, can be a bit more complicated and need further explanation.


Contact info for the person in charge of planned giving. Your page may not provide all the info your prospect needs, or they may have additional questions. Provide contact information so they can call or email the person in charge of planned gifts.



Information about your

legacy society

.

A legacy society is a membership association for people who have made a planned gift to your organization. We'll go into more detail about these later in this article, but they can be a great resource and community for your planned giving donors. On your page, outline the perks and benefits associated with being a member.


Have a clear call to action. Your page should include a button that links to a form where prospects can request more information or even make their will. Place it in a prominent location and use language that describes what action you want donors to complete. For example, you can say "Create your legacy!"
The American Red Cross does this really well by creating a whole site for planned giving. They link to it from their main site, and then include pages like "How you can give."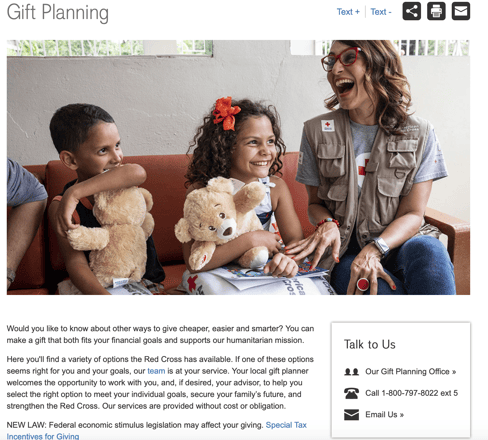 They also offer sample language for making a gift in your will, ways to get in touch with their planned giving team, and define different planned giving types.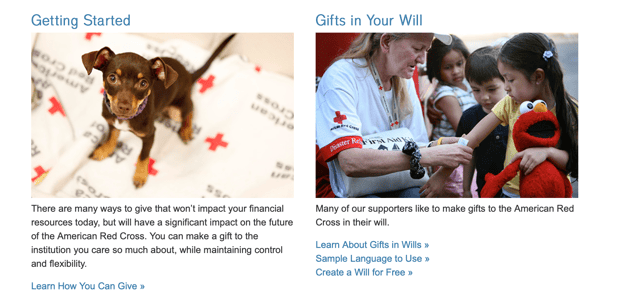 In addition, they provide their supporters with a tool to make their wills online. Full disclosure: we partner with the ARC to include FreeWill as a resource for this. The tool offers warm, donor-centric language that helps any of their supporters make a free gift in their will.
Pro tip: Write up a page that you can bring to events or programming for those who respond better to or prefer printed materials. Be sure to focus your language on the impact a donor can have with their gift, and mention legacy society benefits.
2. Email planned giving information to all of your supporters multiple times a year.
Many of your supporters want to make a bigger impact, but may not know what planned giving is, or how to make a gift to your organization. To be donor-centric, you want to make every donor aware of opportunities where they can make a bigger difference. By educating supporters about planned giving, you're helping them make a decision on which giving option best meets their philanthropic goals and needs.
As with all effective marketing, repetition is key for seeing results. A supporter may open an email about planned giving several times before actually sitting down to make a will and commit a bequest.
From our work with hundreds of nonprofits, we've found that the most effective marketing strategy includes two to three standalone campaigns per year along with several integrated mentions in other communications. Standalone emails have a single call-to-action, like "create your legacy." Integrated mentions list planned giving along with other giving options.
Examples of planned giving marketing outreach include:
A full campaign for National Make-A-Will month in August
Postscript mentions in general fundraising appeals
Legacy donor stories (we'll go into the power of donor stories below)
Newsletter mentions
Ways to donate on GivingTuesday
Legacy society announcements
When sending outreach, we recommend prioritizing email instead of direct mail — even older folks are more likely to respond that way. And don't underestimate the power of standalone emails. We've found that they're twice as successful at generating legacy gifts than emails with multiple options to give.
However, we know it can be tough to incorporate planned giving outreach into a packed communications calendar, or with a smaller team. But you don't have to write your emails from scratch — we've created templates with effective planned giving marketing language to save time and get you or your team started.
3. Be thoughtful and empathetic when writing about planned giving.
Planned giving can be a sensitive topic for supporters. To be donor-centric when communicating about planned gifts, emphasize that they allow supporters to make the biggest impact of their lives. Even though you won't receive their gift until after they pass, donors can decide how their gift will be used. And with their support, your organization can better plan for the future.
Additionally, remember these best practices when writing or speaking about legacy gifts:
Don't mention death.

Research shows that mentioning death decreases a person's interest in making a legacy gift. That's because reminders about death cause two reactions in people: one, avoidance; or two, the pursuit of a lasting impact. Instead of talking about death, focus your communications on how your donors can create a legacy. Avoid language like "leave a legacy" because it implies death. Instead, use language such as "create a legacy" or "make a gift in your will."


Acknowledge that this form of giving may be new to your supporters. This can trigger curiosity in your prospect instead of making them feel as though they "should have" known about this type of giving already. For example, try using: "Did you know?" or "You might be surprised to learn…" in your outreach.


Highlight the range of ages making planned gifts. This will help your older donors feel less targeted and like part of a broader audience. For example, you can say: "Supporters of our humane society, from 18 to 88, choose to include us in their will or trust. Would you like information on how to join them?"
4. Personalize your marketing outreach to make supporters feel seen and valued.
When speaking to a nonprofit, donors can feel like they're talking to an "entity" versus a human being. To make them feel like they're speaking to someone interested in their values and needs, personalize your outreach.
To start, use your donor or prospect's first name in any written communication with them. Studies show that seeing or hearing your first name triggers brain activation in a place called your reticular activating system, or RAS.
Ever heard of "selective hearing"? You can blame your RAS for that. That's because every bit of information we read or hear passes through our RAS. And it filters that information so we know what we should pay attention to.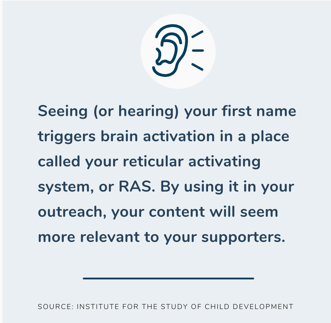 Your first name is one of the sounds a RAS loves to hear. By using it in your outreach, your prospect will feel like the content was written to them instead of at them. This is a great marketing strategy because it not only makes the content seem more relevant, it increases the likelihood that they'll remember what they've read. And you should almost always use this tactic in mass outreach — pretty much all email platforms (CRMs) allow you to customize an email with a contact's first name.
Another way to personalize your outreach is by making sure anything you send to a donor has more "you" words instead of "we" or "I" words. Your donors will feel more connected to what they're reading, and the outreach will seem more conversational and inviting.
5. Use donor stories as a powerful form of social proof in your planned giving marketing.
Donor testimonials are a great marketing strategy that can help illustrate the tangible impact of a legacy gift. And they're a powerful way to show that your organization values each donor.
Plus, donor stories are an effective form of positive social proof. Social proof is the idea that supporters want to act in ways that are similar to their peers. Positive social proof implies that many of their peers are doing so. And it's extremely effective — donors are 15% more likely to leave a bequest when they believe they're "one of many supporters" doing the same. And gift size goes up by almost $6,000.
To keep your stories donor-centric, focus on the impact of the gift and the background of the donor, rather than the size of the gift itself. This example from Santa Clara University effectively talks about how a legacy gift from an alumni provided financial support to students at the school.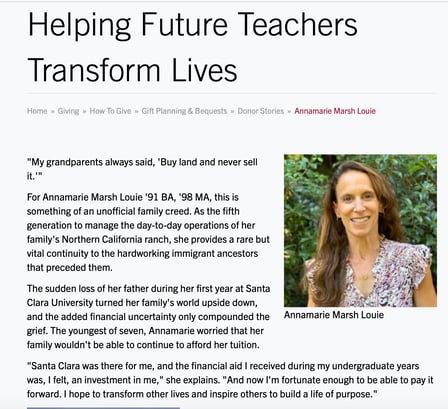 6. Create a legacy society to deepen your relationship with planned giving donors.
A key part of a donor-centric planned giving marketing strategy is a legacy society. If you don't already have one, a legacy society is a membership association for people who have made a planned gift to your organization. It gives donors a lifelong sense of community and connection to your cause.
Your society members can spread the word about your nonprofit. And you can deepen your relationship with these donors by hosting exclusive events, recognizing them publicly, and inviting them to volunteer or advocate for your mission. This can also lead to more gifts or plant the seeds for larger gifts in the future.
This example from the Breast Cancer Research Foundation outlines the benefits of their legacy society, as well as the guidelines for eligibility. They've also named their society after a highly visible supporter.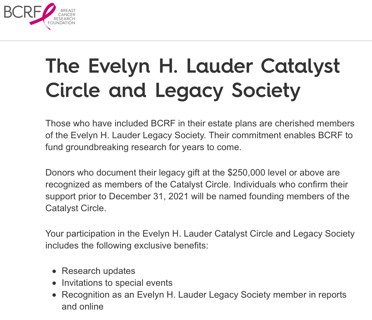 Once you've picked a society name and logo, you may want to send new members a welcome gift. This can be a pin or a letter from your CEO or board thanking them for their bequest.
7. Host smaller, exclusive events for your most engaged prospects.
One of the best donor-centric marketing strategies is to invite your most engaged prospects to small, exclusive events, whether virtually or in-person. This can help them feel more connected to your team and mission, as well as help them meet other loyal supporters.
Though the standard marketing funnel generally outlines the process a customer goes through before buying a product, it's a helpful tool when it comes to nonprofit marketing as well. Your donors are evaluating your nonprofit as something they'd like to invest their money into.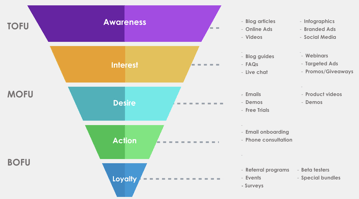 When cultivating prospects, these events are for those at the bottom of the funnel — or the "conversion" stage. In other words, they're very close to making a planned gift. They've been responsive and engaged during the cultivation process, and just need a few more touchpoints to commit.
The focus of these events should be to learn more about your prospects, and educate them on the impact their legacy gift could have instead of on what your organization needs. Have copies of your one-pager or brochure on hand — this can be a great way to follow-up with those who express verbal interest at your event.
You should also introduce them to key members of your nonprofit, like your board or executives. This will make them feel like valued and important members of your organization.
Here are a few event examples that you can host virtually or in-person:
Informational luncheons, where you can provide more information about planned gifts
Tours of your facilities, where prospects can meet the team or executives
Dinner or house party hosted by one of your board members or executives
For tips on how to host successful virtual events, check out our virtual events fundraising guide.
Want to make planned giving even more simple and accessible for your donors? Freewill can help.