Does your nonprofit organization have a planned giving program? Or perhaps you're interested in planned giving but haven't yet had the opportunity to prioritize it.

When branching out into any new form of fundraising, actively promoting and facilitating it is essential. In other words, you won't secure many (or any!) planned gifts or build a sustained giving program if you don't proactively let your donors know about this option.
Assets like Planned Giving Websites, comprehensive Ways to Give pages, and intuitive planned giving marketing tools will make this easy.

Let's take a closer look at planned giving websites or web pages—the digital home of your planned giving program and a key piece of your marketing strategy. What should it accomplish? What should it look like? We'll walk through all the essentials.
Table of Contents

---
Planned giving website FAQs
• What is a planned giving website?
A planned giving website is a page or set of pages that a nonprofit creates in order to promote its planned giving program, educate prospects about less traditional ways to give, such as out of their estate or retirement plan, and facilitate the planned giving process.

Nonprofit planned giving sites often emphasize bequests, the most common form of planned giving in which a donor leaves a gift of a set dollar amount or percentage of their estate to the nonprofit as part of their will. However, these sites serve as useful hubs to promote other nontraditional or non-cash ways to give, as well, like donating real estate, setting up an annuity, or giving from a donor-advised fund.

A planned giving website can take a number of forms, like an external set of pages hosted by a planned giving software provider or a page hosted internally that includes embedded tools for setting up a planned gift. Either way, this website or page is the central digital location where donors interact with your planned giving program.
• Why is having a planned giving site so important?
Without an online site, page, or tool to educate donors about planned giving and facilitate the process of creating a bequest, you'd instead have to take a completely one-on-one approach.

While emails and phone calls to answer donor questions definitely provide the personal touch that can take your stewardship to the next level, you'll face limitations and growth challenges rather quickly when they're your only option for running a giving program.

Dedicated planned giving websites can instead do some of the work for you, explaining to prospects how planned giving works, its benefits, and their options. And by using tools like FreeWill to initiate the bequest process and collect data, you simplify the process on both ends—donors enjoy a more streamlined experience, and your nonprofit seamlessly gathers all the information it needs to run a successful giving program.
• What should a planned giving website include?
We'll cover specific best practices for creating a planned giving site or page below, but here are the essentials that yours should include in order to help donors and generate results:
Introductory information about your planned giving program
More details about how planned giving works, types of planned gifts, the benefits of planned giving, and more
An eye-catching or compelling visual that reflects the impact of planned giving
Contact information for the appropriate team member in charge of the program
An embedded form or link to a form for creating a bequest
A clear call to action to encourage click-throughs
Best practices for creating a standout Planned Giving Website
Let's take a closer look at the specific best practices that nonprofits should follow when creating a website or page to promote their planned giving programs: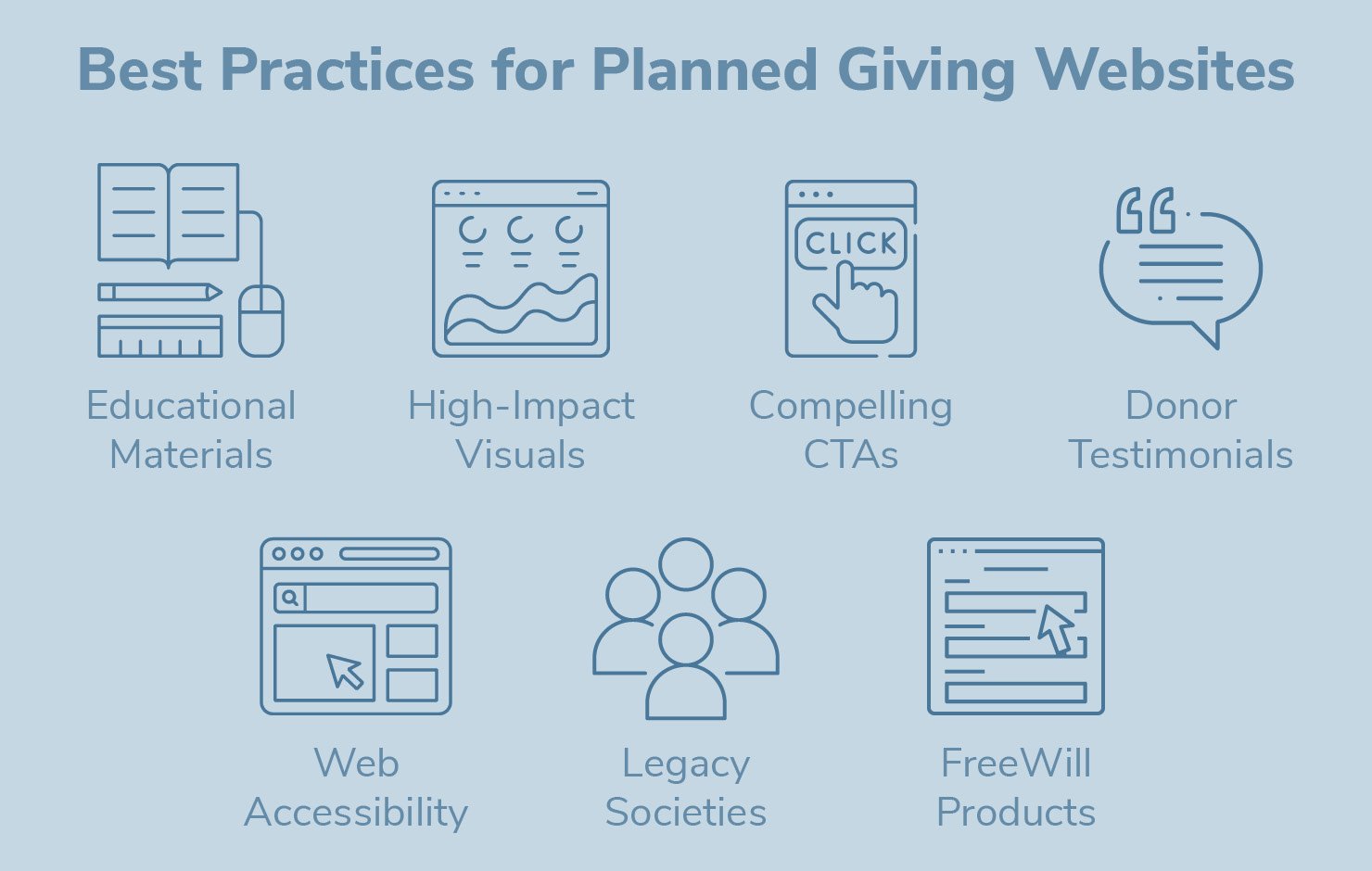 1. Include donor education materials.
Remember that planned giving might be a new concept for your donors and site visitors—avoid overwhelming or confusing them by providing clear, helpful information about this way of giving. This information should cover:
What planned giving is
Different types of planned gifts
The tax benefits of planned giving
Other perks, like your legacy giving society
How planned gifts help your nonprofit
The steps for creating a basic bequest gift
Contact information to ask one-on-one questions
Keep in mind that some types of planned gifts can be more complicated to explain than others. While you want to provide helpful information for donors, don't get too bogged down in legal jargon. Instead, direct readers who are interested in annuities and trusts to directly get in touch to discuss their options with your program staff.
2. Use high-impact visuals to reinforce your key message.
A picture's worth a thousand words, and they're especially helpful when promoting planned gifts since this form of giving is both quite personal but also intangible. Research shows that web content that includes visuals such as images or videos tends to outperform content without visuals, garnering 94% more views from users.

On your Ways to Give page and dedicated planned giving page, include one or two photos that illustrate concepts like "legacy," "impact," and "multi-generational." On your page or site solely about planned giving, graphics that break down the common types of gifts or that display statistics related to the impact planned giving has on your mission can also be very effective.

Just remember that your visuals shouldn't detract attention from the main purpose of promoting and explaining planned giving so donors will take the next step. Use them wisely to reinforce your key messages of impact and legacy-building.
3. Draft compelling planned giving calls-to-action.
A call-to-action (CTA) is a sentence, phrase, button, and/or link that directly asks readers to take action after engaging with marketing materials. For your planned giving website, your explanations of planned giving should be followed by clear, compelling CTAs. They should be:
Concise. Keep your CTAs short and direct.
Personable. Lean into a friendly message of legacy-building.
Specific. Make it clear to readers what you're asking them to do.
While something like "Set up a bequest" is to-the-point, it's not particularly motivating and can come off as cold. Using warm, active language in key locations will yield better results.

For example, after explaining what bequests are and how to create one, include a button that reads "Create your legacy with [your nonprofit's name]!" and links donors to your FreeWill legacy gifts landing page, with access to FreeWill's free estate planning tools, where they can complete a will in less than 20 minutes.
4. Provide social proof with donor testimonials.
Social proof is the idea that your prospects are more likely to support a cause and take action if they see that others have also done so, and it can be a powerful way to encourage engagement with your planned giving program.

On your planned giving website, include one or two brief testimonials from existing planned gift donors. A simple sentence about their feelings about your nonprofit, why they chose to create a gift in their will or trust, or how easy it was to create a legacy will go a long way to show prospective donors that your program is worth joining.

Actively ask for these testimonials from your donors, and be sure to get their express permission to use them and any photos on your website. Once you've collected a handful of compelling testimonials, you'll be able to use them across your marketing materials to drive increased engagement.
5. Ensure web accessibility compliance.
Web accessibility consists of the practices and technical optimizations you can conduct to ensure your website is easily accessible to all users, including those who may be using assistive devices like screen readers, to access it.

Specific elements of web accessibility are defined in the Web Content Accessibility Guidelines (WCAG), which are considered the compliance standard. Some of the most important of these elements to keep in mind for your planned giving website include:
Proper color contrast ratios for images, text, and backgrounds
Inclusion of alternative text for any visual elements
Form fields that include fixed labels outside of the fields themselves
Intuitive heading hierarchies
Organized structures that can be easily navigated using a keyboard
An accessible website not only ensures that all visitors will be able to engage with your planned giving program, but it can also protect your nonprofit from potential liabilities.

Take steps to simplify the front- and back-end elements of your planned giving website. Or, for complete coverage, work with a planned giving software provider that can develop a tailored website for you. FreeWill's Planned Giving Websites offer not only a streamlined, engaging experience but also full WCAG compliance.
6. Promote your legacy giving society.
Nonprofits create legacy societies to help incentivize planned giving. These special groups consist of planned gift donors who receive special perks and event invites in recognition of the legacies they've chosen to build with your organization.

Promoting your legacy society on your website or page sweetens the deal by showing prospective donors a few things:
They'll receive extra perks in addition to the benefits of planned giving
Your nonprofit values its planned gift donors and takes steps to actively engage and recognize them
Other donors have joined the society by setting up planned gifts—collect testimonials to demonstrate social proof!
While you don't want to come off as overly transactional, you should make clear what donors can expect to enjoy by joining your society. A couple of sentences about the society, a testimonial, and a link to a dedicated legacy society web page or calendar should get the job done.
And if you haven't yet created a donor society for your planned giving program, get started today—they're a powerful tool for engaging donors, deepening relationships, and encouraging more gifts.
7. Offer free estate planning tools to your supporters.
Your planned giving page will explain donors' options and benefits. But to actually facilitate the process, use a form or other free, accessible tool that prompts donors to make an estate plan or provide you with information about their gifts.

It is possible to simply give donors instructions and sample language to add to their wills, but this hands-off approach makes it difficult to track gifts over time. You may not even be notified of new gifts or be able to thank donors. While you should provide donors with these instructions, they shouldn't be the main point of emphasis.

Instead, your planned giving CTAs should focus on sending prospective donors to your FreeWill products.

Within the FreeWill Planned Giving Suite, you'll have a co-branded landing page that directs donors to create a free, legal will. This tool will walk them through the steps of creating a will, in which they often choose to leave a bequest to your organization while also ensuring your nonprofit has the data it needs to steward your donor and effectively manage your planned giving program.

Keep in mind that two-thirds of Americans do not have an estate plan, so offering a free service that nudges charitable giving is one of the best ways to help your donors care for the people and causes they love. Check out the examples below to see this process in action.
See the best planned giving websites in action
What do these best practices look like on real nonprofit websites? Let's take a look at a real-life example.

The Humane Society of the Pikes Peak Region (HSPPR) partners with FreeWill to offer its supporters a seamless planned giving experience. They support this process with a dedicated Planned Giving Website that provides helpful information, encourages giving, and facilitates the planned giving process.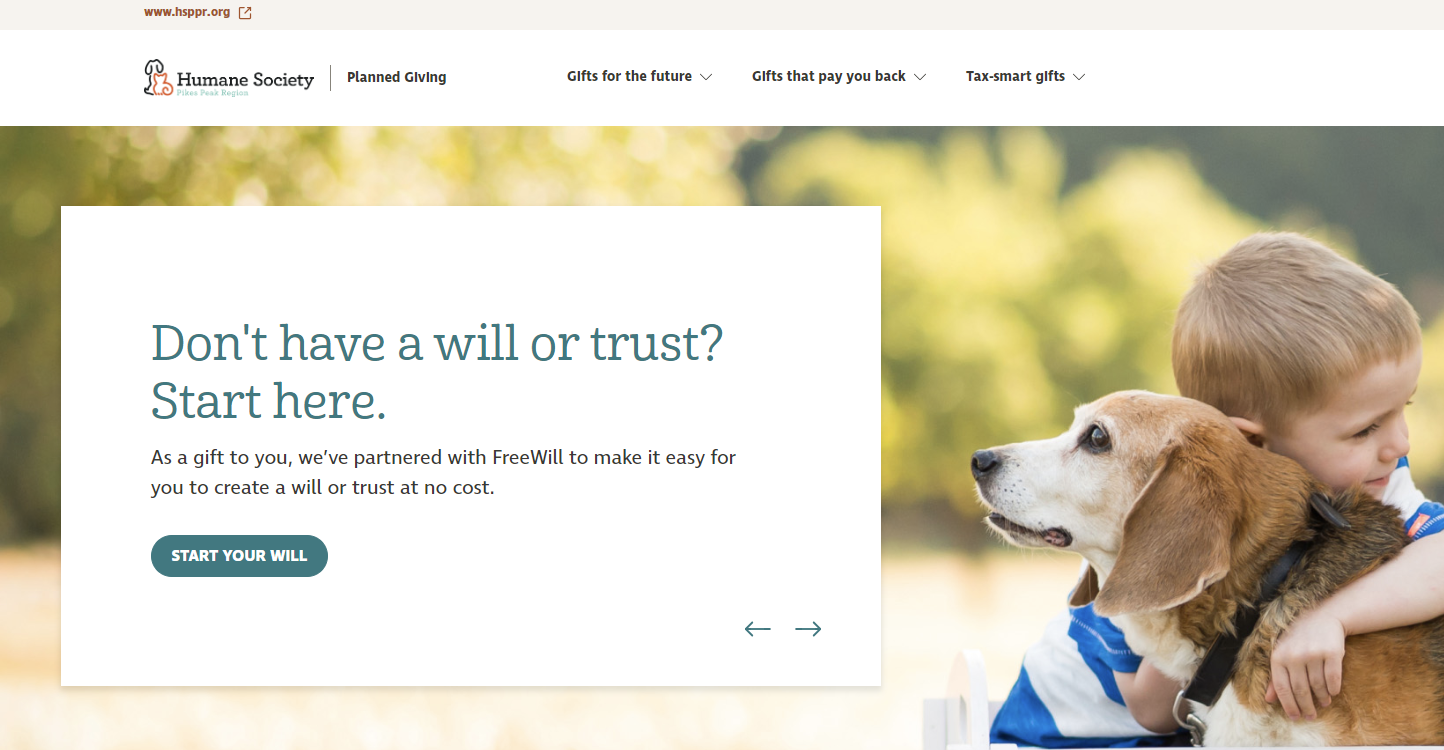 Visitors are greeted with friendly language, a scrolling gallery of emotionally compelling images, and a tidy layout. Together these elements encourage potential donors to engage with the site and immediately show them that they've landed in the right place.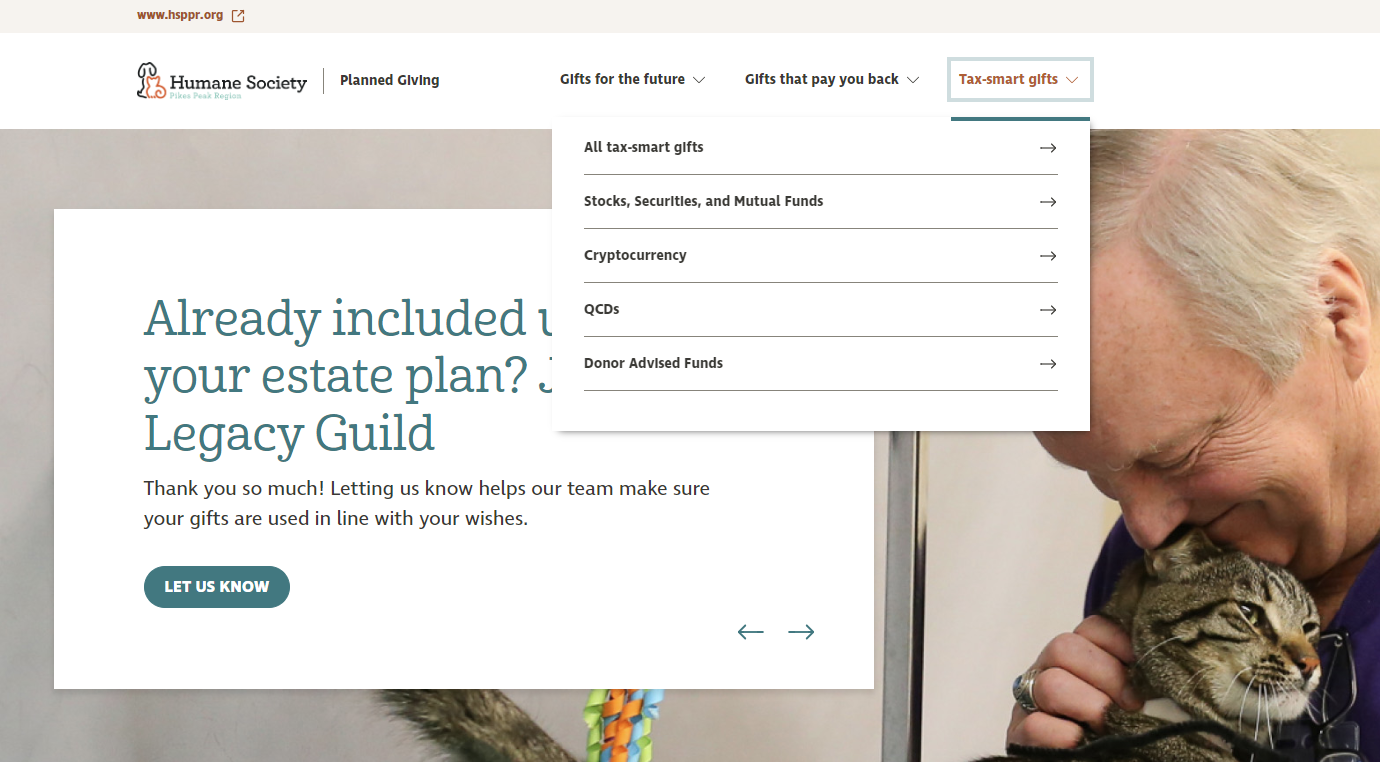 The navigation bar of HSPPR's Planned Giving Website is user-friendly and intuitive. It breaks each form of planned or non-cash giving into three categories, which are phrased in ways that entice readers to click through and learn more—"Gifts for the future," "Gifts that pay you back," and "Tax-smart gifts."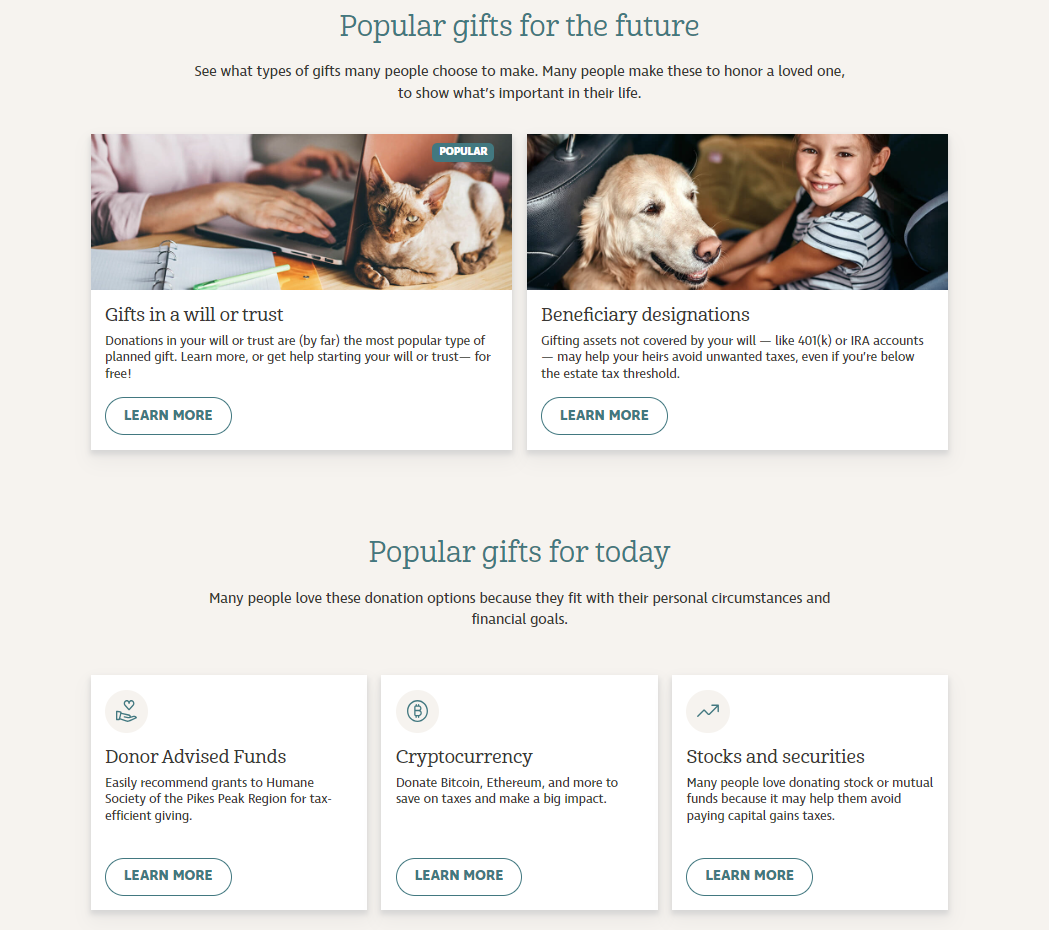 As we scroll down, we see how the site employs additional strategies to encourage engagement:
A concise explanation of why donors make planned gifts
A section that highlights popular gift choices among the different categories
A testimonial from some of the organization's current planned donors
These elements accomplish a few things. First, they introduce the concept of planned giving to visitors who may be new to it. They also reassure potential donors that this is a popular way to give by laying out a few common choices and offering direct social proof with a testimonial.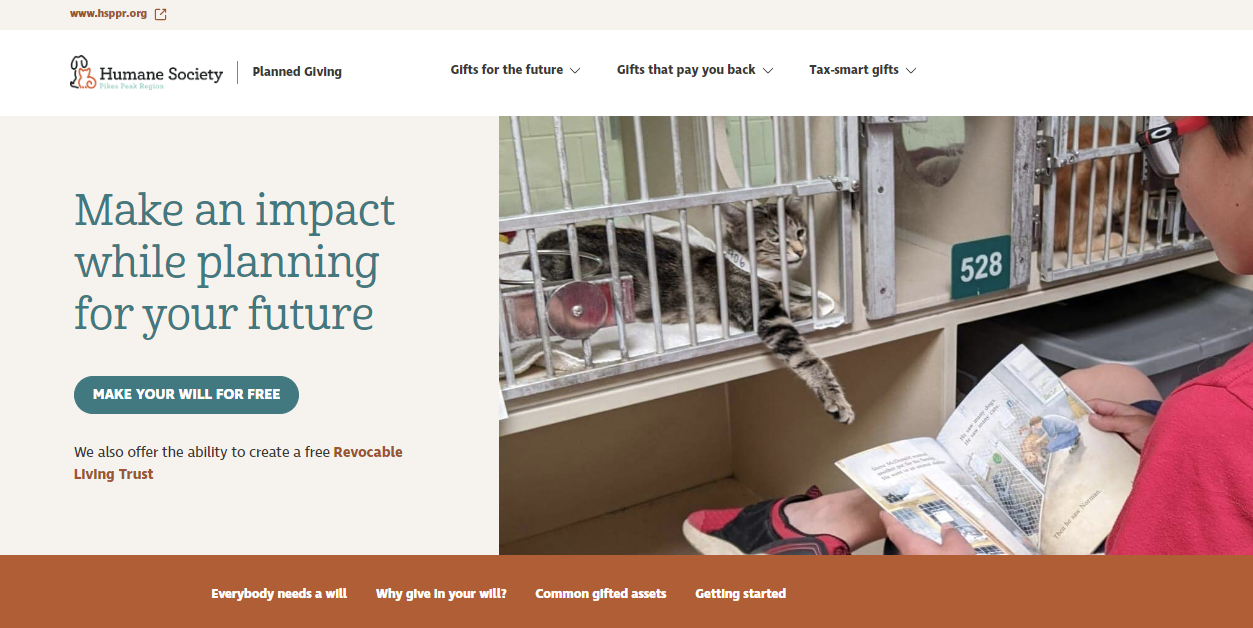 When we click through to the page specifically about gifts made through wills and trusts, we're greeted by a compelling title and photo, a clear call-to-action button, and an intuitive navigation bar.

This page does a great job of educating donors on legacy giving with concise explanations. It even offers a library of links that provide helpful resources to donors (regardless of whether they choose to give). Offering value and warmly-phrased educational materials is a smart choice for Planned Giving Websites since this form of giving is not only quite personal but may also be unfamiliar to your donors.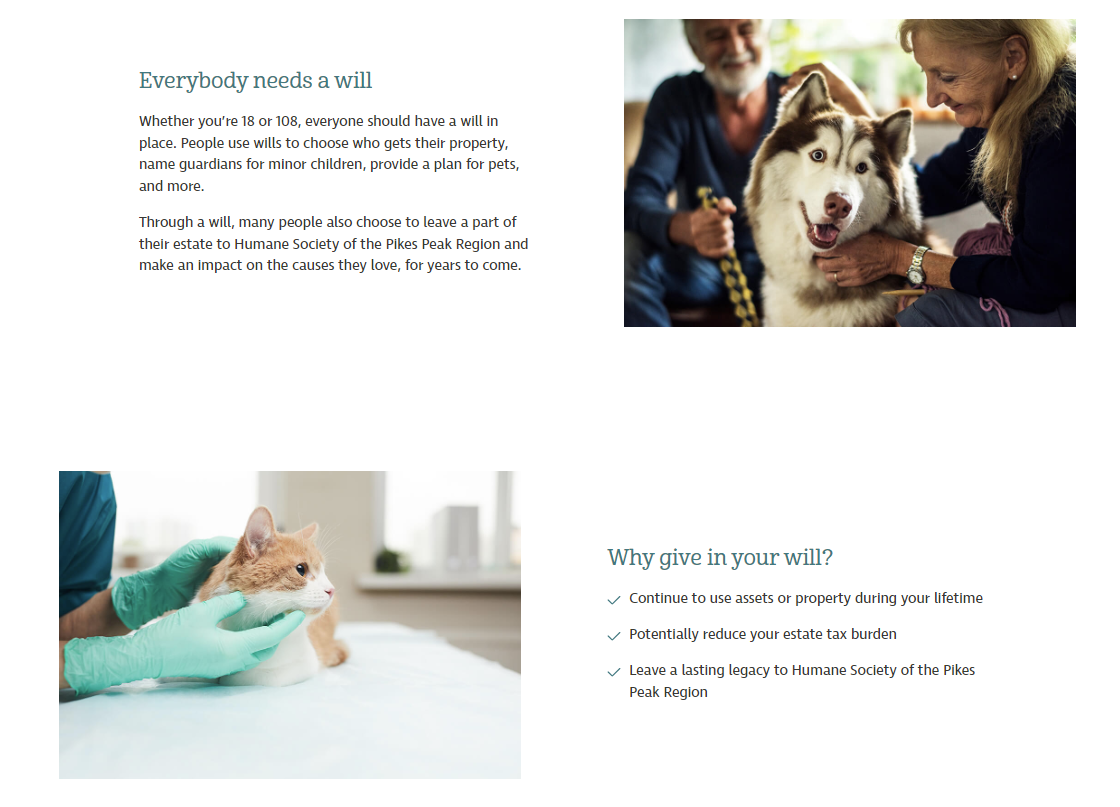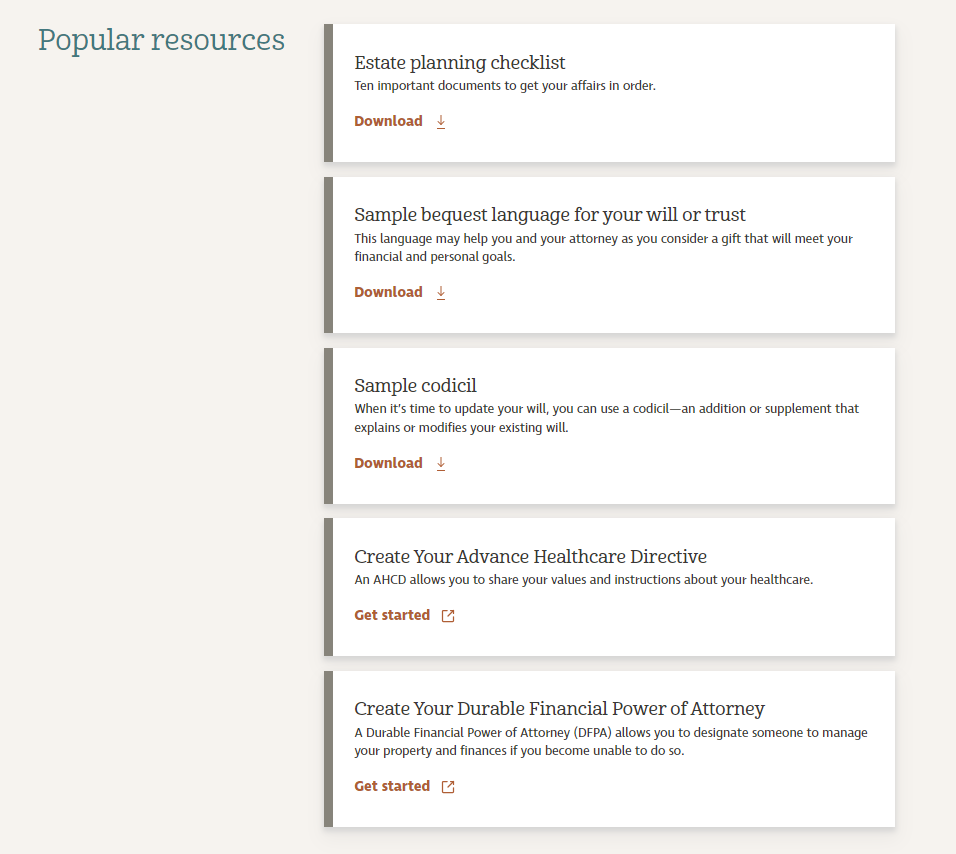 After learning more, inspired donors can click through one of the several call-to-action buttons on this page. This takes them directly to HSPPR's FreeWill estate planning tool: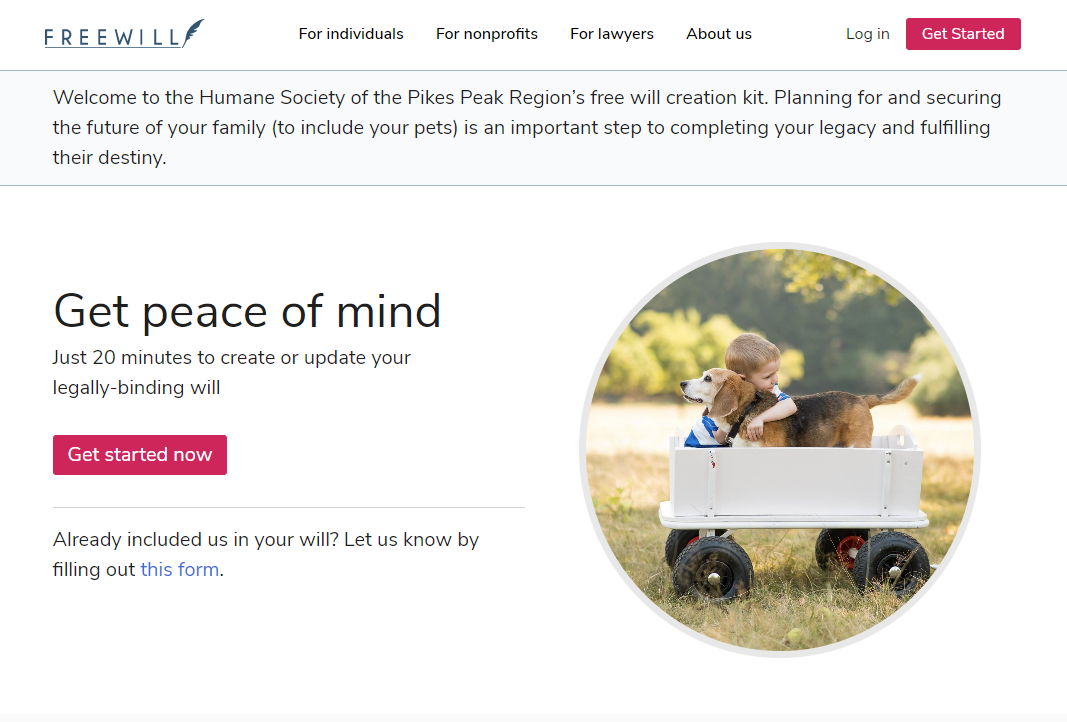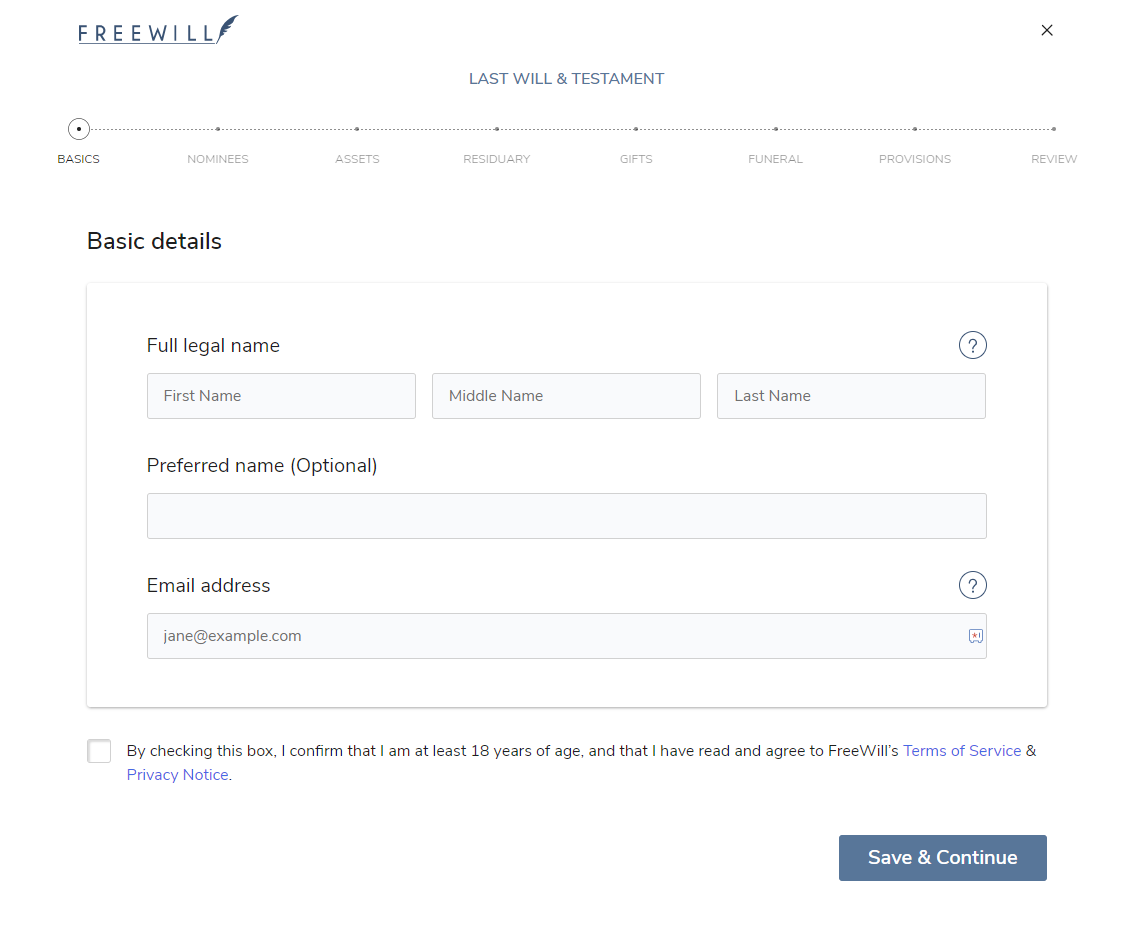 The FreeWill estate planning tool creates a smooth user experience that actively encourages completion while leveraging science-backed nudges toward charitable giving. Donors can easily see which step they're currently at in the process, and the design of the form is simple, without any unnecessary fields or graphics.
Customizing your own Planned Giving Website
FreeWill has made it even easier to create and tailor a planned giving website that reinforces your nonprofit's unique brand and message.

Take a tour of this demo website to see all the tweaks and strategic choices you can make to support your planned giving program:


This website template allows you to completely customize a scrolling carousel of images, links, and copy in order to promote different forms of legacy giving or aspects of your giving program. The visual appearance can be fully branded to your organization, creating a seamless experience as donors click through from your Ways to Give page.
Intuitive navigation, simple but impactful design, and pre-set calls to action come together to create a high-converting planned giving website.
How FreeWill can help
FreeWill is a leading partner for nonprofits seeking to build or improve their planned and non-cash giving programs.

We provide donors with a simple (and completely free) way to create estate plans and leave bequests to the nonprofits they care about. In fact, wills made on our platform are 5 times more likely to include bequests, and at sizes more than twice the national average. By empowering your donors with the right tools, building a stellar experience, and actively promoting these giving options, you can see some incredible results. Here's how it works:
And aside from facilitating the bequest process for your donors, the FreeWill platform also gives you access to actionable insights and analytics, content strategy, exclusive fundraising training, and more. Through its Digital Services team, FreeWill also builds tailored Planned Giving Websites that integrate directly with all your FreeWill products as well as the other tools you may have already invested in.

Reach as many donors as possible all while taking the guesswork out of promoting your planned giving program.

Want to learn more? Explore our Planned Giving Websites offering, complete suite of planned giving products and services, or educational guides about how to grow a thriving giving program: