If you're just getting started with planned giving at your organization, you might not know where to begin. There are a few steps to keep in mind in order to be successful, including creating a legacy society.
A legacy society is a membership association for people who have told you they will leave a gift to your organization in their will. It can aid your planned giving marketing strategy through word-of-mouth, and by giving donors the added incentive they need to leave a bequest to your organization.
Additionally, it can help you to deepen your relationship with your legacy donors, leading to more gifts from them and planting the seeds for larger gifts in the future.
Forming a legacy society doesn't have to be overwhelming. Here are eight steps your organization can take to start its own legacy society and drive more planned gifts to your nonprofit:
1. Start a planned giving program.
In order to create a legacy society, you must first have a planned giving program in place to accept and market legacy gifts. Nonprofits without a dedicated program may have legacy donors that haven't notified their organization of their gifts. This means they aren't able to steward these donors properly to ensure their gift is realized. By starting a planned giving program, you can work in ways to find out who these donors are. Additionally, you can solicit, and steward new donors who leave a bequest in their will or give another type of planned gift.
Organizations of any size can begin accepting planned gifts by hiring a planned giving team, or investing in tools that make leaving a bequest intuitive and easy. Before you start a planned giving program and create a legacy society, you may want to read our planned giving guide. It details how donors can leave gifts in their will and why they're important to a nonprofit.
2. Survey your existing donors to learn who has already included your nonprofit in their will.
The next step in starting a legacy society is to find out who has already left a planned gift to your organization. One way to do this is to send your supporters a survey. This can also help you to identify new planned giving prospects by seeing which respondents have the traits of a planned giving donor.
In the survey, ask questions that will give you information on:
The donor's capacity to give, including demographics, income, and future gift considerations.
Their inclination to give, assessing their loyalty to your organization. This is where you can ask if they've already included you in their will plans.
Their motivation to give — you can ask about their emotional connection to your mission, as well as their interest in learning more about legacy gifts.
3. Pick a memorable name and design a logo.
The name of your legacy society is important and deserves careful attention. It should be an image or saying associated with your nonprofit that your planned giving donors can relate to.
Most nonprofits choose to name their legacy society after a person, a date, a landmark, or an inspirational word or phrase. For example, the American Heart Association named their legacy society the Paul Dudley White Legacy Society after one of their founding members.
When you've picked a name, consider creating a logo to give your society a branded look and a feeling of unity. You can use this on your website, in communications with society members, and in your planned giving marketing materials.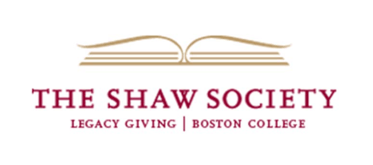 4. Don't do it all alone — ask your most committed supporters to champion your legacy society.
Once you have a name picked out, you can invite existing legacy donors to be the founding members of your society. People who leave a planned gift to your nonprofit have shown a high affinity for your mission and organization. Presenting them with this opportunity can drive further commitment to your cause. Plus, this can drive awareness to other donors like them, or in their social circles.
Additionally, ask your board members, employees, or dedicated volunteers if they'd be willing to be part of a rotating chairmanship in your legacy society. This will ensure that you have a group of people invested in maintaining and growing your society. And, because of their visibility, they can help to build awareness among their peers, and activate the support of other board members.
5. Create a page on your website where members can join.
After you've picked a name and logo, create a page on your website where members can learn more about how to join your legacy society. This will give you a clear place to send anyone interested in leaving a bequest or other planned gift. On this page, list the benefits and perks of joining your legacy society, and include instructions on how to make a planned gift. Include a link to this page in any of your solicitation emails, and on your donation page.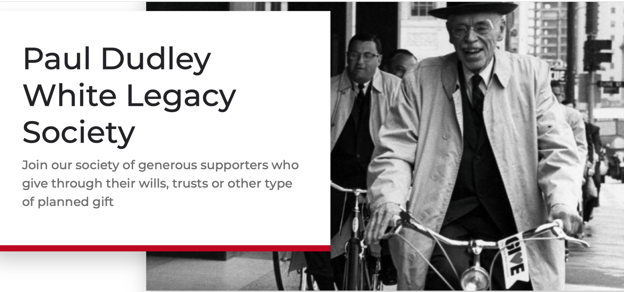 6. Outline the benefits and perks of joining your legacy society.
On your website page, you should also outline the benefits of becoming a member of your legacy society. These exclusive benefits are a way to honor donors and incentivize them to join. A good start is sending new members a welcome gift, like a pin with your logo, or another token of appreciation. You can also include a letter from your CEO or board thanking them for their gift and mentioning the impact it will have on the future of your organization.
Many nonprofits also offer invitations to exclusive social events, discounts on merchandise, or complimentary newsletter subscriptions.
For example, on the Paul Dudley White Legacy Society page, the American Heart Association lists the following perks for members:

With their permission, you should also publicly acknowledge your legacy society members. This could be as simple as naming them in an annual report, brochure, donor recognition wall, or on your website.
7. Communicate regularly with your legacy society members.
The key to effective communication with legacy donors is consistency and personalization. Since legacy gifts offer the highest return on investment of all fundraising types, it's important to provide these major donors with frequent, personalized updates to make them feel appreciated and involved. Not only will this help ensure that they keep their legacy gift in their will, but it can also lead to more gifts in the future, whether those be annual cash gifts or even major gifts of stock.
There are many creative ways nonprofits nurture legacy donor relationships, including:
Phone calls and visits
Birthday cards or gifts
Exclusive newsletters
A donor recognition wall
Private tours
Exclusive workshops and webinars
By determining what type of stewardship resonates most with your legacy donors, you can make sure you're adding actual value to their membership. This can inspire other donors to join, or make a planned gift of their own.
8. Get more legacy donors by making it easy and simple to give.
Your legacy society can only thrive if you continue getting new legacy donors. This is why it's critical to provide your supporters with resources that make it easy and efficient to create a will.
These resources can include links to free tools for creating a will online, such as freewill.com. Our tool collects donor information, which can make it easier to acknowledge a donor's bequest, and introduce them to your legacy society.

To find out more about how FreeWill can help your nonprofit accept more planned and major gifts, check out our other tools.