Fundraising events are often one of the biggest sources of donations for nonprofit organizations. However, the Coronavirus pandemic has brought state-wide shutdowns and apprehension around large gatherings. This has forced many nonprofits to cancel the majority of their in-person events for the rest of 2020 (if not longer).
Because of this, they've had to replace traditional galas and everyday programming with new, creative ways of engaging supporters online.
Recently, we hosted a webinar with Tiffany Parnes, the Director of Capital Campaigns and Special Events at Perry Davis Associates, to discuss a few strategies for hosting successful fundraising events online. While every organization is different and will require different pieces to their fundraising events, PDA created this sample run of show as a tangible way for nonprofits to start planning: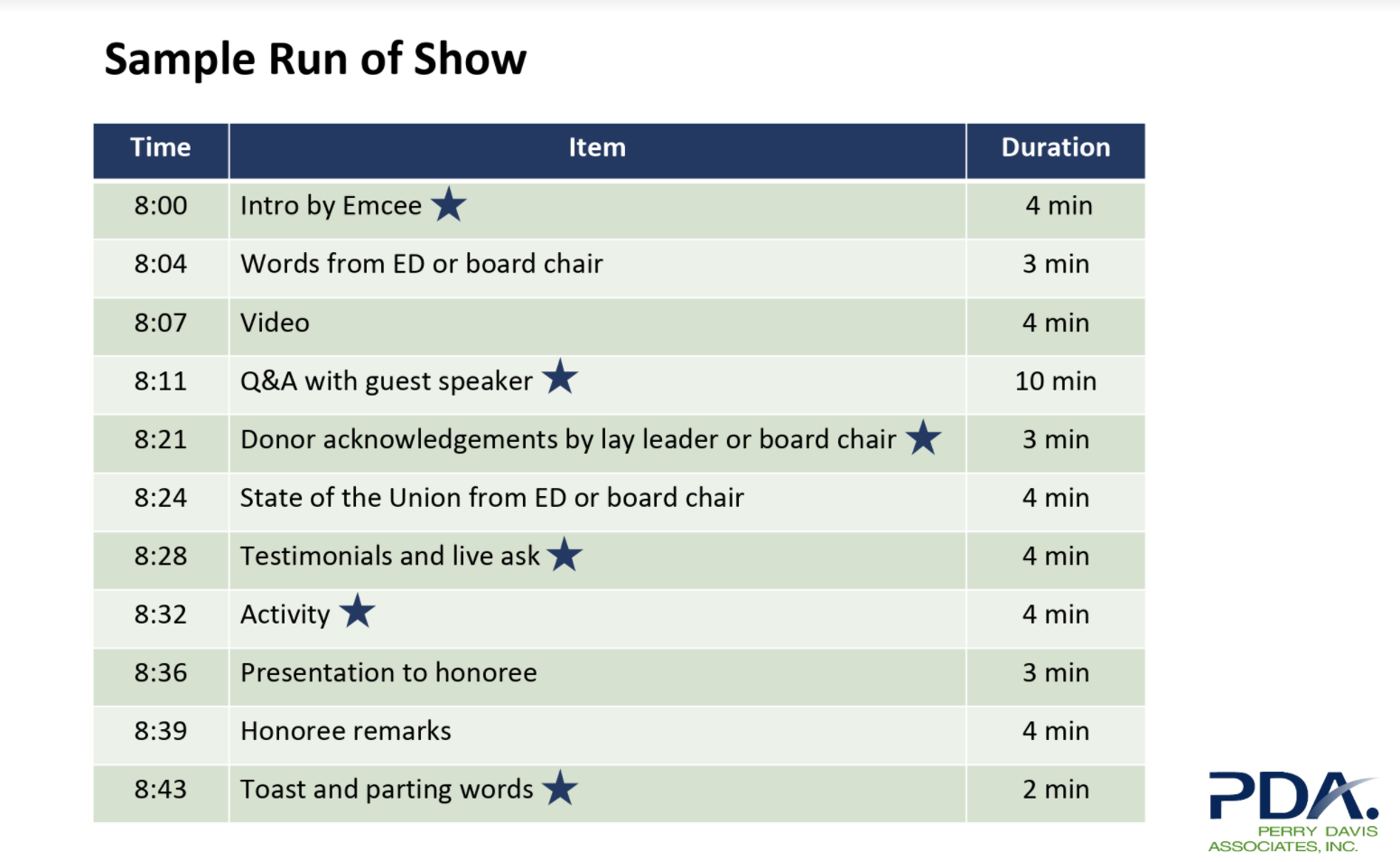 The stars on this run of show represent moments where your organization should try to engage your attendees by making asks, calling on them, or offering activities. Here's a breakdown of some of the important pieces from this run of show and what they mean for you:
Intro by Emcee: Tiffany Parnes highly recommends having an emcee run your event. They should have an enthusiastic personality and be able to engage with attendees. In the intro, your emcee should also mention the activity coming up later during the event to build excitement for it and keep people online.
Video: You may want to hire a video producer to create a great, focused video that represents your organization. Just make sure that when you share it live, you share both the audio and video for attendees to hear!
Q&A with guest speaker: For whatever technology you're using to host the event, make sure that your audience is able to engage and ask questions.
Donor acknowledgements: If possible, try to put your donors in the frame with the emcee as you thank them. Some video technologies also allow you to have a running scroll at the bottom where you could write your donors names.
State of the Union: Give an update on your organization and how things have changed in the last few months. Let your attendees know how the pandemic has affected your work.
Testimonials + live ask: This is super important! Tiffany recommends sending out an email with a donation request during this portion of the event. Ask your donors to give if they feel moved to do so.
Activity: Plan an activity that your donors can do live. For example, one of Tiffany's clients asked donors to make their representation of a rose in replacement for their annual rose garden gala. In this portion of the event, the attendees shared their roses.
Honoree remarks: If necessary, these can be pre-recorded selfie videos. Just hire a video editor to make sure it looks great!
Overall, Tiffany recommends keeping your virtual events short. Unlike in-person events, people tend to fatigue more easily with online events and hop off because it is easy to leave. She says the sweet spot for length is about 45 minutes.
Plus, here are our recommendation for hosting in-person events for the next four quarters:
Q3 2020

(Jul - Sep)

Q4 2020

(Oct - Dec)

Q1 2021

(Jan - Mar)

Q2 2021

(Apr - Jun)

Best estimate

Not happening

Very unlikely

Less than 50%

TBD

Action step

Move to virtual

Make no purchases and prepare to move to virtual

Treat event as "Plan B" and prepare to move to virtual

Make no purchases and re-evaluate in 3 months
You can find online event ideas and learn more about hosting virtual events in our webinars. In our fifth webinar (
watch now
), we covered how to hold smaller, donor stewardship events. In our eleventh webinar (
watch now
), we covered how to host large fundraising events online.
Event technology
There are a number of platforms you can use to host events. Here are a few to start with: