Successful nonprofits are investing more in stock fundraising this year.
Here's why: the stock market is reaching new heights, stock gifts are much larger than gifts of cash, and research shows that organizations who focus on non-cash gifts grow six times faster.
Stock donations can be shares of stock that your donor owns in a public company, in a private company, or in a mutual fund. With the average stock donation worth $5,000, these have the potential to be major gifts. Stock gifts are also one of the most tax-savvy ways to give because your donors won't have to pay a capital gains tax, and they can take a charitable deduction on the current value of their shares. Because these gifts have the potential to become recurring donations, you'll want to ensure you start building a relationship with these donors from the moment they say they'd like to make a donation of stock.
The following steps will be key in stewarding stock donors, and ensuring your receive their donation in a timely fashion:
1. Decide who will be in charge of tracking, recording, and acknowledging stock gifts.
Most organizations designate someone on their accounting or finance team to finalize the transfer of the gift from the brokerage. That person will often then notify someone in development, so they can record the gift and thank the donor. As nonprofits vary in size, this will come down to what makes the most sense for your organization, and who will have the bandwidth to steward and follow up with donors.
2. Open a brokerage account and monitor it daily.
In order to receive transfers of stock, you'll need to open a brokerage account. Nonprofits usually get lower fees than companies or individuals. Research which brokerage firm is the most convenient for your organization and has the lowest fees — the most common are Schwab and Fidelity Charitable. Make sure you monitor this account daily for new stock donations, so that you can immediately value the shares received for your donor tax receipts. For privately-owned stock, the donor will need to get an appraisal by a broker before donating.
3. Create a stock giving page on your website.
Many nonprofits put their DTC information directly on their stock giving pages. However, there are three big mistakes with this approach:
When donors make a gift, brokerages often don't share their contact information. If you have no idea who sent the gift and the donor doesn't inform you, they will go unthanked, unstewarded, and might be quite upset when you don't send them the needed tax information.
If a donor starts to make a gift, but doesn't finish, you will have no way to follow up with them. You may not even know they had been trying to give. So you'd miss out on a major gift, and potentially future gifts as well.
Openly exposing account information may increase risk of fraud, as malicious web-crawlers can "scrape" this information.
Instead, collect a donor's contact information first. Include a space to answer what kind of shares they're transferring, and the date they plan to donate. Also, confirm if the donor is giving stock that has gone up in value and is held for more than a year. This is because donors can only receive a charitable deduction for the fair market value, or current price of the stock, if they've held it for more than a year. If they've held it for less than a year, their deduction is limited to the cost-basis — what they paid for the stock — and not its current value. If a donor is giving private stock, they will need to get the value appraised by a broker or financial institution first, since its value isn't known on the open market.
When they complete the form, your donor can then be taken to another page on your site, or sent an automatic email with your DTC info. You don't want to delay the response time here, as it can result in a lower amount of completed gifts.
Here's an example of how this works in practice.


Reasons to Believe has a giving page specifically for stock donations. They speak to the benefits of donating stock, and provide links to where they can learn more or make the gift.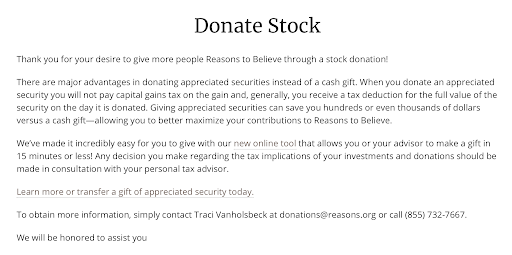 When a donor clicks that link, it takes them to a page where they can choose when and how they'd like to donate stock. (For transparency, this page is their custom FreeWill Stock Tool landing page, however any place where the donor could give online or learn more would work.)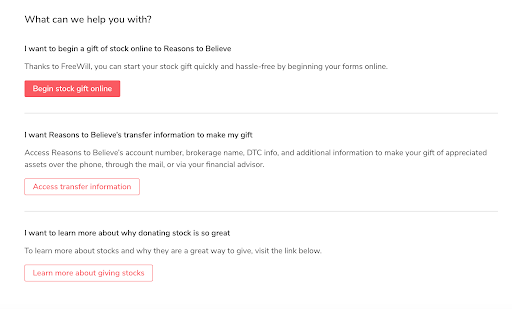 If the donor just wanted to access the transfer information and Reasons to Believe listed it without first asking for donor information, the donor may unknowingly give anonymously. Their broker may not transfer their contact information, and they wouldn't receive a follow-up or stewardship from the organization.
Instead, that link takes them to a form that asks for their basic information, including the date they plan on donating the stock.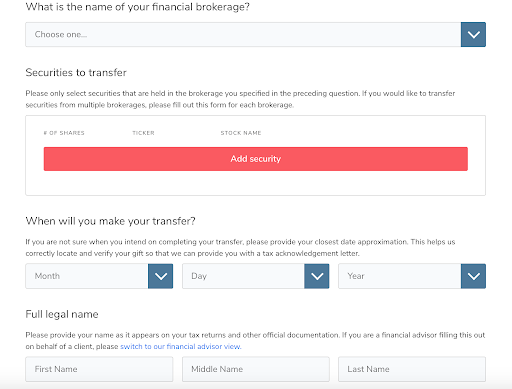 When the donor completes this form, they're taken to a page that gives them the necessary account and DTC info to complete their stock transfer. And Reasons to Believe receives the donor's contact details, so they can follow up with a thank-you, and offer assistance in case the donor needs more instruction on how to transfer the gift.
4. Ask your donor to contact their broker and obtain a stock donation transfer form.
When you receive your donor's contact information, you can email them with transfer instructions, or include these on the page with your DTC info. These instructions should include:
How to obtain a stock transfer form from their broker
Your organization's brokerage name and address, and your DTC info to initiate the transfer
You may want to work closely with the donor during the process to ensure they have included the right information for your organization. Incorrect information can delay or stall your donor's gift.
If your donor is transferring stock in a private company, this can also take longer (up to four weeks) than transferring publicly-traded stock. It may also raise valuation issues. If your donor is transferring private stock in November or December, make sure they are aware that it may take longer, and it's possible that it might not be completed in time for it to be deducted from that year's taxes.
5. Sell the donated shares.
It's best practice to sell the shares the same day you receive them. That way you won't have an accounting discrepancy between the donated value and the actual cash proceeds. Once you've done this, you can transfer the cash from your brokerage account to your nonprofit.
6. Thank your donor and send a tax receipt.
Receipts are required by the IRS for any donation of more than $250. Once the stock donation is listed in your brokerage account, send the donor a tax receipt that lists the date of transfer, the number of shares, and the stock's ticker name.
This is a great opportunity to thank them again, and assure your major donor that their gift went through.
7. Track your stock donors.
Make sure you note the donor's name, size of donation and when they donated in your CRM, so that you can effectively steward these major givers. This is crucial, since donations of stock have the potential to become recurring gifts. You should continue sending out stewardship communications to keep these donors engaged, and encourage them to make another gift of stock — especially before the end of the year for tax filing purposes.
Want to make it easier to accept and track stock gifts? The FreeWill Stock Gifts Tool tracks and records donor and gift information for you, so you can spend less time on managing gifts and more time on stewarding your donors.