Crypto, blockchain, decentralized, oh my! While you might think these are just some strange words that techies in San Francisco use, cryptocurrency, or crypto, is a form of digital currency that is exploding in popularity. 21 million Americans own some form — and 19.3 million say they'll buy crypto within the next year.
With cryptocurrencies like Bitcoin rapidly increasing in value, more donors than ever before are using it to make charitable contributions. Crypto donations going into Fidelity Charitable Donor Advised Funds doubled in 2020 over 2019, reaching $28 million in contributions.
With the rising number of crypto owners and the massive amounts of wealth in currencies, crypto isn't going anywhere. Now is the time to get your nonprofit at the forefront of this innovative new way of giving. But first, let's define cryptocurrency and how it works.
What is cryptocurrency?
Cryptocurrencies, or crypto, are digital forms of money that can be used to buy goods and services, or held onto as a long-term investment (like a stock). They get rid of banks and middlemen because they're "decentralized." This means that no single entity is in charge of the money. Instead, cryptocurrencies use a network of computers ("blockchain") that work together to record and confirm transactions.
Coins or tokens are "mined" or found and verified by actual people. You can read more about mining here, but it involves using very sophisticated computers that solve extremely complex math problems. These computers are not all under one roof, and each computer or group of computers is operated by a unique individual or group of individuals. Because of the way blockchain is recorded, transactions are irreversible, so they're easy to trace and nearly impossible to duplicate or counterfeit.
Think of crypto like gold: you have to buy it or "mine" it. Then you can trade it as an asset or form of currency. Like gold, there are a limited number of coins or tokens available, so value fluctuates from supply and demand.
The most popular cryptocurrencies right now are Bitcoin and Ethereum, but there are more than 10,000 different cryptocurrencies in circulation.
What cryptocurrency means for philanthropy and nonprofits
While cryptocurrency donations are new territory for many nonprofits, here are a few of the implications they may have on fundraising:
1. Accepting appreciated assets like crypto may fuel fundraising growth.
An analysis of one million nonprofit tax returns found that accepting non-cash gifts drives nonprofit fundraising growth regardless of nonprofit size and sector. When looking at growth over a five-year period, nonprofits strictly accepting cash donations only grow by 11%. However, organizations accepting appreciated securities (like stock and real estate) grow by 66%.
Many cryptocurrencies like Bitcoin have rapidly increased in value, meaning many crypto owners are holding onto these as appreciated assets. If nonprofits can secure these gifts, it will have a tremendous impact on their fundraising growth.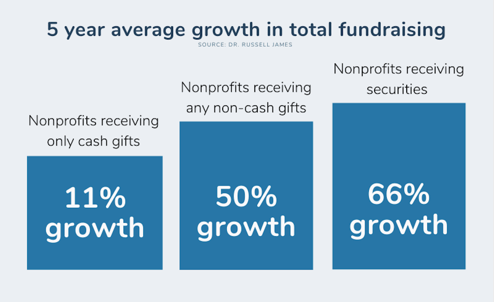 2. Crypto gifts can help you get bigger gifts from the same donors.
When donating to nonprofits, the IRS treats cryptocurrencies like property, so donors avoid capital gains tax and can receive income tax deductions. We'll go more into capital gains later in this article, but the simple definition is that a capital gain is the difference between the original purchase price of an asset and its current value.
This means it costs the same donors less to make a gift of cryptocurrency than it would to sell their crypto and give in cash. Gifts of appreciated assets like stock and crypto tend to be larger than the average cash donation (even from the same donors) because donors pass on the tax savings.
3. Accepting crypto can open up a new pool of donors.
Crypto is a new source of wealth for many crypto owners. With rapid appreciation, there is a new pool of people who hold a lot of wealth in crypto, but not as much in cash. If Bitcoin reaches a value of $200,000, half of the world's billionaires would be crypto billionaires.
This growing segment might not have been on nonprofit's radar before, but they should be now. As more people buy crypto, more will likely see massive gains and want to give some of that wealth to charity in a tax-savvy way. If nonprofits can provide an easy way to give crypto, they can tap into this growing segment of wealthy donors.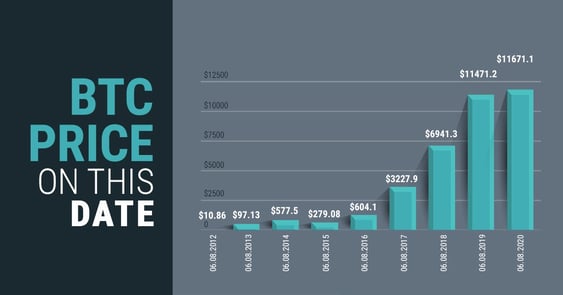 4. Crypto giving will lead to questions for nonprofits on how to handle gifts in an unregulated space.
There are three main concerns for nonprofits considering cryptocurrencies:
Many crypto donations occur anonymously, since wallet IDs aren't linked to an owner's personal information. This can make it challenging to verify a gift, or steward donors for future gifts.


Cryptocurrencies can fluctuate in value drastically throughout the course of a day. If nonprofits don't monitor incoming donations closely, they may see accounting discrepancies in the amount donated and the actual cash proceeds. And nonprofits will need to create gift acceptance policies on these gifts, deciding to either hold onto them or sell immediately.


The laws regulating cryptocurrency still lack coordination and consistency among jurisdictions. Laws around cryptocurrencies are rapidly changing, and nonprofits accepting these gifts will have to keep up with what's happening and how it may impact their organization.


Why crypto gifts are tax-savvy gifts for donors
The benefits of donating crypto are incredibly similar to other assets, like stocks or real estate.
If a donor sells crypto that has appreciated in value, the federal government taxes the gain at a rate of up to 20%. This is called a capital gains tax. A capital gain is the current value of an asset minus the purchase price. When the owner donates the crypto instead, they avoid this tax, and get an income deduction for the value of their donation.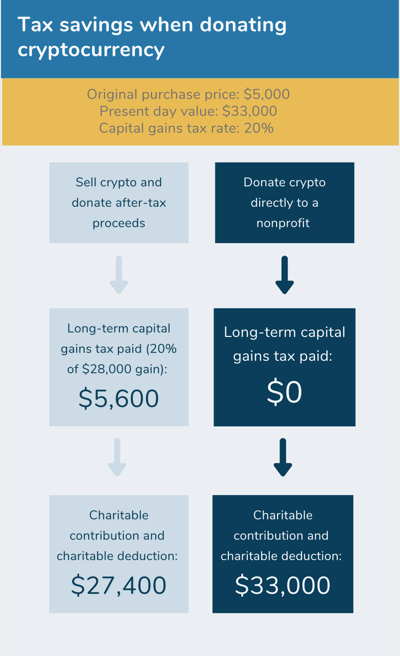 After donating, the donor can immediately buy more tokens or coins with cash if they want to stay invested in the cryptocurrency. This allows them to take on the present day value and further saves on the capital gains they'd pay in the future.
An added benefit: Crypto is easier to donate than other assets
Unlike other assets, when donors give crypto they don't have to go through the transfer process with a brokerage. This saves time by eliminating the paperwork involved. Additionally, stock and real estate donations can have high broker fees, whereas most crypto platforms charge lower fees than a credit card transaction. The catch is that if a donor wants to give a gift of crypto worth more than $5,000 USD, the IRS requires that the gift be appraised (like property).
Who is most likely to own cryptocurrency?
A 2021 analysis from the crypto exchange Gemini found that the average cryptocurrency owner is a 38-year-old male making approximately $111,000 a year.
However, there are many other key demographic characteristics of crypto owners and the "crypto-curious:"
Gender: 74% of crypto owners are men. However, more than half of those interested in buying cryptocurrency soon are women.


Age: 74% of cryptocurrency owners today fall between the ages of 25 and 44, with another 19% between the ages of 45 and 55.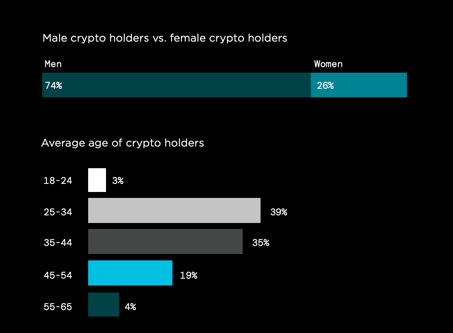 Location: The majority of crypto owners live in large or urban areas, where wealth is more concentrated.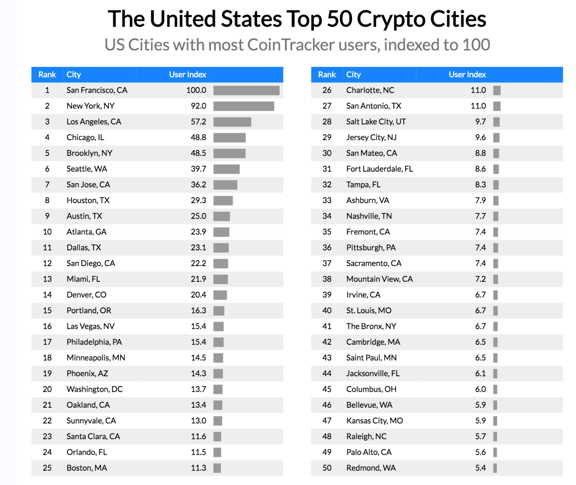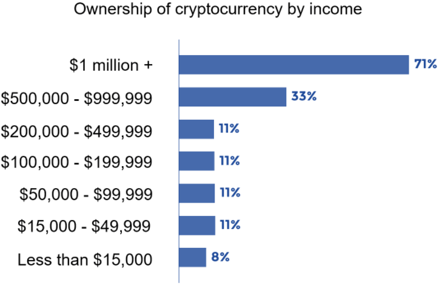 How to accept cryptocurrency at your nonprofit
1. Open an account with a cryptocurrency platform.
To accept crypto, you'll need to set up a crypto wallet or an account with a crypto payment processor. The most popular payment processors are BitPay and Coinbase. These platforms allow you to accept crypto donations and then automatically convert the crypto into US currency.
While some nonprofits prefer to hold onto crypto (hoping it will increase in value), most choose to cash it out right away. If you don't, you risk the value of the gift going lower or even to zero. Crypto values can fluctuate wildly even within a single day, so cashing them out immediately is less risky. It will also help you avoid any accounting discrepancies in the donated value and the actual cash proceeds.
If you open a crypto wallet instead of going through a payment processor that automatically converts into cash, you may want to monitor the wallet daily so that you can sell the tokens or coins immediately.
You can also direct your donors to Crypto for Charity, a new tool that accepts gifts of crypto and liquidates it immediately into cash for your nonprofit.
2. Put cryptocurrency donations on your website.
Once you have a way to accept crypto, put a donation link and form on your donate page and "ways to give" page. Crypto owners are young, tech-savvy, and incredibly unlikely to call or contact you. Making it easy for them to give online will be the easiest way to secure these gifts.
Save the Children has a giving page specifically for crypto donations in order to educate their donors. They speak to the benefits of donating crypto and provide links to where donors can learn more or make a gift.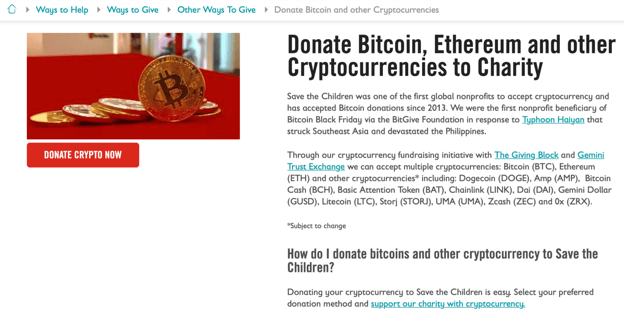 3. Collect donor information to avoid anonymous gifts.
The appeal of crypto for many traders is its anonymity. When someone purchases tokens or coins, they don't have to provide any identifying information. And their wallet address and transactions are all recorded in long strings of letters and numbers that in no way directly link to their identity.
However, anonymous donors present problems for nonprofits. It's hard to thank these donors, steward them, or even provide the required tax receipts.
You can avoid these problems by having donors fill out a form with their contact info when making a crypto gift. When you give people a reason for something (such as providing their contact information), they are frequently more motivated to do it. On your form, you could say:
"Will you make the work of our organization easier by letting us know who you are? Anonymous gifts may be less helpful and we may not be able to provide a tax receipt."
Many payment processors require donors to fill out their information already, saving you the hassle of creating a form on your own. Here is an example from the American Red Cross: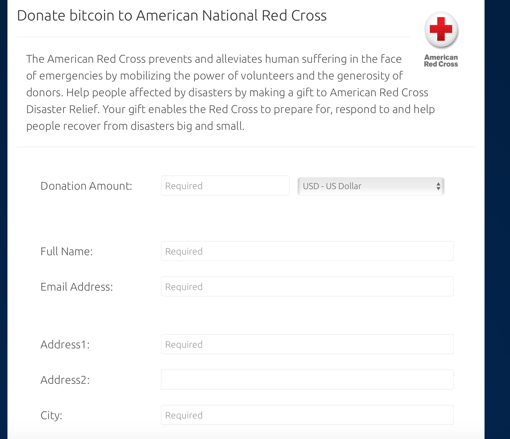 Cryptocurrency donations are a growing field, and we may not know the implications for a while. However, getting up to speed on these gifts now will help your organization stay ahead of the curve and secure larger gifts in the future.

Need help fundraising other non-cash gifts? Freewill can help.