Did you miss our latest webinar on "AI and the future of nonprofit fundraising"? We've gathered the biggest takeaways for you.


Note: This webinar was a follow-up to our March 2023 webinar on
"AI in Philanthropy: How to Prepare for a Remarkable Future."
In that session, we saw strong interest from fundraisers in learning how to use AI in their jobs. This webinar focused on the latest developments, how nonprofits are already using AI, and practical tips for you.
A look at recent AI developments
We've witnessed advancements in AI throughout our lifetime, with more achievements happening in less time. In 2023 alone, there have been major advances.
The development of AI and its accompanying use cases are orders of magnitude faster than electrification, industrialization, or the adoption of more recent inventions like the computer, the Internet, or the smartphone. It is receiving massive attention and resources – no technology in history has had this many talented people working on it in such a short amount of time. The pace of progress is only accelerating, so expect more change in the next 3 months than we've seen in the last 3 months.
Big picture: AI and nonprofits
We asked nonprofits: Do you already use some form of AI in your work?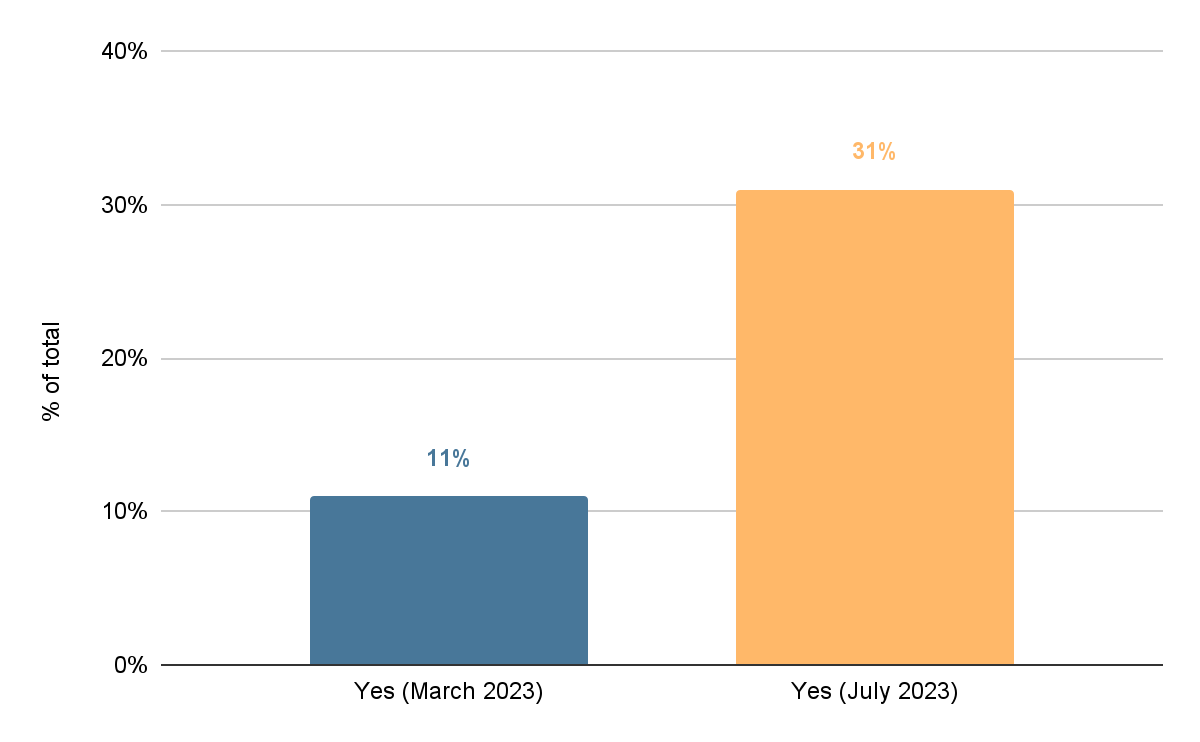 Nonprofit fundraising is an incredibly good use case for AI.
Nonprofit fundraisers repeatedly report being "understaffed, undertrained, overworked, etc."
It's an area where most of the work is communication, much of it written
MIT research shows that using AI increases productivity, quality of work, and happiness at work


Increasing efficiency per person:
A study conducted by Stanford and MIT found that AI implementation led to a significant increase in worker productivity
For lower-performing (or newer) staff, it can help create higher-quality work
For higher performers, it can increase the velocity of work and overall output
For both, it can allow much greater personalization for donors or subgroups

Fighting burnout:
According to a global survey, nearly 60% of workers believe AI can help with burnout
We know that burnout is an even worse issue within our industry
The voluntary turnover rate for nonprofit organizations is 19% (much higher than the 12% for the broader labor market)
Let's talk specifics: How can you use AI in 2023?
Important: Feel free to keep doing whatever you love doing. But AI can do a lot of things, many of them already better than us (and remember: it's improving really quickly!).
Here are a few things AI will do really well:
Fundraising emails (good ones!)
Highly personalized thank-you notes
Press releases
Remarks for an event
Stewardship emails and letters
Direct mail writing (surprisingly good!)


But also, beyond marketing writing:
An entire email calendar for the whole year
A social media calendar for the whole year
A memo to your board about why they should start giving appreciated assets
A two-pager for your staff on how to talk to older donors about QCDs
And lots more!
Some final thoughts:
In the last 4 months, the percentage of nonprofit fundraisers using AI has tripled. Over the next 4 months, we expect it to at least double to the point where non-AI users are the minority (and AI users are using it MUCH more). We'll all be learning along the way, so stay open, curious, and have fun!
Ready to try it for yourself? Check out FreeWill's beta AI nonprofit writing buddy, Willy or its faith-based equivalent, Sophie designed to help you in your day-to-day fundraising activities.
---
Watch the full webinar recording to hear our full insights into AI and nonprofit fundraising.
Interested in what we do at FreeWill? Schedule a 1-on-1 conversation with our team to learn more about how we've raised $8.1 billion for our nonprofit partners.