In these uncertain times, nonprofit organizations have been hit particularly hard. Many have lost revenue from canceled programs or events, or seen a huge increase in need from their communities. However, this hasn't stopped their teams from connecting with their supporters. Over the past few weeks, nonprofits have sent us dozens of examples of the powerful ways they're continuing to engage their supporters or fundraise during this time.
Here are seven of the strategies and communications that we think really stand out for their creativity, authenticity, or effectiveness.
Unable to gather in-person, the Pittsburgh Parks Conservancy celebrated 50 years of Earth Day with a virtual experience. Throughout the day on Earth Day, April 22, they hosted Q&As with park conservancy naturalists, a story time, and a "nature in your neighborhood" activity for all to enjoy.
Why we love it: Instead of canceling their Earth Day celebration, the Pittsburgh Park Conservancy turned an in-person event into an online experience that families loved. Plus, in their email announcing it, they focused mainly on the event to provide value to their supporters — only including a small donation ask as a P.S. at the very end that's particular to the Coronavirus crisis.

Berkeley Humane emailed out a couple of adorable — and helpful — videos to their supporters. One of their training managers, Nancy Frensley, and her two dogs, Solo and Popo, teach a few tricks to pet owners staying at home. The first video shares some helpful tips on how to social distance with your dog by teaching them a new trick to turn away from other people and animals. And the second video shares tricks to help keep your pet fit while at home.
Why we love it: It's quirky, it's cute, and it addresses the crisis in a way that offers warmth and comfort over panic. Stewarding their supporters, the organization provides a helpful (and adorable) resource that will make their community a moment of joy.
The American Foundation for Suicide Prevention recently emailed their supporters an extremely authentic, heartfelt email from their Vice President of Mission Engagement, Doreen Marshall. In it, she acknowledges the effect the pandemic is having on her personally and shares some personal advice on managing grief.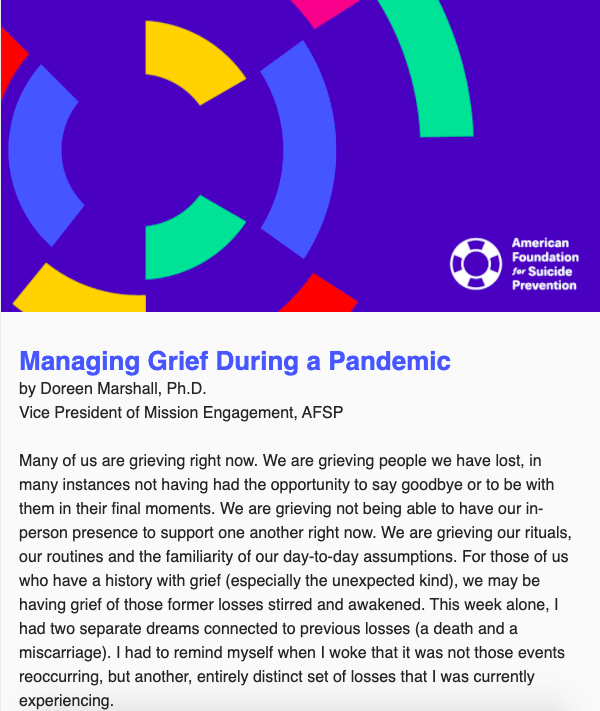 Why we love it: It feels so open and honest, allowing AFSP's supporters a moment of reflection. Doreen Marshall offers her own, personal stories as a way to connect and share tips that have helped her — and that they hope will help others — get through this crisis.
Muttville Senior Dog Rescue has been encouraging their supporters to post or send them working from home pictures and stories of their dogs.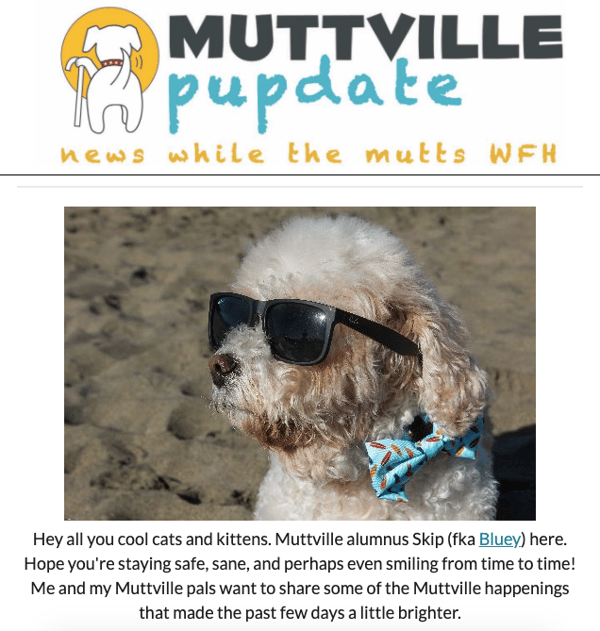 Why we love it: It's a cute and fun way to engage their supporters who are working from home and spending lots of extra time with their pups. The pupdate is also a great way to remind people of the important work the rescue is doing to find homes for their dogs.
Save the Redwoods has created a page on their website to help people recharge and connect with nature when they're feeling a little overwhelmed or stressed. They've pulled together videos, playlists, and other fun resources to help their supporters get the benefits of the redwoods even though they're stuck at home.
In one of our webinars, we shared one of these videos: "A minute of calm in the redwoods."
Why we love it: In a time where many people are feeling anxious, their videos offer a moment of respite and joy. It's inspiring to see how they've turned a difficult moment into a peaceful, joyful way to connect with their supporters by bringing the redwoods to them.
After having to make the tough decision to cancel their season finale concert, FSYO created a "Couch Concert Series". Each week on Tuesdays and Thursdays at 7 pm, supporters can tune in to their Facebook page for a free concert. These concerts let students from all programs of FSYO showcase their talent in an intimate online setting while patrons enjoy a unique concert experience from the safety and comfort of their homes.
Why we love it: The concert series is an innovative way to keep both students and patrons of the symphony involved and supporting the arts from home. While the video concerts are free to watch, FSYO posts a donation link under them, so they can continue to raise the funds they need to run their programs.
Like the Pittsburgh Parks Conservancy, the American Heart Association in Connecticut decided to move their 2020 Heart Walk online instead of canceling. On May 2, they're asking walkers to wear their best heart walk gear, lace up their sneakers, and walk wherever they're at. Leading up to the day, they're sharing videos from their co-chairs, survivors, and participants. And on the day of the event, they'll encourage walkers to post pictures and videos of themselves walking in the local neighborhoods and parks. They've also scheduled a video program for the morning of the Heart Walk that includes the National Anthem, a message from the Heart Walk Co-Chair, and a "Survivor Spotlight" with an inspirational message.
Why we love it: The organization is quickly adapting in these changing times and will be pulling off an incredible fundraising event while still adhering to social distancing guidelines. From their clean fundraising page to their simple directions on how to join centered on their Facebook event, the American Heart Association of Connecticut is still finding ways to connect with their community.
Has your nonprofit organization been using creative strategies during the time of Coronavirus? Email Patrick@FreeWill.com or Simone@FreeWill.com with examples. We love to share them in our webinar series.