Over the past couple weeks, we have held two webinars to try to help nonprofits navigate fundraising, speaking to donors, working from home, and more during the Coronavirus pandemic.
Our first webinar was on planned giving during the pandemic and our second was on how to fundraise and build donor relationships during this crisis. Before and after each webinar, we surveyed participants to take a pulse check on how the community is managing this turbulent time and to learn more about what kind of resources they need to be effective.
A number of nonprofit professionals attending the webinar wanted to see the results from these surveys, so we've analyzed the data and pulled out the key insights here.
Hundreds of nonprofit professionals responded from every sector
We've had almost 1,000 nonprofit professionals attend our webinars — hailing from every sector in the industry and located around the world.
Our surveys have had a huge response as well, with hundreds of respondents on both our pre-webinar surveys (which only go out to those who sign up a few days in advance of the webinar) and our post-webinar surveys (which go to all attendees afterwards).
Here's a breakdown of respondents' organization sectors from our survey on March 24: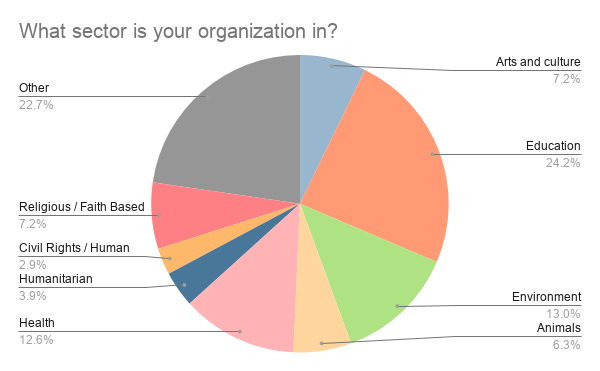 Nonprofit professionals are feeling anxious, but eager
62.5% of respondents reported feeling anxious in our pulse check survey on March 13. While this number dropped a little by our March 22 pulse check, it was only by four percentage points (58.7%).
However, confusion dropped from 21.6% to 9.5% and eagerness rose from 13.6% to 22.2% as nonprofit professionals started tackling new ways of working.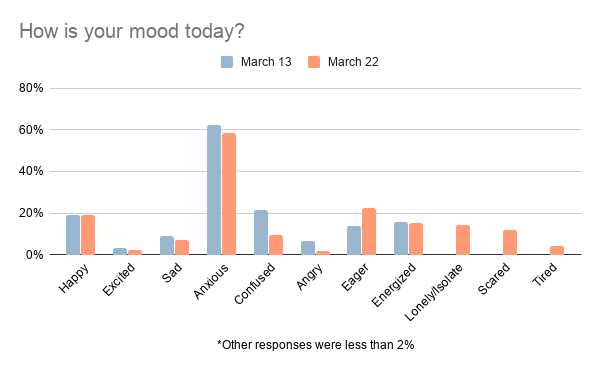 As more companies move to working from home and cancel donor events or visits, it appears that fewer nonprofit professionals are worried about the health and safety of their coworkers and donors. It also appears that many of you are figuring out how to effectively continue working in this new environment with a 13% decrease in worry about meeting goals.
However, with businesses shutting down across the world and the economy increasingly headed towards a recession, more of you are worried about potential layoffs.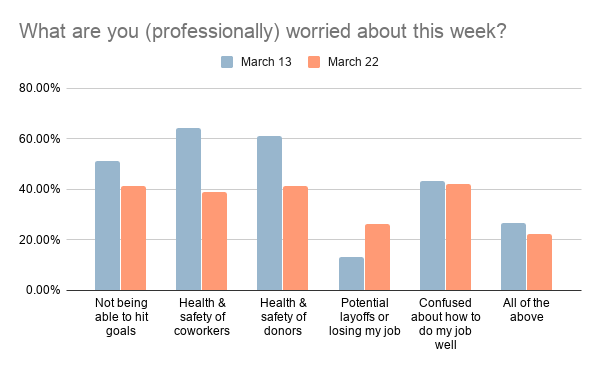 Nonprofit work goes remote
By March 22, almost 95% of nonprofit professionals said they were working from home, compared to 48% on March 13.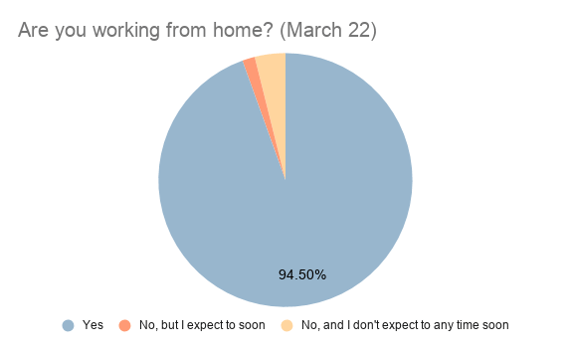 To manage this change, organizations are shifting their fundraising strategies to increasingly focus on digital options. They're also going a little old-school by reaching out to donors through phone calls. Compared to 27.5% of respondents on March 13, 44.4% of respondents on March 22 said they were moving to more digital giving. And the number of nonprofits increasing their phone outreach rose from 41.8% to 58.4%.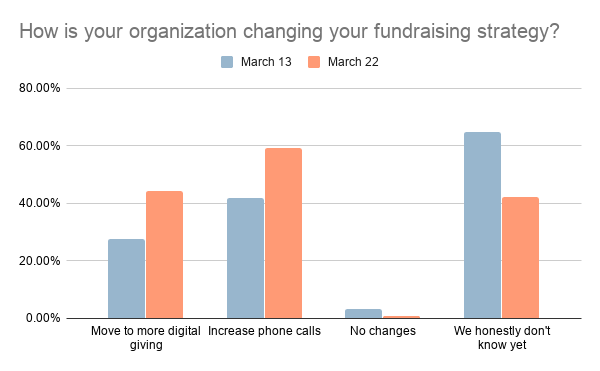 On March 22, we also asked respondents about the different creative strategies their organizations have employed. Here is a sample of those responses:
Holding video chats with donors
Sending supporters short videos that show the joyful aspects of their work
Sending cards to seniors
Going on virtual 'walks'
Hosting a virtual 'day of giving' on an online platform where supporters can donate emergency funds and engage with each other
Holding an online auction
Increasing social media posting and engagement
Focusing more on stewardship than fundraising by checking in with donors and keeping messaging positive
Holding virtual book clubs
Launching relief fund campaigns for affected communities
Nonprofits have tons of questions about how to keep moving forward during this time
On all of our surveys, we've asked you about your biggest questions — and tried to answer as many as we could in our webinars and by providing more resources.
These questions mainly fall into five large categories:
How can our organization fundraise (while still being sensitive) during this crisis?
How do we keep our donor relationships strong and sustain engagement without in-person meetings or events?
How will Coronavirus impact our organization's revenue and the economy?
Will my coworkers or I lose our jobs?
How do we implement new organizational strategies during this time and what should our priorities be?
In order to answer some of these questions and help you continue fundraising, we will continue holding these webinars for the next few weeks. You can sign up for them here.

We've also created email marketing templates and a sample phone script to help you speak to supporters and ask for donations while maintaining a sensitive, empathetic tone.