Today we're thrilled to announce a new Donor-Advised Funds (DAFs) product with FreeWill. DAFs with FreeWill makes it incredibly easy for your supporters to make an impact by providing a seamless, end-to-end experience for making DAF grants. We've partnered with Chariot, a payment network that connects directly to DAF providers, so that donors can give from their DAFs in just three clicks, and nonprofit partners are better positioned to take advantage of the $234 billion dollar opportunity in DAFs.
Why DAFs, why now?
Today, the DAF opportunity has never been greater. In the past five years, the wealth flowing in and out of DAFs has more than doubled. In 2021, DAF grants exceeded $45 billion, more than double the value in 2017. Not only have DAFs seen remarkable growth in recent years, but DAFs are also proven to be a more resilient and sustainable source of funding during economic downturns, making them an increasingly critical fundraising vehicle for strategic nonprofits.
However, we recently surveyed over 480 nonprofit development officers and learned that though the majority of nonprofits see generating gifts from DAFs as "high priority", most nonprofits don't feel confident in their ability to secure gifts. Respondents to our survey said that
They don't know how to steward DAF donors,
Don't know how to market DAF giving, and
Need help figuring out the identities of donors who have sent DAF grants.
FreeWill's goal is to target all three of these challenges.
How FreeWill helps you secure more DAF gifts
With FreeWill's improved DAF product, powered by Chariot, you can offer your supporters a seamless and fully digital experience, so they feel confident about supporting your mission through DAFs.

For most donors, recommending a DAF gift with FreeWill is as easy as checking out at an online retailer. Once supporters start the DAF flow on your website, they simply identify the appropriate financial sponsor, sign-in without ever leaving the page, identify the gift amount, and submit their DAF grant recommendation.
How does it work?
Chariot is integrated with the leading DAF providers that cover a majority of all available DAF assets. That means when a DAF grant is made from one of the integrated financial providers, the donor experiences an easy end-to-end flow – and you don't need to chase down donors or DAF providers to verify and confirm transfers.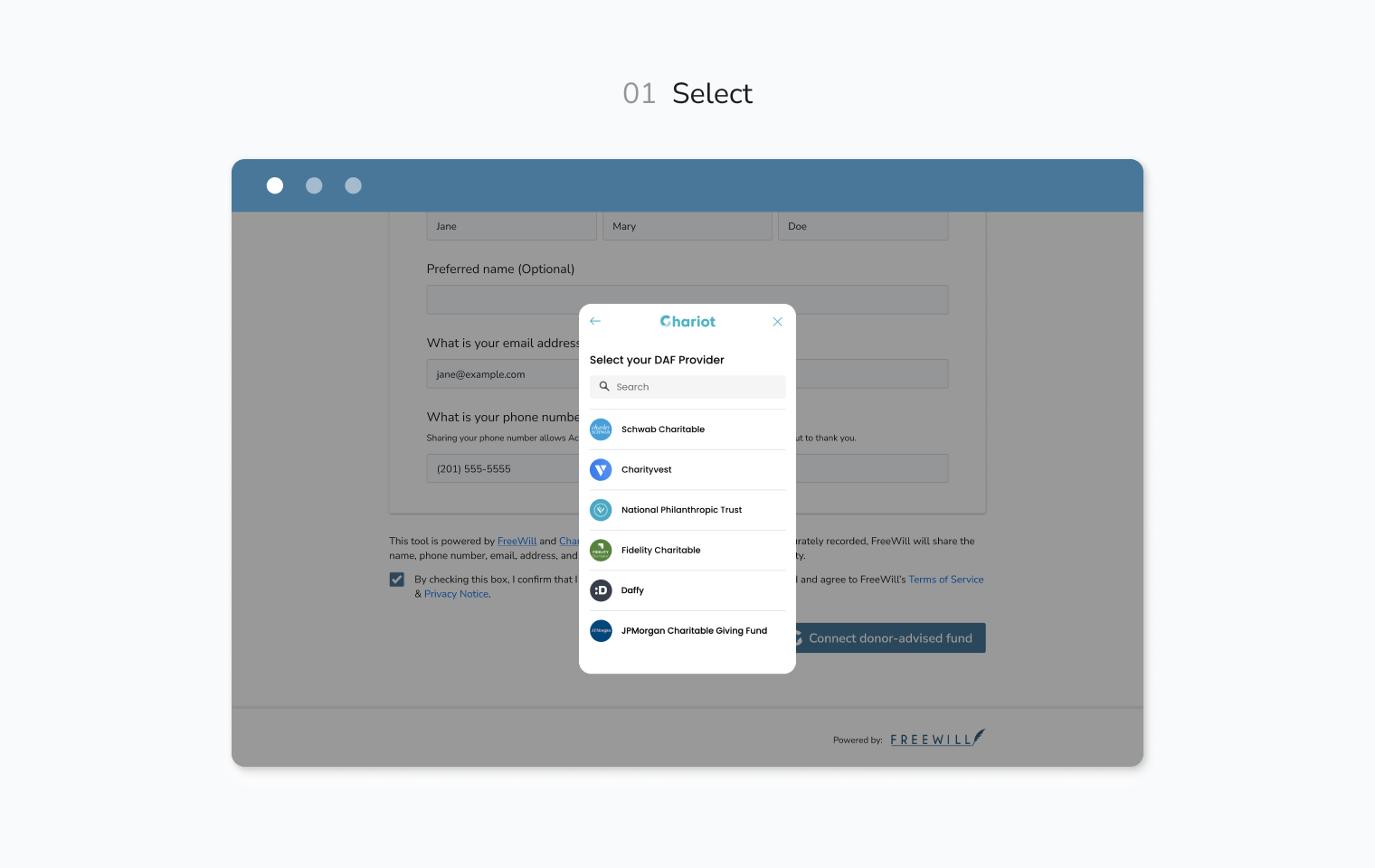 Chariot integrates with the leading DAF providers including JP Morgan, Fidelity Charitable, Schwab Charitable, National Philanthropic Trust, Charityvest, Daffy, UBS Philanthropy
Once grants are made, FreeWill provides full visibility into gift and donor details in Portal, FreeWill's data and insights dashboard.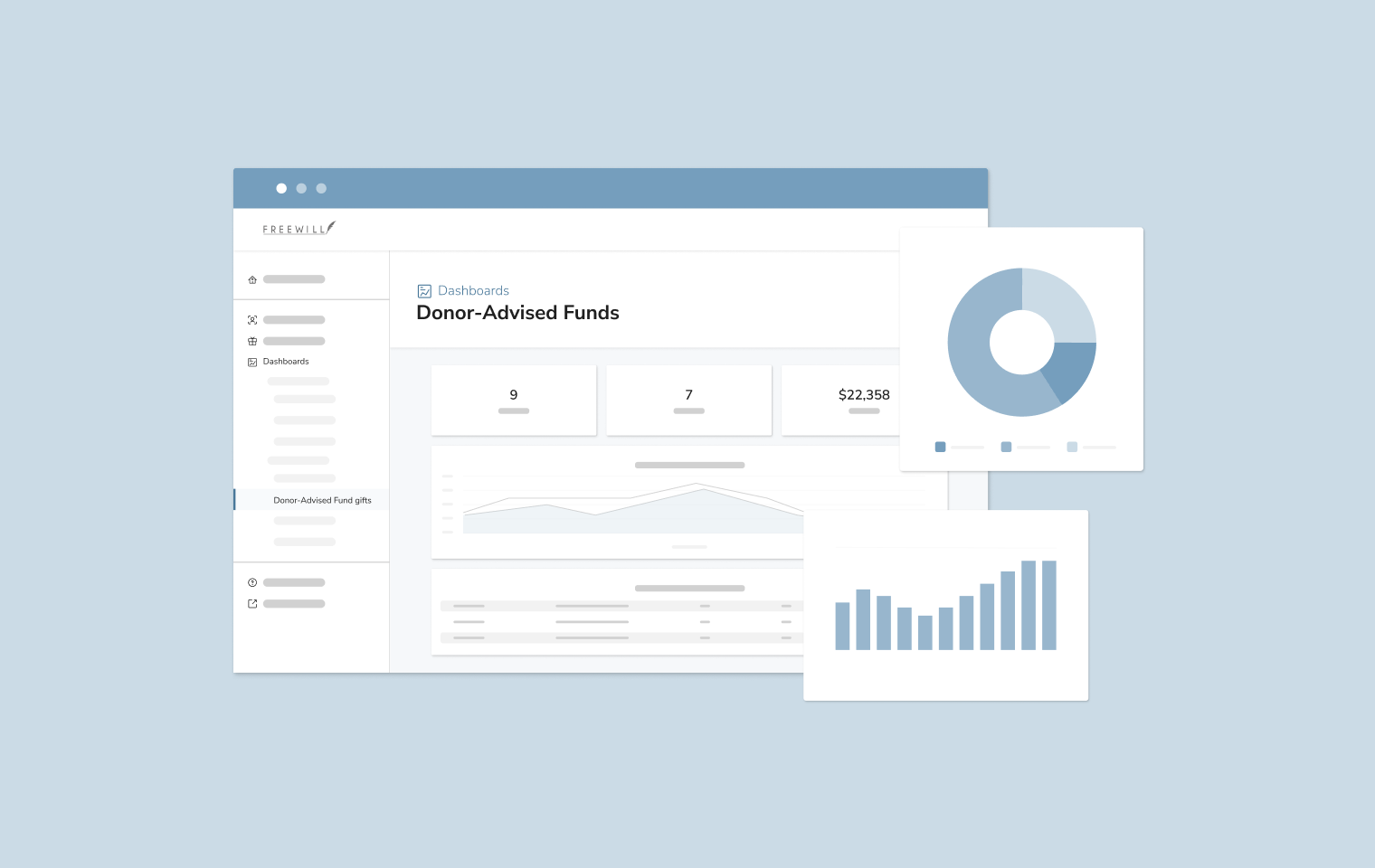 Our goal is not just for nonprofits to benefit from the fastest growing area of philanthropy. We also want you to receive real-time data to inform and refine successful stewardship strategies.
DAFs, a key piece to a broader strategy
FreeWill's DAF product is part of the Smart Giving Suite, the easiest way for nonprofits to diversify their approach to real-time fundraising with high-value, non-cash gifts. The Smart Giving Suite enables four vehicles for non-cash giving: DAFs, stocks, IRA gifts (also known as Qualified Charitable Distributions), and cryptocurrency.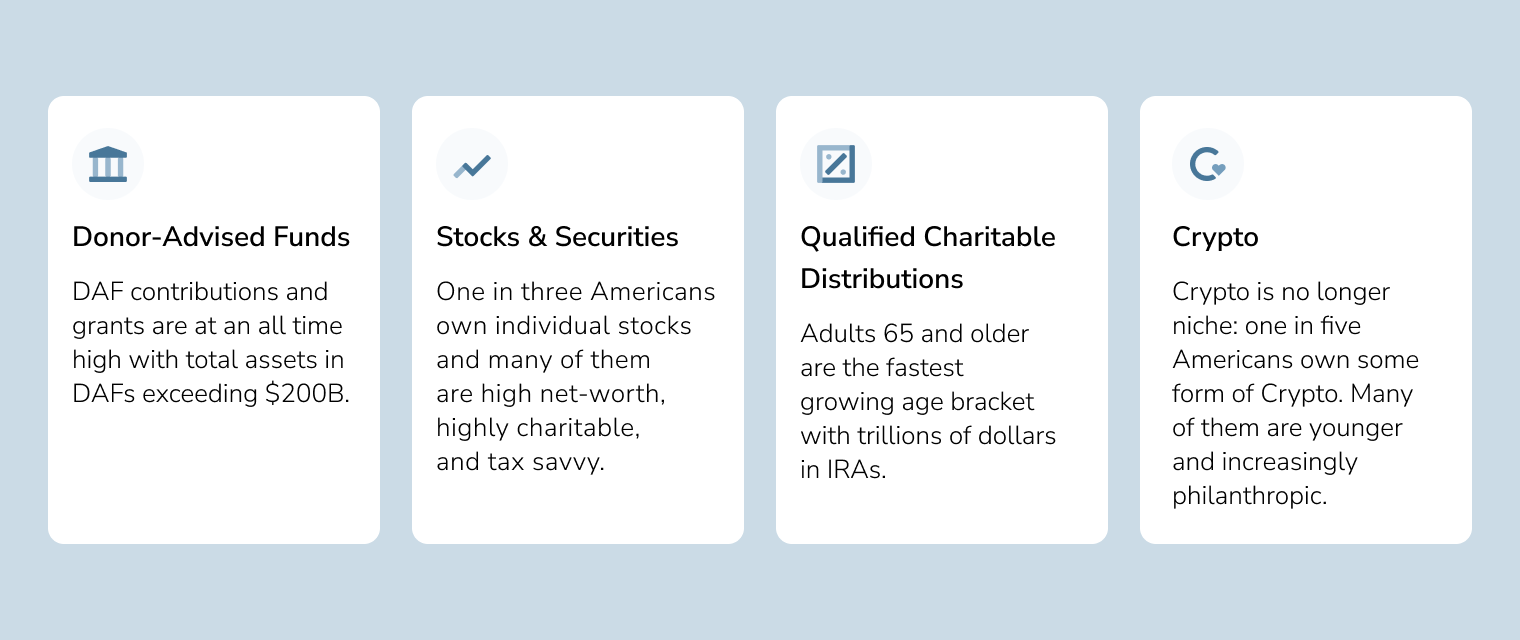 All four products offer tax-advantageous ways for supporters to make an impact.
Support a lifetime of generosity with donor-advised funds
We expect wealth in DAFs to continue to grow, but without the end-to-end DAF experience for donors, nonprofits miss out. Donors can become frustrated with the traditional methods of recommending a DAF grant, and nonprofits miss out on stewardship opportunities when they receive a mysterious check in the mail from a DAF sponsor.

We don't want you to miss out. Get started with FreeWil's DAF product through the Smart Giving Suite. To learn more, reach out here.