A few years ago, FreeWill decided to participate in a lesser known "holiday" month for the first time: National Make-a-Will Month, which takes place in August. We believed that it could help raise awareness about the importance of estate planning, while also giving nonprofit supporters a reason to make their wills and donate a part of their estate to charity.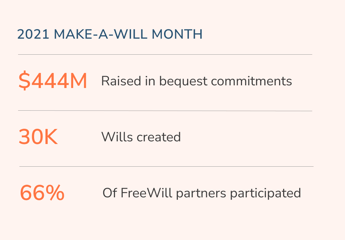 And we were blown away by the results. Each year, it continues to be one of our biggest months at FreeWill in overall estate plans and the dollars committed to charity in them.
This August alone, we helped nonprofits raise $444 million in legacy gift commitments, and nearly 30,000 Americans make their wills.
Why is this month so powerful? We have a pretty good hypothesis:
Urgency drives action in estate planning & legacy giving
Procrastination is the number one reason that people don't make or update their wills. In a survey of 2,500 Americans by Caring.com, 34% said that they "just hadn't gotten around to it yet" when asked why they don't have a will or trust. Yet, nearly 60% said having an estate plan was important.

So the problem isn't that people don't care about having an estate plan — they just need an incentive to act on what can feel like a non-urgent matter.

This is a pattern we see over and over when we lean into urgent moments. For example, we helped our nonprofit partners raise $5 million in legacy gift commitments during National Estate Planning Awareness Week in October last year.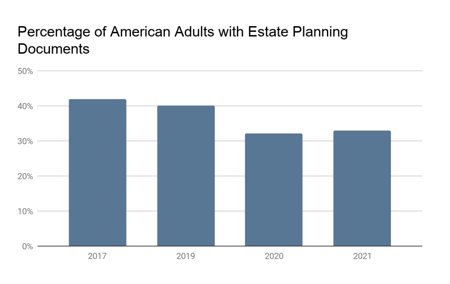 And we saw this with the start of the Coronavirus pandemic as well. Wills surged on our platform as Americans rushed to make their wills, facing the difficult reality that having a plan in place was more important than ever before. In fact, 2020 was the first year since at least 2017 where the percentage of Americans without estate planning documents decreased instead of increased.

When you emphasize urgency in estate planning, people will get their documents completed, and be extremely charitable in the process.

So what happens when we go big in these moments? Let's take a look at how our partners did for Make-a-Will Month this year.
How Make-a-Will Month went for our partners in 2021
This year, two-thirds of FreeWill bequest partners participated in Make-a-Will Month, sending outreach and engaging with supporters in a dedicated campaign.

Altogether, they sent 832 different pieces of Make-a-Will Month outreach, which directly resulted in nearly 1,500 new legacy donors committing $38 million in total bequests.

Alongside our partners, we also dedicated resources to marketing Make-a-Will Month. And this combined created a huge uplift in giving on FreeWill during August as a whole. There was a 157% increase in bequest dollars committed to charity over the average month in 2021, and a 150% increase over last year's Make-a-Will Month.

So who got all the gifts?
$266 million in bequest commitments was raised from our partners' custom FreeWill sites (this includes the $38 million from outreach)
$62 million from our public will-making site went to our partners, with $48 million of that (78%) specifically going to our nationally featured partners
$115 million from our public will-making site went to will-makers' favorite organizations that aren't yet partnered with us
And there's still so much more room for growth. Only 33% of American adults have an up-to-date estate plan, and nonprofits can help solve this problem (while capturing a part of the $68 trillion coming in the Great Wealth Transfer).
How you can capture planned gifts in urgent moments
The results around "holidays" like Make-a-Will Month and National Estate Planning Awareness Week have a much broader implication.

If fundraisers want to be successful in capturing the gifts that will secure their organization's future, then they need to inspire supporters to make their estate plans.

Here's how to do it:
1. Go big during important moments.
While you should plan on running legacy giving campaigns during Make-a-Will Month and National Estate Planning Awareness Week (October 18-24 this year), you don't want to stop there.

If there are other times of the year that are important to your organizations' cause like Earth Day or Breast Cancer Awareness Month, run planned giving campaigns around them as well. Even if your organization is only focused on raising cash gifts during those times, you can still introduce legacy giving.

One way to do this is to send a "thank you gift" to your donors in the form of an easy way to make their estate plans. For example, if a supporter gives you a cash gift on Earth Day, use your thank-you email to follow up and direct them to a free estate planning tool — you don't even need to mention legacy giving. And this directly relates to the next point.
2. Make estate planning easy & accessible for all your supporters.
We've found that one of the most effective ways to fundraise legacy gifts is to email all of your supporters. In fact, email generates two times as many gifts than any other medium like social or direct mail.

However, there's a slight catch. The way you frame planned giving (and how easy you make estate planning) matters.

When our partners sent outreach for Make-a-Will Month, they either:
Framed the FreeWill tool as a resource to help their community make estate plans;
Included a soft mention of legacy giving; or
Focused entirely on legacy giving.
Of these three types of outreach, giving supporters an easy-to-use tool to make their plans and framing it as a resource generated the most gifts on average.

Planned giving officers have limited time for one-on-one conversations with donors about legacy giving. They need to focus on their biggest prospects. But they can't reach all their supporters this way, and anyone can make a legacy gift since it doesn't have an immediate financial impact.

By reaching out to all of your supporters via email during your biggest moments of the year, and emphasizing ease around estate planning, you can capture more legacy gifts at a much lower lift.