Imagine for a moment that your nonprofit has 1,000 supporters. And 120 of those supporters are responsible for 90% of your fundraising revenue. You'd probably want to build strong relationships with those 120 people — after all, their major gifts are likely one of the reasons your organization is able to fulfill its mission.
You might be thinking that's a dramatic example, but it's the reality. Nearly 90% of all fundraising dollars come from just 12% of donors.
Why is this the case? This small subset of donors are wealthy, want to make an impact, and have the capacity to make major gifts. They're also growing quickly in giving capacity right now.
Over the past decade, the stock market grew by more than 300% and the average income of your wealthiest supporters increased by more than 25%. There's never been a better time to build relationships and inspire potential donors to make a larger impact.
But first, let's clearly define major gifts and what a major giving program entails.
What is major giving?
Outside of planned gifts, major gifts are the largest donations that a nonprofit receives. These donations are often used to fund specific projects, meet fundraising goals, or go into general programs that help an organization accomplish its mission. Meanwhile, a major giving program focuses on building relationships with a portfolio of prospects who have the capacity and affinity to make a major gift.
A typical major gift donor has a high net worth, owns real estate or stocks, is heavily involved with your nonprofit or others, and has made larger contributions in the past. Wealthy older donors are usually your best prospects, but soon Millennials will be too as this group acquires more wealth and giving capacity grows.
Plus, any nonprofit can start a major gifts program — there is no fixed amount that determines what a major gift is to any one organization. It boils down to the impact of the gift on your nonprofit's needs. Some consider gifts over $100,000 to be major, while smaller nonprofits may consider $1,000 to be a major contribution.
What is a major gifts officer?
A major gifts officer (MGO) finds, cultivates, solicits, and stewards potential major donors in their portfolio. Depending on the size of the organization, an MGO may be part of a team of gift officers, or work independently.
How to set major gift minimums at your organization
If your organization doesn't have a major gifts program already, here's a quick way to determine what could be a major gift for your nonprofit:

1. Pull out the 25 largest gifts made to your organization in the past five years.


2. Examine the range of those gift sizes and eliminate any outliers.


3. Accounting for the remaining gifts, estimate a major gift minimum by figuring out the median of this range. This will help you capture the largest number of valuable prospects. For example, if your range is $5,000 to $10,000, you could go with $7,500.


4. Make sure you do not set the major gift amount bar too high. If you are seeking major gifts, your donor base needs to be capable of reaching that amount. Similarly, if you find that many donors are able to give that amount, you may need to raise it.
The 2 most important types of major gifts
Gifts of appreciated securities (like stocks) and real estate are critical to nonprofits because they have the biggest impact on fundraising growth. This is because donors who give these gifts often end up giving more than they would if they gave cash.
Why is that the case? 97% to 99% of all wealth in the United States is held in assets like stocks and real estate — not cash — so donors are able to give more with these gifts.
Plus, they receive more significant tax benefits than with cash donations. Only 10% of people itemize charitable deductions on their tax returns. Donating assets like stock is one of the only ways for 90% of taxpayers to see tax savings from charitable gifts. And when organizations accept any non-cash gifts, their fundraising revenue sees 50% growth over the next five years than those accepting only cash donations.
Let's break down what these gifts are and why they're a win-win for both donors and nonprofits:
Stocks
Gifts of stock can include publicly-traded stocks like Microsoft or Apple, as well as gifts of mutual funds, Treasury bills and notes, corporate and municipal bonds, and stock in privately-held companies. Since one-third of Americans own individual stocks and the stock market is at record highs, now is the time to get smart on these gifts.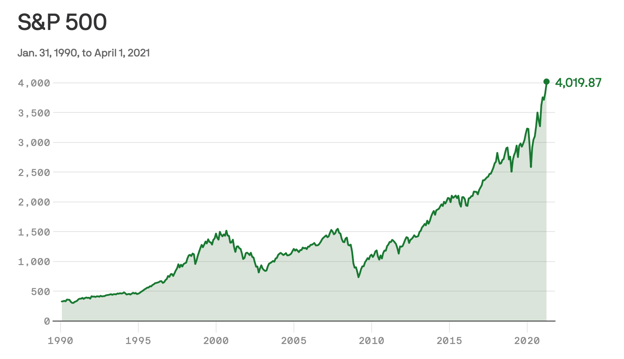 When donating stock, donors don't pay capital gains tax, which is a tax on the current value of a stock minus the purchase price. For example, Apple stock is currently worth $124. If an individual purchased a share five years ago at $24, their cost basis is $24 and their capital gain would be $100.
If they are one of the few that itemize deductions, they can also receive an income tax deduction for the current value of the shares. Donors generally transfer these tax savings onto the nonprofit, making them frequently larger than cash gifts.
Out of hundreds of nonprofits we surveyed for our 2021 report on stock gifts, the average value of a stock donation in 2020 was more than $8,000. For many nonprofits, gifts this big would be considered major gifts.
Real estate
Real estate gifts include undeveloped land and residential or commercial properties. Similar to stock gifts, individuals with real estate held for longer than a year are able to receive an income tax deduction on the current value of the property. They also avoid capital gains tax on the equity gained for appreciated properties.
And these assets have the biggest impact of all non-cash gift types. According to a study by charitable giving expert Dr. Russell James, when the share of gifts of real estate grows by more than 10% at any nonprofit, the value of total contribution dollars grows by more than 26% in the same year.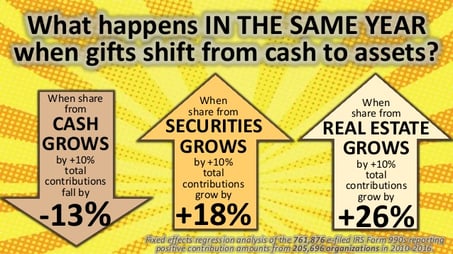 Other tax-savvy giving vehicles you should know about
Qualified Charitable Distributions (QCDs) and Donor Advised Funds (DAFs) are sometimes delegated to planned giving. And though cryptocurrency isn't widely accepted by nonprofits yet, it's quickly rising in popularity.
When guiding your major gift prospects on which type of vehicle is right for them, you can include QCDs, DAFs, and cryptocurrency as options that help them save on their taxes and make a larger impact at your organization.
Qualified Charitable Distributions
Qualified Charitable Distributions are tax-free gifts made from a traditional IRA. Over the last few years, the number of QCDs that nonprofits receive annually has nearly tripled. Out of hundreds of nonprofits we surveyed, the total average gift size in 2020 was $7,600.
More and more wealthy older donors are giving these gifts from their IRAs for two key reasons. If they don't need the extra funds, they can still use them to meet their Required Minimum Distributions — the amount they're required to withdraw from their IRA each year after turning 72. And, since they won't be taking these RMDs as income, QCDs help them reduce their income taxes.
They can be a key part of your major gifts program as QCD donors tend to become recurring givers, making large gifts and using them to meet their RMDs each year.
Donor Advised Funds
Donor Advised Funds allow donors to make a charitable contribution to a private fund administered by a third party, such as Schwab or Fidelity Charitable. The donor receives an immediate tax deduction for the entire amount, and then recommends grants from the fund over time to qualifying nonprofits.
One of the reasons these are growing in popularity is because the standard minimum deduction increased in 2018. Now, it's more tax beneficial for some donors to give a large lump sum in one year and then spread out their charitable giving via DAF grants over the following years.
Because the money is added in large lump sums, DAFs hold a lot of wealth. To open a fund, a donor typically has to contribute a minimum of $5,000, though the average account size is much larger — in 2020 it reached $162,556. This makes them a popular option for wealthy donors and a great vehicle for major gifts.
DAFs are quickly becoming the most active giving vehicle for donors over 50. In 2020, the number of grants made from DAFs to qualifying nonprofits rose to a record $27 billion. National Philanthropic Trust projects that the number of grants made from DAFs to nonprofits in 2021 will reach $31 to $40 billion.
A rising star: cryptocurrency
Cryptocurrency (or crypto) is a cross between a currency and a digital asset. Like a currency, people can use it to buy goods and services. Like a digital asset, they can also invest in it for long-term gains. You may be familiar with the most popular cryptocurrencies, Bitcoin and Ethereum, but there are more than 5,000 different cryptocurrencies in circulation right now.
Why are these likely to be major gifts? There is a lot of wealth held in crypto. The total value of all currencies is more than $1.6 trillion. And they're exploding in popularity, with people who bought early seeing huge gains. Plus, your wealthy prospects are likely to own some form — 71% of those with an income of more than $1 million currently do.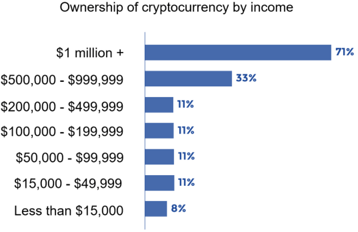 Like other appreciated assets, cryptocurrencies have capital gains taxes. Donors can avoid these taxes by donating them, and are likely to pass on these tax savings to the nonprofit. With more people purchasing these currencies, you may want to start thinking about how your organization will handle these gifts moving forward.
3 strategies for fundraising major gifts
1. Build personal relationships with major donor prospects.
The primary way to secure major gifts is by building strong relationships with potential donors so they have a vested interest in your organization and mission. This process is called donor cultivation.
The average cultivation process for a major gift can take six months or longer. Here are a few strategies that will help you establish a personal relationship with your potential donors:
Learn more about what motivates them to support your cause through one-on-one meetings
Invite prospects to volunteer or advocate for your mission
Host smaller, exclusive events (like luncheons, galas, or tour of your facilities)
Include texting in your donor outreach (this is especially effective for Millennial donors, as text messages have a nearly 100% open rate)
Keep track of your interactions with prospects in your donor CRM, if you have one. This will help you tailor your outreach and communications with programs or initiatives that best align with their interests. Knowing and referring back to these details will help donors feel like an integral part of your organization and connected to your mission.
2. Make it easy to give more complex gifts.
You can get larger gifts from existing donors by making it easy and accessible for your donors to give in other ways than cash.
To be most effective, provide options on your donation page where donors are already planning to give. Leave out the tax jargon, and focus more on impact. For example, include language like: "You can save up to 70% on taxes and make a bigger impact on our mission with a gift of stock."
Reasons to Believe does this really well. On their "ways to give" page, they list various giving vehicles before donors even select the amount they'd like to give.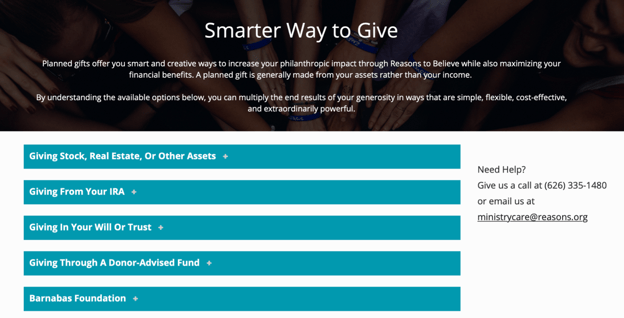 From there, they link out to separate web pages that provide more information about different vehicles, like this one about stock gifts.
When a donor clicks the link that says "Give stock online," it takes them to a page where they can choose when and how they'd like to donate stock. (While you can use any any place for a donor to give online, this page for Reasons to Believe is their custom FreeWill Stock Tool landing page. Learn more about their success with fundraising stock gifts.)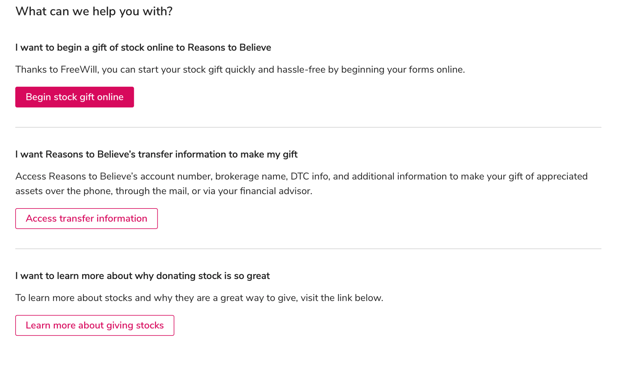 Before a donor can make a gift of stock, they enter in their contact information, gift size, stock ticker number, and which financial custodian they're using. You'll want to include a similar form on your site for any non-cash giving vehicles. This is critical as we found that 47% of nonprofits receive checks without donor information attached.
After a donor completes the form, you can send them an email, PDF, or to another page with the instructions for the giving vehicle they've chosen. For stock gifts, you'll also want to include your brokerage account and DTC (Depository Trust Company) information to complete a transfer.
This will help you track gifts and acknowledge your donors. It'll also allow you to follow up on in-progress gifts and steward donors for gifts in the future.
3. Educate all of your donors about complex major gifts.
Many of your donors want to make a larger impact, but aren't aware of the tax-savvy giving options that will allow them to do so. Educating all of your supporters with consistent marketing is the best strategy for securing non-cash gifts.
Repetition is key — traditional marketing rules state that consumers need to hear a message seven times before they purchase. When an organization sent educational information about stocks to their supporters at least twice in 2020, they were over 1.5 times more likely to get gifts than those that didn't market at all.
Many nonprofits have a problem with getting educational information into packed marketing calendars.
One way to solve this is by including non-cash giving options in all of your fundraising appeals by presenting it as one of several, smarter ways to give. You can do this in a regular fundraising email, a newsletter, or as a postscript. Link to a web page that includes more information, or give them ways to learn more and speak to a gift officer.

Even if those emails don't generate gifts immediately, you can use them to follow up with anyone who clicked on the link to find out if they'd like to learn more about the impact they could make.
Next steps — stewarding donors after securing a major gift
Donor stewardship is the relationship-building process that occurs after a donor makes a gift. It usually includes thanking them and recognizing the impact that they've made (hopefully inspiring them to give again).
Major donors tend to become repeat donors, so it's important to make them feel appreciated to bring in more gifts in the future. You need to acknowledge the impact your major givers are having on your organization and mission.
First, you'll want to put a stewardship plan in place. This plan should outline communication opportunities and strategies for keeping donors engaged. Some ideas include:
Updating donors on the impact of their gifts, especially if their dollars funded a specific project
Sending thank yous occasionally throughout the year, even when they haven't donated recently
Continuing to invite them to volunteer, or to exclusive events
Building donor relationships is key to major giving. With the right strategies in place, you can inspire donors to make larger, tax-savvy gifts that are a win-win for them and your organization.

Need help securing stock gifts and QCDs? FreeWill can help.