Today, I'm thrilled to announce a significant step forward in FreeWill's journey to raise $1 trillion for charity. We've established a brand-new Digital Services team to meet the growing needs of modern donors and provide more flexible solutions for our nonprofit partners.
Their first creation? Planned Giving Websites for nonprofits.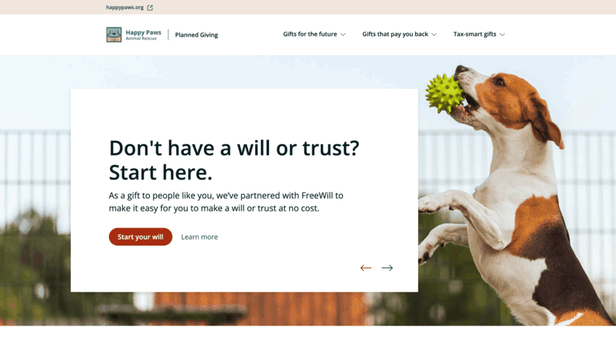 Why offer Planned Giving Websites?
Our team talks to so many amazing nonprofit professionals every day. In our conversations, we kept hearing the need for website options with clean and contemporary visuals, clear messaging that drives gifts, and up-to-date and accurate information.
So, enter FreeWill.
Every year, in collaboration with our 1200 nonprofit partners, we test new messaging, validate best practices and innovate to figure out the best way for our partners to drive legacy and non-cash gifts.
We know the vital role technology and online giving play in modern philanthropy. More than ever, donors are looking for a seamless online experience that aligns with their intentions to give back.
In response, we're proud to introduce our Planned Giving Websites: a digital product dedicated to making non-cash giving as straightforward as possible by combining donor education with direct calls to action.
What was our approach to creating our sites?
1. Stunning visuals
We recognize that a visually appealing platform is critical to establishing trust with your donors and ultimately driving action – in the form of gifts or outreach. You only have .05 seconds to make a good impression before visitors form an opinion of your site and, by extension, your organization. That's why our sites feature a clean, modern, and user-friendly experience, with the ability to tailor each site to your organization's visual identity and needs.
2. Streamlined design
Knowing simplicity is vital to user experience, we've adopted a streamlined design, built with your supporters in mind, that's been tested and approved by real donors to ensure trust and usability. At FreeWill, we never met a test we didn't like!
3. Direct integration and calls to action
Your website should be a perfect blend of education and action – empowering your donors with information on how to give and providing them with a way to do so all on your site.
At the core of our Planned Giving Websites is the direct integration of FreeWill's giving tools with clear calls to action for greater donor engagement.
But if you're not a FreeWill partner, don't worry. It doesn't matter to us if you work with someone else for your planned giving needs. We don't believe your website vendor should dictate which tools you're allowed to use, so you'll be able to integrate with any tool you choose! Through our site, you'll remain in control of the vendors you work with and the tools you link to, which means you'll never miss a gift.
4. Unique to your organization
We also understand that one size doesn't fit all. Every nonprofit is unique, and so is every gift. To honor this, our Planned Giving Websites were designed to be flexible and tailored to your organization's specific needs and values.

5. Inspired by donor behavior
In developing our sites, we were inspired by the work of Dr. Russell James, the most influential academic researcher in planned and major giving, and his research on donor behavior, which played a pivotal role in crafting our sites to reflect the preferences of donors looking to give.
We also incorporated insights we've gained from our nonprofit partners through years of rigorous testing of planned giving messaging.
6. Accessibility for all donors, regardless of ability
Ensuring our sites were accessible was a top priority for our Digital Services team. In our ongoing efforts to make sure everyone can use our Planned Giving Websites comfortably, we've conducted thorough testing and optimization. Our sites are WGAC 2.0 compliant, demonstrating our commitment to making information accessible to donors of all abilities, including those with visual or auditory challenges.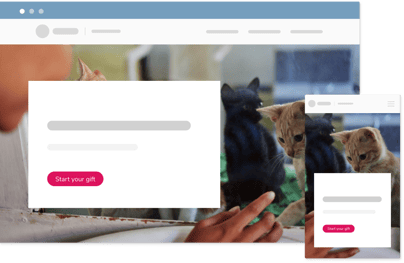 Ready to explore yet?
We'd love for you to take an interactive tour of our Planned Giving Website and see what the buzz is about! Immerse yourself in the intuitive design and experience the streamlined journey firsthand.
And if you're ready to dig deeper or have questions about planned giving, our team is here to help. Book a consultation with our team so that we can explore how our Planned Giving Websites can enhance your organization's planned giving efforts.