Here are our recommendations for how to be thoughtful and sensitive to your donors' needs while still continuing to generate funds for your mission during this turbulent moment.
1. Be extra cautious with your older donors.
In a survey before our first Coronavirus webinar on March 17, almost every single respondent said that their nonprofit had canceled all of their fundraising events in the near future. 52% had canceled donor visits and 45% had not canceled at that point, but say some donors are canceling on them.
We believe that this is the smartest, safest move at the moment. While the fatality rate for those under 50 appears to be less than 1%, it quickly goes up with age. And while people on your team may not be feeling symptoms, it is possible to be carrying the virus and spreading it to others. This could put your older donors at risk.
If you haven't already, we recommend that your nonprofit cancels or postpones legacy society events, large galas, seminars, and any other big events with older donors, as well as donor visits.
2. Check in on your older donors — by phone or video call.
As older Americans stay home, try to recognize how hard and lonely this time may be for them. They may be cut off from friends and family, and struggling with feelings of isolation.

Be thoughtful enough to give each of your prospects a call, whether or not you would normally schedule a meeting with them. We're betting that phone calls will be more welcomed now than they have been in more than a decade. And this is the time to show everyone a little extra kindness by reaching out to see how they are doing.
3. Don't slow your planned giving marketing.
According to Google search trends, interest in estate planning is at all-time high.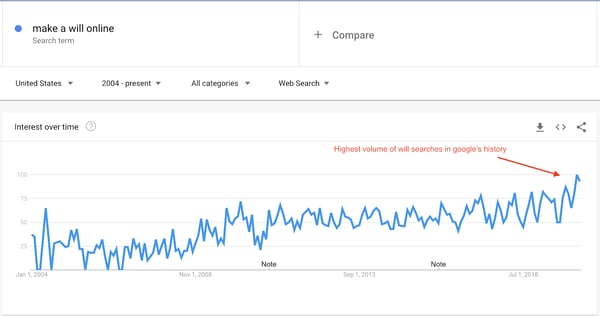 As long as you do it kindly and thoughtfully, the current environment is a key moment to tap into interest around planned giving.
With less to distract donors as they stay at home, more people will be paying attention to your emails and willing to have conversations around giving.
We recommend mentioning planned giving as one of several ways to donate in your next marketing email. For example, you could write:
There are several ways you can power our important work:
Become a monthly donor
Include us in your will and trust
Add us on Amazon Smile
You should also immediately begin establishing your organization's own best practices for navigating planned giving during this time of heightened sensitivity and importance. Then, make sure you start training gift officers immediately in these best practices as well as in how they can be better remote and digital fundraisers.