Over the past ten months, many organizations have faced new challenges in planned and major giving. Our mission at FreeWill is to help nonprofits like yours raise a trillion dollars for charity and that starts with understanding your challenges, needs, and how we can help.
Earlier in October, we sent a survey to hundreds of nonprofits, asking them to reflect on their challenges and successes during a tough year.
We've outlined the results below and hope you'll find them helpful as you plan for the months ahead.
Who answered this survey?
Hundreds of planned and major giving professionals from across the US and Canada responded. They represented more than fourteen different nonprofit sectors.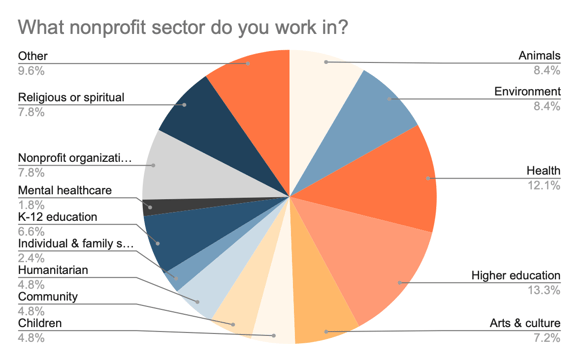 A rapid shift to virtual events
With stay-at-home orders in effect, 82% of nonprofits turned to virtual events. 40% of those surveyed held webinars, lectures, or other programs to keep their community engaged and their mission top of mind.
The second most popular online events were auctions, and third were video tours of facilities, museums, parks, and more.
Preventing virtual burnout is a challenge
In hosting virtual events, 18% of nonprofits outlined fundraising as being a primary goal. As the year continued, the main goals shifted to keeping members engaged and preventing virtual burnout. Keeping their missions top of mind was a smart way for many organizations to encourage donor support.
54% of nonprofits said that the biggest challenge was making their virtual events as exciting as in-person events. 34% said the greatest challenge was achieving a high turnout. Troubleshooting technical issues and scheduling was a challenge as well.
Despite these challenges, 57% of nonprofits reported exceeding or meeting their event goals.
To help you navigate this new virtual world, we held two webinars earlier this year addressing many of these challenges. In an April webinar, we covered how to hold smaller, donor stewardship events. In a June webinar, we invited Tiffany Parnes, the Director of Capital Campaigns and Special Events at Perry Davis Associates, to share strategies for hosting large fundraising events online. She also answered nonprofit professionals' frequently asked questions about hosting virtual events.
Despite economic uncertainty, social media spend has increased
Under stay-at-home orders, folks are consuming digital content more frequently, and are more active on social media. Despite budget cuts, almost 20% of nonprofits chose to increase advertising spend to reach donors online.
Over 60% of organizations consider Facebook to be their most important platform for communicating with donors. Instagram came in second, with Twitter, LinkedIn, and Youtube all tying for third. Of the organizations using social media, 18% have more than 10,000 followers on their most important social platform.
As organizations looked for ways to make cuts to their annual marketing budgets, the 18% that increased spend did so with only a 5 to 10% increase. Those with budgetary constraints instead increased organic posting in an attempt to reach donors.
Donor acquisition without face-to-face contact
Without being able to meet in person, organizations stuck to tried-and-true methods of outreach to fundraise planned and major gifts. Their top three ways of communicating with donors were phone calls, direct mailings, and email campaigns.
Many organizations mentioned that it's been difficult to get the ball rolling on more digital or social campaigns due to staff or budget cuts. To help, we've written free email and phone script templates, as well as a guide on how to write thoughtful communications.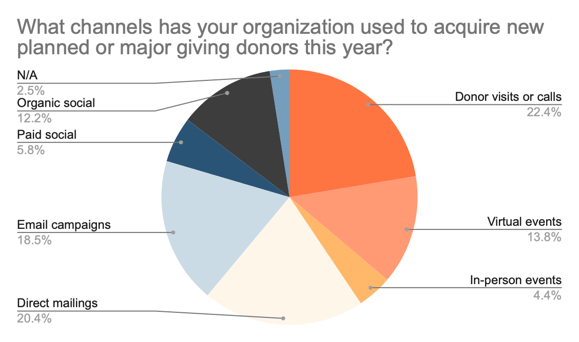 Stewarding donors with tried-and-true tactics
This year has seen a huge increase in loneliness for many people — especially older folks who haven't risked seeing their families. Though in-person events are beginning to come back, few (particularly older donors that give the largest gifts) are able or willing to attend. With limited in-person contact, many organizations used the same tactics for donor acquisition as they did with keeping in touch with their top givers. 21.6% of nonprofits said that their top strategy for stewarding planned and major giving donors has been phone calls. Email campaigns (19.8%) and direct mailings (19.2%) were the second and third most common strategies.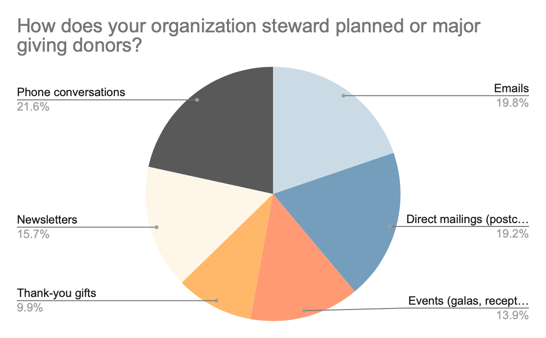 Common challenges for planned and major giving programs
We also asked about the different challenges nonprofits are facing in acquiring planned and major gifts in the coming year.
The biggest challenge is less in-person contact. This makes it difficult to steward longtime supporters and meet new donors. Budget and staffing cuts, compound this challenge by making it hard to keep up with stewardship tactics online.
Fundraising during an election year is a major challenge as well. Organizations worry about shifting policies, or keeping donor attention during their end-of-year giving campaigns, which are crucial for success in the 2021. Additionally, nonprofits worry about seeming opportunistic, or unsympathetic to the losses that many of their supporters have suffered this year.
Here are the most frequently expressed challenges organizations have encountered:

In an October webinar, we discussed how to write thoughtful and effective outreach. We believe you'll find it helpful in keeping up momentum through the end of the year.
We also encourage you to check out our ultimate guide to end-of-year giving. It has more tools to help you receive gifts after a challenging year.
Looking ahead to 2021
With more insight into your needs, we plan to create digital templates and resources for different forms of outreach. We know this year has been tough as teams suffer staff and budget cuts, and we hope we can ease your workload during end-of-year fundraising.
We also encourage you to take advantage of our free resources page. We released a stock giving masterclass this month to arm you with the best practices for fundraising non-cash gifts and educating donors about the benefits of stock donations.
Additionally, we'd love to see you at our ongoing webinars. Sign up for our next webinar now.