Donor-advised funds (DAFs) are quickly becoming the most active charitable giving vehicle in philanthropy. By allowing donors to set aside funds and disburse grants to charitable organizations of their choosing, DAFs have created an incredible level of flexibility for supporters and incredible new opportunities for nonprofits.
In fact, DAFs have grown significantly in recent years across all metrics, hitting record highs. Donor contributions to DAFs reached $72.67 billion in 2021, up by a whopping 46.6% from 2020's $50 billion record high. And grant payouts from DAFs to nonprofits have grown right along, hitting $45.74 billion in 2021. This was a record year-over-year increase of 28.2% (Nonprofit Philanthropic Trust's 2022 DAF Report).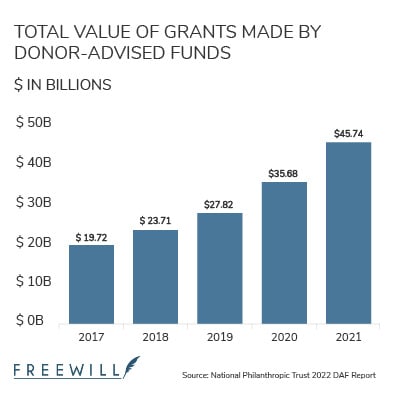 Looking at the bigger picture shows just how explosive these growth rates are—grants from DAFS in 2012 totaled $8.52 billion, meaning payouts have quintupled in a decade.

And the growth doesn't appear to be slowing down anytime soon. Nonprofit survey respondents reported receiving 32% more DAF grants and 56% more grant dollars in 2022 over the previous year (The 2023 FreeWill DAF Report). The key to success? These nonprofits actively pursued DAF gifts.

We already know that new forms of giving are on the rise, and donor-advised funds must be a key part of your nonprofit's strategic plan.
If you can get smart on DAFs now, you'll secure the future of your organization for years to come. This crash course will equip you with the knowledge you need to get started.
---
Table of Contents

Understanding donor-advised funds: The basics
What is a donor-advised fund (DAF)?
A donor-advised fund (DAF) is a philanthropic financial vehicle in which donors contribute money to an investment fund managed by a sponsoring organization. Donors can contribute cash and a wide range of non-cash assets, including stocks, shares of mutual funds, publicly-traded securities, private assets, and crypto.

Donors can then recommend grants be made to charities of their choice using money from the fund. Although "recommend" is the industry term for this process, it's helpful to note that sponsoring organizations rarely decline a donor's grant wishes.
How do DAFs work?
To open a donor-advised fund, a donor typically has to contribute between $5,000 and $25,000, meaning they're used most often by wealthy donors. The DAF's sponsoring organization then actively manages and invests the funds, providing tax-free growth.
The donor also receives an immediate tax deduction upon contributing to the fund.

Later, when the donor decides to make a donation using the fund, they'll recommend a charity to the sponsoring organization, which will then disburse the gift as a grant. There are no limits to the contributions and grants that donors can make, and they can even set up recurring grants to their favorite nonprofits.

There is some worry that DAF account holders won't make grants for a long time after contributing funds. While this can happen, we've seen that most DAF dollars get to nonprofits relatively quickly in a steady flow.

A Fidelity Charitable analysis of grant payouts from DAFs managed by the firm found that out of a hypothetical $100 contribution, $74 is granted to nonprofits within 5 years, and $89 is granted within 10 years. DAFs consistently grant funds at much higher rates (above 20% on average) than the 5% annual minimum payout rate for foundations.
What are the types of DAF sponsoring organizations?
There are three primary types of DAF sponsoring organizations:
Community foundations — independent charitable foundations created for the benefit of residents of a specific area
National DAFs — charitable arms of financial services providers, like Fidelity or Schwab
Single-issue organizations — institutions that create DAF programs to support a specific identity, faith, or cause
Community foundations and single-issue organizations have offered and managed DAFs for many years. National DAFs are relative newcomers that have contributed to the explosive rise of this type of giving.
Why do donors use DAFs?
DAFs provide donors with a flexible way to give to causes they care about and a tax-savvy method for setting aside money specifically for that purpose.

Donor-advised funds have significantly increased in popularity with donors in recent years, seeing record highs in the total value of contributions, the value of grants made, and the number of individual DAF accounts in 2021. More donors are turning to DAFs each year as a smart way to manage their giving habits.

What's driving this growth? The 2017 Tax Cuts and Jobs Act spurred an increased interest in DAF giving by encouraging wealthy donors to give larger gifts in less frequent intervals in order to maximize their tax benefits.

This growth has been sustained thanks in part to the increased accessibility offered by national DAFs, which often have $0 minimum contributions to start a fund. These sponsoring organizations have quickly dominated the space, with their total assets reaching over $150 billion in 2021. That year they disbursed over $32 billion in grants (a 41.6% annual increase) or 70% of all DAF funding granted to nonprofits.
How can nonprofits secure DAF grants?
So how can nonprofit organizations begin tapping into the incredible opportunities of donor-advised fund grants? By connecting with and growing their relationships with philanthropic individuals who own DAFs.

We'll explore tips for reaching and stewarding these donors below.
Why do DAFs matter for nonprofits?
Let's sum up exactly why DAFs are such valuable donation sources for nonprofit organizations:

(Nonprofit Philanthropic Trust's 2022 DAF Report)
DAFs hold a lot of wealth, totaling over $234 billion in 2021, a nearly 40% increase over the previous year, with the average individual DAF holding over $182,000.
Donors are making more grants from donor-advised funds than ever before. Payout rates increased by 12.7% from 2020 to 2021.
DAF donors are loyal to their favorite organizations. Fidelity Charitable found that 77% of grants in 2022 went to a nonprofit that the donor had supported in the past, and 30% of grants were pre-scheduled or recurring donations.
Donor-advised fund gifts require less maintenance and administrative work than other forms of non-cash assets. When a donor contributes a non-cash asset like stock to a DAF, it's immediately liquidated—meaning your nonprofit can more easily receive the gift without needing to coordinate with a
brokerage.
More and more donors are turning to DAFs. The number of individual DAF accounts rose by 27.6% between 2020 and 2021, and younger donors are catching on to their benefits. One study found that Millennials, Gen X, and Baby Boomer donors are now almost equally represented among DAF funders. Millennials are expected to play an even larger role in the DAF landscape amid the 'Great Wealth Transfer' that's similarly changing the world of planned giving.

DAF fundraising: Tips for finding DAF donors
So donor-advised funds are a significant opportunity for your nonprofit and you want to prioritize them—how?

By getting up to speed on how DAFs work, you can tap into a huge pool of funds and encourage donors to make a large impact at your organization sooner rather than later. Here are four strategies that will help you secure more of these gifts:
1. Actively promote donor-advised funds on your donation page.
Include a link that says "Give from my Donor-Advised Fund" on your primary donation page.

By putting this link on a page where donors are already preparing to give, you can encourage larger gifts from those looking to make a donation and who have a DAF or are interested in setting one up. This link should then take them to a separate page that guides them through the DAF grant process. You should also include your contact information for donors who would like to learn more about giving this way.

The American Red Cross has a great example of a helpful DAF giving page. It includes more information about what donor-advised funds are and how to give DAF gifts by mail or online.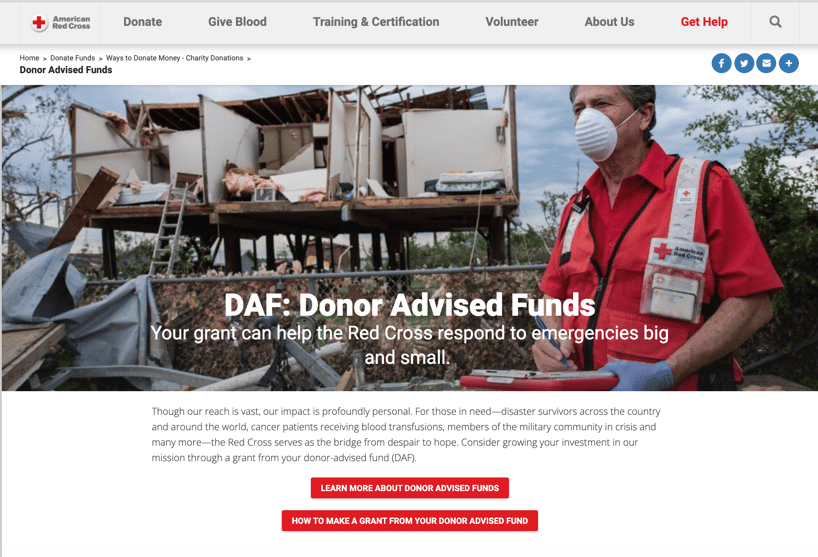 2. Ask major donors and prospects if they have DAFs.
Remember that DAFs have exploded in popularity in recent years. Many of your major giving prospects might already have donor-advised funds, so bring up these gifts in any one-on-one conversations you have with them about giving.

To be effective, use social proof, which is the idea that people want to act in ways similar to their peers. For example, you can say: "Many of our supporters give out of a donor-advised fund. Would you like information on how other donors are using their DAFs to make a big impact?"

Keep in mind that donors with donor-advised funds may also have the option to name your nonprofit as a beneficiary to receive a dollar amount or percentage of remaining funds upon their passing. Integrate mentions of DAFs into your planned giving stewardship strategies, and record your findings as you learn more about the donors who fit into both your planned giving prospect and DAF giving prospect segments.
3. Make sure your Guidestar profile is up-to-date.
National DAF sponsoring organizations (like Fidelity and Schwab) that now manage the majority of active DAFs typically do not play active roles in recommending charities to receive grants. Trying to build direct relationships with these organizations will likely be a waste of your or your team's time.

Instead, make sure your Guidestar profile is up-to-date. Most national DAFs use this as a resource to make sure money is being routed correctly and to double-check that nonprofits are in good standing.
4. Get to know the leaders of your local community foundations.
Community foundations will be much more active in recommending nonprofits to DAF account holders, and they're still significant players in the space. Grants from community foundations made up 20% of total grant dollars in 2021, and the average account size at these organizations was $718,326, five times greater than that of national sponsoring organizations (Nonprofit Philanthropic Trust's 2022 DAF Report).

Community foundations are still a legacy choice for many DAF donors, and you can more easily build relationships with them the way you would other foundations when seeking grants.

Set up meetings with their giving teams to learn what community foundations are looking to fund or their key areas of focus. Invite them to events and tours, and keep them updated on your organization's exciting developments. You can approach them when you have a program or initiative that seems to be a good match for their donors.

How to receive donor-advised fund gifts
When a donor makes a DAF grant to your nonprofit, the sponsoring organization sends the donation by check or electronically.

When your organization receives the grant, immediately thank and acknowledge the donor's contribution the same way you would any other type of donation.

Since donors are only eligible to claim a tax deduction when they make a contribution to their DAF account (not when they grant money to a nonprofit), you may consider restating that the donation is not tax-deductible in your acknowledgment letter.
DAF donor acknowledgment letter template
Acknowledging DAF gifts with timely, clearly-worded letters is a must. These messages should also aim to reduce any confusion by clarifying that your letter is not a tax receipt, only a confirmation of their gift. Try this sample language:
Dear [Donor's name],

On behalf of our team and community at [your organization], I want to express my gratitude for your generous grant of [value] through your donor-advised fund at [Sponsoring organization].

To confirm for your records, we received the grant on [date], and the funds will go a long way in supporting [the specific program or project that will be funded]. Please note that this is not a tax receipt.

Your support will drive incredible impact and helps us work closer to fulfilling our mission of [your mission]. We deeply appreciate your commitment to our cause and to creating positive change in our community.

We'll be working hard to ensure your gift has the maximum impact possible, and we'll reach back out to update you on our progress.

Thank you again and warm regards,
[Your name]
[Title and organization]
DAF donor stewardship essentials
Having a stewardship plan in place to actively foster and grow your relationships with DAF donors will be key to long-term success. Remember that the majority of DAF grants are given to nonprofits that the donor has previously supported, meaning if you can build a lasting relationship with these donors, you'll likely see more and larger gifts.

Consider these best practices: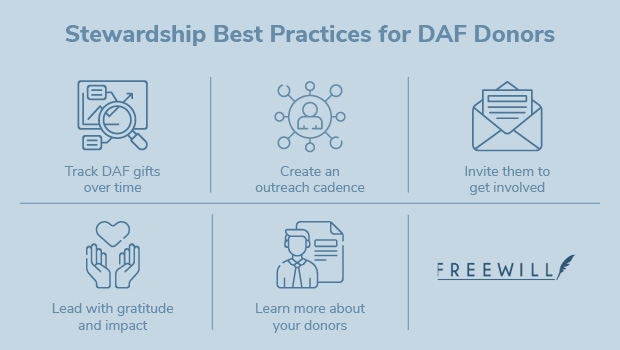 Have a system in place for tracking DAF gifts over time. This could be as simple as creating a special tag in your database that makes it easy to segment by DAF donors. To go the extra mile and provide a stellar giving experience, use software like FreeWill to simplify the DAF donation process and automatically report new insights for future reference or to integrate with your other data tools.


Create an organized outreach cadence. Actively stay in touch with your DAF donors. A member of your development team should own the relationship, following and adapting a standard outreach calendar to check in with the donor, provide updates, and extend invitations.


Invite them to get involved. Drive long-term engagement beyond just staying in touch by inviting your DAF donors to public events and private gratitude gatherings, telling them about interesting volunteer opportunities, and more. For your most impactful donors, help them feel involved and invested by seeking their input when appropriate, for instance during a campaign feasibility study.


Anchor your messaging with gratitude and impact. Continually strive to show your donors the positive, specific impact that their support has had so far. Back it up with a mix of compelling stories and hard data when possible.


Learn more about your donors. Record new insights on your donors as you stay in touch over time—their jobs, families, interests, life developments, and more. This information, along with regular wealth screening and prospect qualification, makes it easy to tailor your outreach in ways that will best resonate with your donors as individuals. Use what you know to invite them to an event you know they'll love, or ask them about their estate plans if they fit your planned donor persona.
Getting started and learning more
To get started pursuing gifts from donor-advised funds, begin by ensuring you have the right tools and resources for the job. You'll need:
A dedicated giving page about DAFs or a dedicated section about DAFs on your primary giving page
A DAF giving tool that simplifies the grant recommendation process and captures the donation data you need
Printed and digital collateral about DAF giving, how it works, its benefits for donors, and why it's so helpful for your organization
A defined process for tracking DAF gifts and donors over time for follow-up and stewardship purposes
With these essentials in place, you'll be in a great position to start consistently securing DAF gifts. Bring them up in conversations with your top donors and prospects. Send a segmented email explaining that you now accept gifts from donor-advised funds and would be happy to answer any questions. Highlight DAFs on your nonprofit's blog. Reach out to local community foundations or single-issue organizations to learn more about their DAF programs.
The keys to success are to be prepared, active, and knowledgeable. Learn more about donor-advised with our most recent Donor-Advised Fund Report, our past webinars, or keep exploring with these resources:
---
Ready to kick start your DAF fundraising efforts? FreeWill can help. Let's discuss your nonprofit's DAF fundraising goals.